Vintage vessels, family friendly activities, tugboat races, live entertainment and more will highlight the 2023 Olympia Harbor Days Maritime Festival.
South Sound Maritime Heritage Association (SSMHA) successfully reaches its 50th year presentation of Olympia Harbor Days Maritime Festival (OHD), Labor Day weekend starting Friday, September 1st at 3 p.m. and closing Sunday, September 3 at 6 p.m.
The maritime heritage festival takes place along Olympia's Downtown Budd Inlet Waterfront Boardwalk from historic Percival Landing to the Port of Olympia's Port Plaza Park.
President Dave Peeler says, "we carried and produced the festival through the turbulent times of the pandemic and celebrated after the most successful return in 2022." OHD has been named the Best South Puget Sound Event in 2022 by the Washington Festivals and Events Association and most recently the Best Festival by South Sound Magazine's Best of 2023 publication."
This year's event continues highlighting the traditions of the Puget Sound's vintage tugboat races and show, along with historic ships, tribal activities, four makers markets, live entertainment, kids activities and two food G'Alleys, all weekend.
The logo of the festival features a different tugboat annually and this year is no exception. Tugboat Chippewa, formerly known as the
Roland Foss, is the 2023 Logo Tug and returned to Olympia Harbor Days after many years of absence and a full restoration by owner Jeff Mincheff of Tacoma. The tug, built in 1943 is 85 feet long with a 375 horse power diesel engine.
The fleet of OHD will comprise of tugboats built from the early 1900s through the 1970s range in size from 25 feet to over 145 feet long, with many racing in the deep channel on Sunday starting at noon. Tugboat skippers offer a climb aboard show on Saturday and on Sunday if not racing. Oregon Public Broadcasting will be on hand to film a feature of the vintage tugboats for their Oregon Field Guide Program. Lady Washington, Washington State's Tall Ship, will be arriving mid-week and the historic Mosquito Fleet Steam-Ship Virginia V should be cruising the South Sound arriving Friday in time for the start of the festival. Both ships will offer dock-side touring and harbor sailings and tours of Budd Bay. Other wooden and hand-crafted boats will also be moored at the docks and local small craft recreational clubs will have their crews on hand and will offer on-water experiences.
While plans are still being made, visitors can count on an amazing and fun time shopping the unique makers markets, international food vendors including seafood, informational and demonstration maritime booths as well as mini tug and remote controlled displays. Tugboats will also be created in sand, stone and wood by some of Olympia's creative sculpture teams.
Kids engage in hands-on activities including a LEGO Harbor Build, marine science area with a touch tank offered by the Puget Sound Estuarium; and a tugboat make-race-take activity with the award-winning Olympia Hands on Children's Museum, puppet shows and more.  This family friendly event offers plenty of photo ops and memories to be made.
Online registration is currently open for Skippers wishing to participate with their vintage tugs or other historic vessels and for all categories of vendor and food booths but the event is just about sold out so hurry.
"Olympia Harbor Days is an event for everyone with a surprise around every corner, with fun volunteer opportunities.", said Carol Riley, Executive Director. "If you or your group can supply volunteers, please email info@HarborDays.com."
The (SSMHA), the founding organization of Olympia Harbor Days in 1974, continues to expand programs to offer year-round harbor history. This year a History of the Logos Exhibit was recently installed in the 48 windows of the historic old City Hall/Fire Station at 108 State Street. Enjoy The Maritime Heritage & Tugboat Walk along the boardwalk from the historic Tugboat Sand Man to the future landside display site of the Tugboat Parthia attraction soon to be completed thanks to a Heritage Grant from WA State. Informational brochures can be found at HarborDays.com. SSMHA continues to be a strong planning partner of the Maritime Washington National Heritage Area and board member Chuck Fowler has just released "Exploring Maritime Washington", a book he co-authored with Erich R. Ebel.
More information about the festival, maritime activities, and where to stay can be found at www.MaritimeOly.org and www.HarborDays.com.
Olympia Harbor Days Festival: 
Friday, September 1, 5pm-8pm
Saturday, September 2, 10am-7pm
Sunday, September 3, 10am-6pm
Note: Feature image courtesy of Karla Fowler.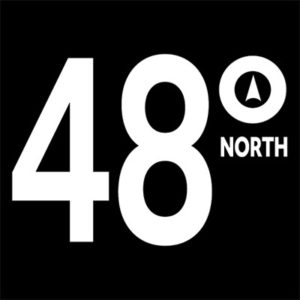 48° North Editors are committed to telling the best stories from the world of Pacific Northwest boating. We live and breathe this stuff, and share your passion for the boat life. Feel free to keep in touch with tips, stories, photos, and feedback at news@48north.com.