48° North is hiring a Magazine Designer who can bring to life stories and information about sailing, boating, cruising, and paddling in the Pacific Northwest.
The designer works with the 48° North editorial and advertising team to put together the monthly magazine and make the content shine; assists advertisers by building ads; and shares articles via web, social media, and email marketing platforms. We are looking for a detail-oriented graphic designer with a strong understanding of print layout and design, as well as a positive attitude and spirit of collaborative creativity.
PRIMARY RESPONSIBILITIES:
Magazine layout and design

Photo editing, resizing, and exporting for print and web
Build ads for customers—includes some customer service
Manage classified ads—both online and print, includes some customer service
Post articles to website and social media
Build and send weekly emails to e-news subscribers
Other duties as assigned
While this position's primary responsibility is in layout and design, the 48° North Magazine Designer will work as part of the NWMC team to ensure smooth operations for the organization as a whole. This could include providing information to visitors to the Maritime Center and helping out in projects and events that require all-hands-on-deck, to helping tie up a vessel coming into our dock because you happen to be standing there. We all pitch in for the heavy lifting now and then—sometimes this is metaphoric; occasionally we all have to actually help lift something heavy.
WHY YOU WANT TO WORK HERE:
There are rare moments when organizations have the combination of a talented and motivated staff, a powerful board, a healthy and productive work culture, are executing well on existing programs but still innovating and looking for the nextstep—we're in that moment, and it's exciting.
48° North has always been the sailing magazine of the Pacific Northwest, and now it is that and much more. In the last few years, our family has grown and our subject matter has broadened along with our horizons. In 2018 48° North became part of the Northwest Maritime Center and reaffirmed our commitment to engage and educate people of all generations in traditional and contemporary maritime life in the spirit of adventure and discovery. In January 2020, we joined forces with the most successful boating website in the Pacific Northwest, Three Sheets Northwest, which was the catalyst of an awesome new web platform.
With this new era, we've freshened the look and feel of the magazine, launched this website as a shared vision with the brilliant people who brought you Three Sheets Northwest, undertaken numerous editorial updates, and added two new print special issue inserts. All in all, it has been a big couple of years for 48° North, and this evolution is a perfect complement to the tradition of 48° North, which boasts 40+ years of publishing success and over 40,000 devoted fans.
Right team, right moment, the right momentum, and the chance to move the needle for the prosperity of an entire community: That's why we get excited to come to work in the morning, and that's why we think you should want to be here too.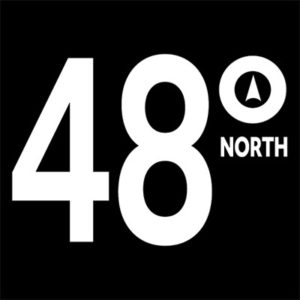 48° North Editors are committed to telling the best stories from the world of Pacific Northwest boating. We live and breathe this stuff, and share your passion for the boat life. Feel free to keep in touch with tips, stories, photos, and feedback at news@48north.com.