We are less than a month from the start of the 2017 edition of Race to Alaska (R2AK). This year promises to be different than either of the previous years, both in competition and in conditions. It's unlikely that we'll see the never-ending gale of 2015, nor should we expect the flat-calm suffer-fest of pedaling or rowing that many of the teams experienced in 2016. Registration is slightly down from past years, but especially with the onslaught of late entries, R2AK 2017 holds no less intrigue. In my opinion, this is partly because there are fewer mind-bogglingly fast boats involved. This year's lead-up is devoid of a newly-built Bieker proa, no rumors of a 72′ foiling trimaran, and it won't include last year's record-setting Marström 32. I would venture to say that this year, I'm more excited about the sailors than the boats. That's not to say there aren't some super cool boats; there certainly are. But, in my personal pre-R2AK geek-out, I didn't want to just go check out the boats. I wanted to go sailing with the racers, to get to know them and their boats…on their boats. So, here is a profile of one of the teams heading north in 2017.
Team Willpower
Seascape 27
Piotr Zin and Ross Carmichael
Piotr Zin is a lanky, fun-loving guy who, though experienced, seems a youthful 39 years old. Excitable and passionate, he doesn't sit still, on or off the boat. Piotr identifies as many things: engineer, boat builder, restorer, climber, tall-ship sailor, long distance scooter-rider. While oozing confidence at times, he's not cocky. In fact, he told me more than once, "I'm not a good sailor." And, after our evening sail, he admitted, "I'm scared shitless about this race, to be honest."
While Piotr's apprehensions are understandable and his humility is admirable, he is lucky to be able to rely on a really incredible boat to take to Alaska for R2AK 2017.
Piotr's vessel is a new Seascape 27, and he loves this boat. I see a lot of people who love their boats. Piotr LOVES his boat, which he named Persistence because he refit and sold two other boats over four years to finally get his beloved Seascape. He just can't keep it in, he giggles when he talks about it. "Do you know what drew me to this boat? It's that I'm a catamaran sailor – that's one thing I know how to do is drive something with two hulls. And this drives like a catamaran." He has owned a variety of other boats, and reflecting on his experience and the Seascape, Piotr says, "It's so easy! I got used to crashing hard many times each day on the Nacra or the F-18. Not on this thing!" Three days after the Seascape arrived in a container, Piotr had a kite up in a 35 knot blow on Lake Washington and clocked 18 knots of boat speed.
Many sailors may already be familiar with the Seascape 27, and R2AK fans will recognize this as the big brother to Team SeaRunner's Seascape 18, which completed R2AK in 2016. The Seascape is a very trendy dual-purpose Racer/Cruiser, though it lies far on the race end of that spectrum. It is comfortable down below, but the brain child of Mini-Transat designers, its pedigree is off-the-wind distance racing in the ocean. Given that design priority, maximizing performance on all points of sail is a learning process.
We saw gusts of 35 on the day we went out sailing on Lake Union. The boat is seriously overpowered in half of that. We set a double reef before we went out, and Piotr warned me that we might not even use the stock 110% jib (we did downwind). He rigged up a newly-designed furling staysail that tacks about a foot aft of the headstay. While it was gusty, this seemed like quite a small sail plan, given that the consistent breeze was only in the mid-teens. Just play the main in the puffs, right? Actually, no. Piotr's recommendation, that apparently came directly from Seascape's CEO, was ride out the puff without easing. Feather up, then? Nope. The boat loves to heel. My first reaction was somewhere between skeptical and "yeah, right…"
But, as we sailed, I did feel the boat get sluggish when I eased in a puff. The feel is something quite unique. The dual rudders are part of it, but having sailed a number of dual rudder boats, that's not the whole story. I'd guess it's also a combination of a wide, flat hullform, the hard chines, and the shape of the foils. Don't drive it like a sport boat. Drive it like an Open 60: rocked up on its ear, hauling the mail! Piotr says he's learning to sail the boat upwind, and it would certainly be a steep curve for me. It's a balance of all that sailpower, finding the right heel angle (way over), and keeping the helm neutral and driving the boat in a straight line.
Although Piotr downplayed his sailing skill, he seems to be developing savvy about this boat. He also has a "send it" attitude. He told me of sailing through Deception Pass against the tide at max flood on his Nacra as if it was no big deal. On the Seascape, I found him to be methodical and attentive. To me, he seems every bit up to the boat handling, but will have to be diligent about currents and navigation.
Piotr's teammate is a neighbor and friend, Ross Carmichael. He's also a boat builder, and among his best assets is his habit of biking 40-50 miles every day. He should be an absolute horse on the pedal drive if the breeze goes away.
Speaking of the all-important pedal drive, Team Willpower will use a SeaCycle apparatus. But this is Piotr, after all, and off-the-shelf is not good enough. They've designed a whole system for it to go into the boat's motor well, and are going to refit it with a more powerful Torqueedo propeller.
Piotr is as excited about the gear on board as the race itself. Among other cool doo-dads, he's outfitting the boat with a fuel cell. This, too, makes him giddy. It's fueled by alcohol, and in his words, literally means that you could run full power and never (NEVER!) plug into shore power again. On Persistence, it will power a beautiful array of touch-screen electronics and the lights necessary to run 24 hours per day, which they plan to do in R2AK.
How did Piotr decide to do R2AK? He says, "I've done a lot of really challenging shit in my life. I rode a 49cc scooter from California to Detroit because I thought it would be fun. I averaged 15 miles per hour as I crossed Loveland Pass and the desert and the plains. It was a beautiful 14 days of vacation. I walked across Denali National Park. I heard of Race to Alaska when I was still living in California, and my first reaction was that I was going to go to Seattle and find a catamaran. Any catamaran – a Hobie 16, a Nacra, anything I can get my hands on. And I'm going to win the goddamn thing." Well, the boat changed, but the enthusiasm sure didn't.
Cool guys, cool boat. We're psyched to follow Team Willpower!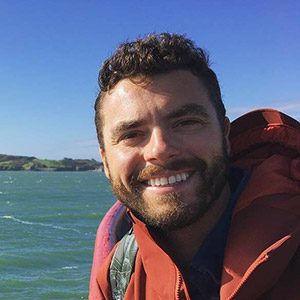 Joe Cline has been the Managing Editor of 48° North since 2014. From his career to his volunteer leadership in the marine industry, from racing sailboats large and small to his discovery of Pacific Northwest cruising —Joe is as sail-smitten as they come. Joe and his wife, Kaylin, welcomed a baby girl to their family in December 2021, and he is enjoying fatherhood while still finding time to sail, make music, and tip back a tasty IPA every now and again.