This article was originally published in the April 2022 issue of 48° North.
» Garmin 79sc Handheld GPS
Always evolving their handheld satellite communicators to help you cast off confidently on your sailing adventures, Garmin's newest offering is the GPSMAP® 79sc GPS. This rugged, floating handheld features a sunlight-readable, high-resolution color display that is fogproof and scratch-resistant. You get access to a range of satellite constellations (GPS, GLONASS, Beidou, Galileo, QZSS and SBAS) for more reliable, accurate tracking around the world. And navigation is easy and dependable with a three-axis tilt-compensated electronic compass and built-in BlueChart® g3 coastal charts. The biggest upgrade that the Garmin 79sc gets over previous models, though, is more memory. You can save and track 10,000 waypoints and 250 routes, which will get you a long way!
Price: $349.99 » www.garmin.com
» Robship Cockpit Bag
Finding space in your cockpit for all the things you might need while sailing, along with halyard or control line ends, can be a tricky puzzle. Robship's new large Cockpit Bag aims to keep you organized with two generous front pockets large enough to hold a tablet, phone, gloves, hat, and a favorite book. Rope storage pockets have large top flaps to keep the elements out and vinyl mesh on the bottom for airflow and drainage. On the front of each pocket is a black mesh slip that is big enough to hold a smartphone, mini-tablet, or GPS display. The black mesh allows for the screen to be visible. Two side pockets can accommodate winch handles, a couple of beers, or a water bottle. Lanyards are placed so that you have easy access to your accessories like a rigging knife, but without having them swinging into the cockpit sides every time the boat rolls. The bag can be bulkhead, rail, or lifeline mounted.
Price: $73.99 » www.robship.com
» Revolve Boat Hook
It isn't often that a new product comes on the marine market that truly makes you stop and take notice. So it was with the new Revolve Boat Hook. Designed and developed as a unique, full-size rollable boat hook that stows into a space not much bigger than a coffee cup, the Revolve Boat Hook uses next-generation rollable composite technology to roll up for storage easily and quickly unrolled for use. Minimizing the space it takes up not only means that it can be stored in tight spaces, but it can also be easily carried on craft unsuitable for conventional boat hooks, including tenders and dinghies. Lightweight, rugged, and compact, it rolls out to a total length of 6 feet. To store it, simply roll it
back up, and it will fit into a 4.3-inch by 4.7-inch space.
Price: $119 » www.pyiinc.com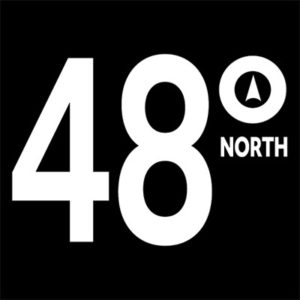 48° North Editors are committed to telling the best stories from the world of Pacific Northwest boating. We live and breathe this stuff, and share your passion for the boat life. Feel free to keep in touch with tips, stories, photos, and feedback at news@48north.com.