48° North
Tests the Stout, Twin-Keeled Bluewater Cruiser
The Sirius 40 Deck Saloon (DS) just made its North American Boat Show debut in Seattle in January, and I have to admit, it had not been on my radar. It certainly is now, and it left a big impression. Perhaps this is because this was no two-hour boat test. I got on the boat at Cornet Bay Marina just inside of Deception Pass, and spent two very enjoyable days cruising the boat, including a night on the hook in a San Juans gunkhole at Kimball Preserve.
The first 40 DS splashed in 2015. And the first on the West Coast of this continent now has a home in Vancouver, BC, after sailing here from Germany, where Sirius Yachts are built.
At its core, the Sirius 40 DS is a stout bluewater sailor, whose design priorities begin with a large, central deck saloon with 360° views and creature comforts galore. It has several ballast arrangement options, two of which prioritize keeping permanent draft to a minimum while retaining rock-solid stability. And one of these (the twin-keeled version we sailed) allows you to safely "dry-out" on tidal flats; not just as a novelty, but daily. It utilizes a Solent rig with a readily-deployed self-tacking jib and traditional-sheeting genoa. Considering its host of interior layout options and multiple rudder arrangements to pair with the ballast options, it's one of the most customizable production boats I've come across.
This Sirius 40 is big and beautiful, and it is ready to take you to far away places. Yet, the ocean is not the only place this boat will be at home—it's also uniquely perfect for year-round cruising on the Sound, the Inside Passage, or Alaska. Its saloon windows allow you to take in the beauty of your surroundings while being out of the weather if it is cold, wet, or both; whether you're under sail, under power, or at anchor.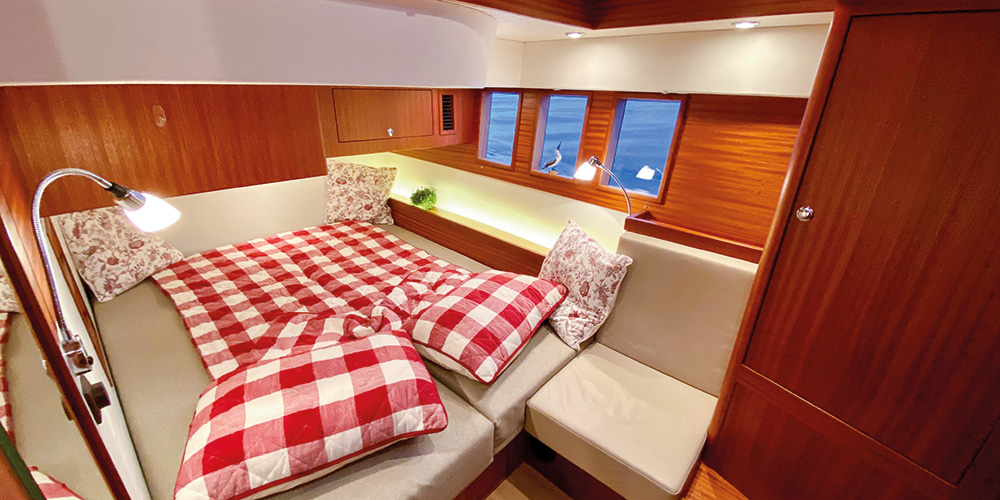 Innovations
As much as any boat I've stepped aboard in recent memory, the Sirius 40 DS is full of surprises. It exposed some of the expectations to which I default, based on certain conventions in boat design. Being different is noteworthy in itself, but since ingenuity and creativity are on constant display in the Sirius 40 DS, there was also a significant wow factor.
The first clever invention I noticed was the burly canting wheel, hinged on centerline. This gives you many of the advantages of dual helms—the ability to drive from either high or low side for visibility or trimming purposes and easy fore-aft movement around the cockpit—while keeping the steering mechanism strong and simple.
As I entered the extraordinary saloon and passed the raised dinette to port, I walked down a couple of stairs at the forward end, expecting to find only a V-berth (it's there and it's lovely, by the way). On my way, I discovered another spacious cabin tucked under the deck saloon on the port side, which had one of the largest double berths I've ever seen on a cruising boat. This secret berth provides the qualities of a mid-ship berth, where the boat's movement is minimized and where you're insulated from lapping water in the stern and anchor chain noise in the V-berth.
This mid-ship berth is not the only unexpected space afforded by the raised saloon sole. I pulled up a floorboard in front of the galley to discover a storage area under the floor that was nearly three feet deep. There are four of those massive compartments. For passage provisioning, I'm not sure I've ever seen more ample storage solutions inside the cabin.
And then, it was time for the real kicker… The aft-most bench in the saloon dinette hinges out of the way and reveals a passageway into a hidden shop and storage room. This area houses the bones of the boat's systems—engine access, electrical, water, gen-set or laundry for some—and comes standard with a workbench. It's a brilliant use of space, and one that doesn't sacrifice any of the comfort or elegance of day-to-day living.
Livability
The Sirius 40 is just plain comfortable. If it didn't sound so much like marketing lingo, I'd even call it luxurious. This was never more obvious than when we were hit by a surprise 30-knot squall in Rosario Strait. We had already struck sail as daylight was fading fast and we needed to head directly to our anchorage for the evening.
We watched as the wall of white moved across the water at us. "Rain or wind?" I wondered aloud. Well, it was both. It hit and I was truly grateful to be inside the saloon, steering from the interior helm station, awed by the cell's power and by the boat's resistance to it.
Comfort is key to the styling, but it's all about the views. Views when you're cooking in the central galley, views while you're eating in the saloon, views out the hull portlights in any of the three private cabins. I've never seen so much of my exquisite natural surroundings while inside a boat. You're never really "down below" on the Sirius 40 DS.
Quality Craftsmanship
Structurally, the Sirius 40 is a beast. When I loaded my sailing bag into the closet in the midship cabin, I discovered an approach to the chainplate that was new to me. A massive steel rod tied the deck fitting directly to an athwarships stringer. This was just an example, everything about its build is brawny.
The fit and finish is as fine as any boat I've spent time on. It is quiet…dead quiet. No creaking floorboards. No squeaky hinges. The saloon table is genuinely gorgeous. And when the companionway door was closed, that 30-knot squall raging outside was eerily quiet inside the deck saloon while the boat heeled 15-degrees under bare poles.
The most unique of the three ballast arrangements—a twin "bilge keel" set-up—is, as mentioned above, structurally strong and stable enough to support the boat and its contents on land twice a day in perpetuity. The night before I got on the boat, the group with whom I cruised had spent the night dried out on the east side of Whidbey Island. After being warned by some neighbors that they were going to be aground, they stood up on their keels and eventually stepped off the back of the boat and explored the soggy flat in mud boots.   
Sailing
Everything about sailing the boat was pleasurable and easy. The systems all worked in harmony with one another. The boat tracked beautifully. And when we eased sails to drive down from close-hauled to a beam reach in 20 knots, the boat accelerated and put a big smile on my face. It is easy to appreciate the weight of the boat and its pair of keels when sailing. The boat's movement felt slow, moderate, deliberate.
Sailing upwind in breeze in the mid-teens, I did wonder whether a fin keel would have slightly improved the performance to weather. I'd be very eager to try the lifting-keel version. You can certainly find more impressive upwind sailing performance in light and moderate breezes, but you have to sacrifice a lot about what makes this boat special, and the sailing was still very fun. The boat has a substantial rig and had plenty of sailpower to make good progress toward our destination under sail, keeping our 25,000lbs plowing toward Blaine. While it's hard to say whether it was the keel arrangement or the boat's significant heft, the only time I really wished for more performance was getting back up to speed out of a tack. However, it goes without saying that there were other priorities in its design and build. Ultimately, it was a strong sailing performance from a highly capable boat.
Ready for Anything
Sailing the Sirius 40 DS perfectly summed up all of my other experiences on the boat: numerous systems offered innovative solutions to common problems, its motion was remarkably consistent and comfortable, the layout made me want to settle in and relax, quality was on display in every facet, and the boat felt stout and ready for anything.
If we could have kept going—north to Alaska or south to warm water—I certainly would have been happy to do so. The Sirius 40 DS should be on the short list for anyone searching for a strong, heavy bluewater home, from which to explore the world in extreme comfort.
Dimensions:
LOA: up to 42.3′
L Hull: 39.9′
LWL: 36.6′
Beam: 13.4′
Draft: 7.5′ – optional 6.6′ / 5.7
Twin keel (optional) 4.8′
Swing keel (optional) 3.1′ – 8.0′
Ballast (approx): 6,900lbs
Weight (approx): 23,200lbs
Rig and Sails:
Mainsail (standard) 49.0 m2
Self-tacking jib 32.3 m2 (standard)
Genoa I 63.6 m2
Mast height above water: 65′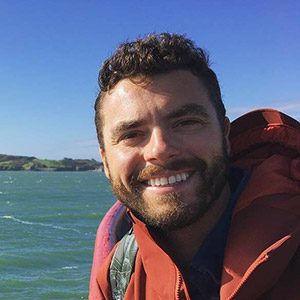 Joe Cline has been the Managing Editor of 48° North since 2014. From his career to his volunteer leadership in the marine industry, from racing sailboats large and small to his discovery of Pacific Northwest cruising —Joe is as sail-smitten as they come. Joe and his wife, Kaylin, welcomed a baby girl to their family in December 2021, and he is enjoying fatherhood while still finding time to sail, make music, and tip back a tasty IPA every now and again.