48° North Editor, Joe Cline, puts the sails up on the Lagoon 42 — one of the latest evolutions of technology, comfort, and sailing performance in the world of cruising catamarans.
"Man, this thing is effing massive." I replied candidly, if inelegantly, when my tour guide for the day, Dan Krier, stepped aboard the Lagoon 42 catamaran on which I stood and asked me what I thought.
Any new boat I review is a voyage of discovery. Yet, each time I've tested a new cruising catamaran, the result is at least as much 'your author learns about cruising cats and cat sailing' as it is a boat review. My lovely afternoon on the Lagoon 42 was hardly an exception though, perhaps with a number of these under my belt now, I'm not quite as green about it all as I once was. Nonetheless, my first impression still revealed my monohull-sailor's-lens — the size, space, and luxury of the living areas on the Lagoon 42 were simply astounding; lovelier than some of the Lake Union houseboats nearby.
A number of years ago, I reviewed the Lagoon 39, a design predecessor to the 42. The big development with the 39 had been that Lagoon chose to move the mast aft, allowing for a more balanced and high-aspect sailplan. A few years later, some of those innovations were employed and improved in a 42-foot design and the Lagoon 42 made its debut. Several of those evolutions center on weight reduction and hull design, and our sailing experience positively reflected these steps forward.
Sailing the Lagoon 42 was simple and enjoyable. As is often the case, the light to moderate conditions on Lake Union weren't what the boat was built for — but let me assure you, I had more fun than I expected. The boat's sail plan is made more powerful and effective by the addition of a Code Zero. Dan told me he orders all stock boats with one because you really want it for cruising in the PNW — I agree completely, but more on this sail and its application later.
We casually untied dock lines and maneuvered out of the marina area. Even with all of its heft and windage, the boat is maneuverable enough with its two Yanmar-powered saidrives that there's no need for a bow thruster. We hoisted the main effortlessly with the electric winch and unfurled the jib. The total time from leaving the dock to sailing was approximately 86 seconds. Easy.
The boat moved admirably to weather with the square-top main and self tacking jib. In 4 to 8 knots, we were able to make 3 to 4 knots of boat speed and push our true wind angles close enough to the breeze to compete with many cruising monohulls. To be fair, everything about the boat feels better if you sail a bit fatter, a little further from the wind — it's certainly how I would sail it, anyway. So, real-life performance to weather is good by cruising catamaran standards, but that's not among the design's top priorities. And, as I like to say, all boat design is a compromise.
Driving and trimming were a cinch with the go-to sailplan (main and jib), and the raised helm station is really a full-on control center. Everything you need to sail the boat — from engine ignition and controls to sheets and sail adjustments and the impressive navigation and instrument display — leads to that single helm station where there is a bench seat wide enough to accommodate two sailors. There are two adjacent winches to share the load, one of which is electric. Rather than overwork ourselves with the top-handle winch, we used the electric winch more frequently. The position of the helm station is important because of how high it is above the deck and the water. Visibility can be a challenge on a boat this big and broad; but both standing and sitting at the helm gave me 360 degree views and I never once worried about my ability to see around me.
Trimming the boat is an interesting balance between a somewhat adjustable jib and an extraordinarily adjustable main. It's not news that self-tacking jibs can leave something to be desired in terms of malleability and shape for those, like me, with CSTS (Compulsive Sail Tweaking Syndrome). Overall, I liked the shape we achieved with the self-tacker, and I appreciated the athwartships-adjustable stopping pins on the track, which enabled alteration of the sheeting angle. The mainsail on the other hand, is highly adjustable thanks in part to an unthinkably wide traveller track. Adjusting the traveller is important, because the mainsheet does double duty for standard sheeting and boom height — as with most cruising cats, there is no boom vang. In windy downwind conditions, I imagine you'd be glad to have every inch of that traveller. On our test day, it stayed within about two feet of center and
drove the boat well.
Maneuvers are a slower proposition on any cruising cat compared to a similarly-sized monohull, but the Lagoon 42 went through her paces with leisurely grace. With even a small amount of boat speed, getting through a tack required no assistance from backwinding the jib (kind of challenging with the self tacker) or goosing the turn with motor power.
After making our way upwind toward the south end of the lake, we unfurled the massive Code Zero and started to have even more fun. The big sail offers a great deal of versatility, adding a lot of sail area and oomph for headings ranging from a close reach down to a full run. Not that I think anyone is likely to choose to spend much time at it, but we even played with sailing wing-on-wing with the Code Zero.
There was lots to like about the sail right out of the box, and the sheeting and trimming appointments were well placed. Unlike pretty much everything else, the Code Zero can't be trimmed from the helm. Instead, it sheets to winches on the aft quarter of the cockpit area. These winches are waist height when standing, giving a powerful ergonomic position for the trimmer. True sail shape geeks may look to add a clever aftermarket tweaker of some kind to offer twistier profiles in lighter air, but the sail design gives a lot of versatility for upwind sailing. The Code Zero adds a lot to the way the boat sails. On reaching angles, our speed jumped up to 5 knots — really nice in those conditions. With the Code Zero furler little more than a couple feet forward of the jib furler and headstay, one must furl the sail to change tacks. It's a smooth running furler, so you don't need to be an America's Cup athlete to wind the sail in for a maneuver.
Our light lake conditions didn't really show another important innovation on the Lagoon 42 while sailing, but winding the Yanmars up to the max did. The design of the hulls is focused on bow buoyancy. These aren't flat-bottomed daggers aimed at planing, but when we brought the boat up to 9 knots (a speed you would very reasonably expect to see and exceed when reaching or running in a stiff breeze), the boat had a very bow-up trim. Images of the boat sailing in heavy air confirm what we felt under power. This boat trim tendency is crucial for a cruising cat which, with its surplus of space, may get loaded down with gear while living aboard. You don't want even a heavily loaded cat to be bow heavy or at risk of digging into waves, and the Lagoon 42's hull forms offer all the assurance a sailor could hope for in this department.
I've written and maintain that a cruising catamaran would be my boat of choice when it comes to pure enjoyment at some quiet PNW anchorages. The interior accommodations almost leave me speechless. The expansive cockpit is perfect for all-season cruising since it is covered by the coachroof, and I imagine that most meals would be enjoyed around its table. Single-level living with a modern indoor-outdoor feel is handsomely accomplished between that large cockpit and the saloon just ahead of it. In that saloon, you've got what is clearly among the most functional and luxurious galleys around — if there was such a thing as a chef's kitchen on a boat, this is it. The galley would be a challenge on a heeling monohull with few options for bracing, but on a stable cat like this, it works and I'd love to cook there.
The two hulls are broad enough to offer a full queen aft-berth with walk around sides, lots of light, and standing headroom. Depending on intended use, there are three- or four-cabin layouts available. Our test boat's three-cabin "owner's version" would no doubt be my choice, with the comfort and privacy of your own hull with the aforementioned queen berth, as well as lots of additional storage, a desk for working remotely, and a gigantic head with
separate monster shower.
As I said to Dan at the start of our day, this is a seriously big boat with oodles of room, style, and comfort. These cruising catamarans are getting to be better and better sailing vessels, and the Lagoon 42 is one of the latest and best designs embodying this balance of performance and the combination of strength, stability, storage, and space you'd want on a go-anywhere cruising boat. The bonus with the Lagoon 42 is that you get all of that liveability in a package that is still manageable in tight quarters and easy to sail for a family, a couple, or even a singlehander.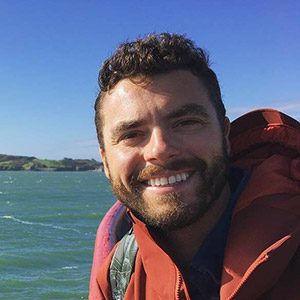 Joe Cline has been the Managing Editor of 48° North since 2014. From his career to his volunteer leadership in the marine industry, from racing sailboats large and small to his discovery of Pacific Northwest cruising —Joe is as sail-smitten as they come. Joe and his wife, Kaylin, welcomed a baby girl to their family in December 2021, and he is enjoying fatherhood while still finding time to sail, make music, and tip back a tasty IPA every now and again.