» IMPACT Fenders
Protecting your boat from the dock is an important task, which is why two lifelong boaters committed themselves to building flat fenders that would get the job done across a variety of boats and docks. IMPACT Fenders integrate a closed cell recycled foam interior wrapped with a PVC coated polyester shell that is pliable enough to mold to any hull design. The fastening system connects with polypropylene webbing through stainless steel grommets and then to a cleat on your boat. Everything is adjustable and form fitting to your boat's hull for the right placement and maximum amount of surface area protection. IMPACT fenders come in nine colors and 2- or 3-inch thick options, won't scratch off paint or gel coat, and can double as a seat or knee cushion. Recommended fender size per boat length is medium fenders for 14 to 25 feet, and large fenders for 25 to 60 feet.  Similar to their fenders, IMPACT also has dock bumpers, piling pads, and other specialty boat protection products.
Price: $98.95-$125.00 » www.ImpactFenders.com
» Blue Sea Systems P12 Battery Chargers
The new 25 and 40 amp P12 battery chargers from Blue Sea Systems are a sophisticated 12 volt charger designed with four-stage charging (bulk, absorption, pre-float, and float) for optimum performance and longest possible battery life. The P12's unique Pre-Float charging stage tapers the charging current to batteries that are nearing full while also charging batteries that still have a way to go before reaching full charge. This assures that, regardless of battery size or age, all your batteries receive the most charging possible by the time the charger switches to float mode without overcharging any smaller or newer batteries in your banks. This Pre-Float feature is unique to Blue Sea Systems chargers and is especially useful if you have a large house battery and a smaller starting battery,  as is typical on most boats. The P12 comes pre-programmed for use with Flooded, Gel, AGM, and TPPL (Thin Plate Pure Lead) batteries, and can charge as many as three separate batteries or battery banks. The 25A P12 charger is recommended for use with batteries or battery banks with a total capacity of up to 330 Ah and the 40A P12 Charger for banks with a total capacity of up to 440 Ah.
Price: $628 – $799 » www.BlueSea.com
» ACR Electronics – Bivy Stick 2-Way Satellite Communication
The new ACR Bivy Stick is the smallest and most efficient way to communicate from remote places where cellular service is not available. With a simple design and user interface on the app, it's easy to share your location, get a weather report, send a message, or initiate an SOS. Lightweight and durable, the Bivy Stick is able to send two-way text messages to phone numbers or email addresses and unlimited pre-prepared messages for free. It also features location sharing and tracking and SOS communication on the app and device with service by Global Rescue. The device's check-in button sends a preset message and your location without using your phone. Compatible with a wide variety of mounts, the Bivy Stick has 100% global satellite coverage, working anywhere you can see the sky, and receives a dedicated phone number that will not expire as long as your account is active.
Price: $349 » www.Acrartex.com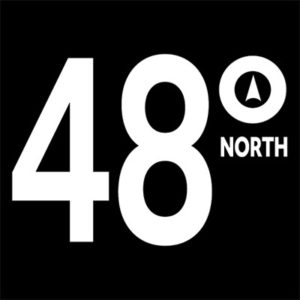 48° North Editors are committed to telling the best stories from the world of Pacific Northwest boating. We live and breathe this stuff, and share your passion for the boat life. Feel free to keep in touch with tips, stories, photos, and feedback at news@48north.com.