This article originally appeared in the May 2021 issue of 48° North.
Harken Gizmos
In response to sailors' and riggers' request for lightweight and reliable soft-attach terminations and reduced chafing through-deck hardware, Harken Gizmos were born. Not quite a block, not quite a cleat, the soft loops and deck pieces exist in an in-between that defies classification — all of which allow sailors to minimize weight and eliminate as many heavy metal fasteners as possible. Gizmos are reliable soft attachment points and deck hardware that are perfect for new builds, upgrades, and refits. The single-sided through-deck bushings are designed to protect decks and lines from chafing and the double-sided through-deck bushings are perfect for installing soft-attach loops to protect lines from wear. Padeye kits include a cross pin, waterproof cap, and O-ring to convert a double-sided bushing into a through-deck, watertight padeye. The cross pin attaches the rope/loop and the cap snaps over the top to keep water out. Bushings and loops are sold separately.
Price: $29.35 www.Harken.com
West Marine Mast Climbing Harness
Throughout centuries of seafaring, a bosun's chair has typically been the quintessential piece of equipment for sailors going aloft to inspect or repair their vessel's running and standing rigging. For modern sailors, though, a rock-climbing-style harness has increasingly become the tool of choice for foredeck crew on race boats, professional riggers, and cruisers. The West Marine Mast Climbing Harness was created with those applications in mind. Its safe, comfortable, and easy to fine-tune fit is accomplished by four adjustable auto-locking buckles, and wide, breathable paddings. Front and back halyard connecting loops and five gear loops are arranged to avoid accidental snagging. A soft attachment loop for the hoisting halyard is strong and dependable.
Price: $119.99 www.WestMarine.com
Karver KSW Speed & KPW Power Winches
Known in the sailing market for their hardware and single-line furlers, Karver has recently jumped into the winch game with their KSW Speed and KPW Power winch range. It began in 2018 when they acquired France-based manufacturer, Pontos Winches, and started tinkering with what Pontos had started. Compared to a standard winch, Karver's new self-tailing, manual winches have four automatic gears (instead of two) that utilize epicyclic gear trains and automatic load detection. Chosen at the time of purchase between Speed and Power, the new lineup includes three sizes — 40, 46, and 52. The Speed winches are geared six times faster than a standard winch, and the Power winches are three times more powerful than a standard winch. The four gears are, in effect, two sets of two gears with a physical load sensor in the drum responsible for switching between gears one and two, to three and four. The user simply changes winding direction to seamlessly switch gears without the need for a toggle or button.
Price: Starting at $2,499.99 www.Karver-Systems.com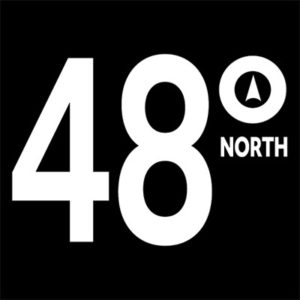 48° North Editors are committed to telling the best stories from the world of Pacific Northwest boating. We live and breathe this stuff, and share your passion for the boat life. Feel free to keep in touch with tips, stories, photos, and feedback at news@48north.com.