This article was originally published in the September 2021 issue of 48° North. 
Folding and nesting dinghies aren't a new concept, but ones designed and built with exceptional performance and high-tech construction are. Enter the Reverso Air. Billed as "the world's fastest portable small sailboat", the Reverso's unique hull shape (11-foot LOA and 4-foot 6-inch beam) breaks down into four sections that range in weight from 4 to 35 pounds. When you're done sailing and ready to stow it, the Reverso's interlocking hull sections fit into a space measuring only 30 inches by 36 inches by 55 inches. Designed and built in France, the boats are made from vacuum infused fiberglass with a foam core, and the mast is carbon fiber. They have a carrying capacity of 350 pounds, which means you can easily fit a combination of two adults, or one adult and a couple children, or several kids or teens. The boat comes in four models and pricing is available for delivery from France to the United States.
Price: $11,000 » www.SailReverso.com
» Antal Roller Cleats
Horn cleats on your boat and dock haven't changed a lot in design over the past few decades and that's because they are simple…and they work. Yet, our on-deck cleats can sometimes become a problem when they catch a sheet or line that we're trying to work with. Aiming to solve this problem, Italian sailboat hardware manufacturer Antal came up with their Roller Cleat to offer a sleek and functional alternative to the horn cleat. The Roller Cleat is a folding cleat with rotating horns that, with the simple movement of your hand, can be opened or closed — even with the line on and loaded up. When the roller is open you can easily tie or remove the dock lines, and when it is in the closed position it minimizes the size and shape of the cleat, preventing lines from getting snagged. Made in three sizes and two finishes (silver or black anodized) the roller has a perfectly rounded shape that will not cause chafe or damage to your lines — and they look pretty stylish, too!
Price: $300 » www.Antal.it/eng
» Mustang Sentinel™ Series Dry Suit
For small boat sailors and cruisers, paddlers, and adventure racers, having a quality dry suit is a smart choice in the Pacific Northwest. With that in mind, Mustang Survival's new Sentinel™ series boat crew dry suits tick all the boxes for many local mariners. Waterproof, breathable, and able to stand up to constant wear, the suits are constructed with military grade GORE-TEX® BD6.5 fabric. If you're not planning to wear the suit in close-to-the-water contact, like in a kayak or sailing dinghy, the Sentinel™ suits are also ideal for crew members who don't intend to enter the water but require hypothermia protection in case of accidental immersion. Besides being waterproof and breathable, other features include a neck seal protective collar for improved abrasion protection; two-point attachment removable suspender system for improved fit, mobility, and comfort (internal suspenders included); large CORDURA® reinforced over-cuffs with Velcro closures for adjustability; two thigh cargo pockets and one calf pocket.
Price: $2,400 » www.MustangSurvival.com.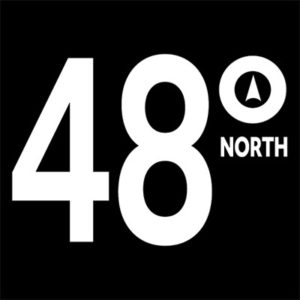 48° North Editors are committed to telling the best stories from the world of Pacific Northwest boating. We live and breathe this stuff, and share your passion for the boat life. Feel free to keep in touch with tips, stories, photos, and feedback at news@48north.com.