I woke early and climbed the companionway stairs of our stern-tied Canadian Sailcraft 40 in Annette Inlet on Prevost Island. The steep barnacled wall just off our stern rose before me in the quiet haze of dawn — textures and colors, hidden beneath the surface last night, now popped with such rich contrast as to seem digitally enhanced. I was seeing double, not from the previous evening's shenanigans, but from the perfectly mirrored image in the calm low tide waters of our own private cruising paradise.
The 48° North Cruising Rally group had this entire back section of the inlet to ourselves. It was another in a line of seemingly too-good-to-be-true cruising stops that had me wondering, "What's the catch?" I scampered lightly to the transom to check depth under the rudder, and breathed a sigh of relief. No problem. There was no catch, it was just that kind of amazing trip.
It was the second-to-last morning of the rally, which 48° North runs annually in conjunction with Ullman Sails. I don't think anyone really wanted to wake up or move to a new anchorage, let alone think about the rally week coming to a close. It had been a jam-packed and too-short few days, each taken from a similar page of fun, fellowship, and unbelievably beautiful surroundings. The best stories never come from the perfect trips, but perhaps that's partly because sharing the story of a trip this good feels a bit like boasting, like rubbing it in. If that's the case, I guess you'll have to forgive my humble-brag.
The rally fulfills different purposes for each individual who joins, but at its core is the principle that cruising with a group provides comfort and confidence to those with less experience, an opportunity to meet other 48° North readers and fellow PNW cruisers, and to have a boatload of fun along the way. It's not an expressly educational event, but the amount of learning and information exchange that takes place in just a few days is truly awesome. This year was no exception.
Our group of nine boats rendezvoused at Cap Sante Marina in Anacortes on July 23. A meet-and-greet ensued over happy hour, and we got to know each other while we evaluated the itinerary, especially for the first day and night. A cooling system with rain was approaching. Our original plan had been to stay at ever-popular Sucia Island, which offers great protection from most wind directions, except the southeast. The weather models didn't agree, but at least a few suggested that the breeze would come in, maybe heavily, from… the southeast. This is why you write cruising plans in pencil instead of pen.
In these islands, though, options abound and we were ready with Plan B. Instead of Sucia, we'd head through the islands and stay in Garrison or Westcott Bay near Roche Harbor on San Juan Island. Not having a solid read on the cruising crowds with whom we'd share our anchorage, that choice of adjacent bays provides enormous anchorable areas with great protection for our nine boat group. We had visited on a previous rally and landed in Westcott after finding Garrison too crammed with anchored boats to even consider.
In 2023, this was not the case. After a stress-free passage through the San Juans, our group slowly entered the bay, with many of us asking, "Where is everybody?" The Rally HQ boat — the aforementioned CS 40, Blackbird — led the way and tucked into the shallow waters just in front of Guss Island with English Camp to the east. Whoa. I'd only been this close to these waters from the shore of English Camp.
Soon, all of the rally boats had dropped hooks nearby, each with ample room to swing, in the southeasterly portion of Garrison. Set for the night, we braced for weather that never materialized quite as rowdy as forecast. Many rally goers ventured to shore to explore English Camp or head over to Westcott Bay Shellfish Co, while others dropped crab pots with impressive returns. Soon the downpour arrived, and folks ducked below on their boats for a weather-inspired early dinner. Eventually, the rain dwindled and the sun made an appearance for a golden few minutes before setting. It was a blissful first sleep at anchor. The next day, we'd venture into Canada.
After a quiet night and relaxed morning, we made our way through dreamy Mosquito Pass under gray skies. Soon, we were pleased to see a light southerly fill with enough pressure to inspire raising sails as we headed toward Turn Point. I was reminded of my numerous Round the County Race transits of these waters, as commercial traffic from each direction momentarily split the rally fleet; but soon we were reunited and enjoying building breeze as we continued into Boundary Pass in the direction of the Canadian Customs station located in South Pender Island's Bedwell Harbor.
Anytime you clear into a new country, especially as the leader of a group, there's no small amount of trepidation. Did someone forget their passport? Might a participant have a crime they didn't realize would prevent them from crossing? Have they brought too many beers, eggs, or apples to be allowed in? My stress-ometer wasn't really in the red, but there was solace nonetheless as the entire group cleared without mishap.
While it is always difficult for me to pass up a night at Bedwell's Medicine Beach, a perennial rally favorite (in the right conditions), we had set our sights on an anchorage we haven't visited since the inaugural 48° North Cruising Rally back in 2018 — Saturna Island's Winter Cove. As an added bonus, we enjoyed the best sailing of the trip, as the southerly built to the low teens when we turned to port around Blunden Islet and into Plumper Sound. Blackbird was broad reaching at 8 and 9 knots with the main and a Code Zero. It's always nice to share the rally leadership and our borrowed boat with a pro sailor and sailmaker!
It felt like we didn't have enough runway to fully delight in the downwind conditions before the miles ticked away and it was time to strike sails and head into our anchorage for the evening. Luckily, another pleasant surprise awaited us.
For the uninitiated, the entrance to Winter Cove requires some attentive navigation, and cruisers must go well north to avoid reefs before turning back south into the peaceful, rustic bay. Accordingly, even the keenest watch keepers might not pay much attention to Winter Cove itself on the approach. Whether folks noticed from a distance or not, Winter Cove had almost no boats in it. When we visited before, we shared the bay with easily 40 other boats, and still had plenty of room. So, it was with genuine awe that we entered the bay to find only four boats already anchored.
Winter Cove is bordered to the south and east by a BC Provincial Marine Park. Around the shore, there isn't a great deal of development. Even after another boat or two arrived for the night, considering the forested surroundings and the astoundingly small number of non-rally cruisers, it really felt like we had this sought-after anchorage to ourselves. Given past experience with swirly currents, we advised against an overnight raft-up; but several rally boats rafted to one another for some refreshing sundowners after a fairly long travel day.
Once the raft-up parties broke up in the late daylight hours, some crews went to shore to explore the park or hunt for blackberries, while I ventured out in Blackbird's dinghy with my camera to try for some glamor shots of rally goers and their boats. I thought, surely, this will be remembered as the best night of the trip (and possibly our respective summers), little did I know the "best" nights were only getting started. The sunset rolled on and on, deepening to rich oranges and purples as the luminous half-moon hung in the southwestern sky. The night was quiet as can be — so quiet you could hear the rushing waters of Boat Pass from the cockpit from a quarter-mile across the bay. I love Winter Cove.
On the following day, we enjoyed our first bright, sunny morning of the trip. Since we had a short travel day, we invited everyone ashore for coffee hour, along with a little business and a little more fun. Each day of the rally, we begin with a briefing covering the day's navigation, weather predictions, and eventual destination. Often communicated over VHF, text message, or both, it was nice to discuss the day's plans in person while standing around a chart. Our destination was Annette Inlet on Prevost Island — a location none of us had ever visited. Thus, our discussions leaned more on cruising guides and navigational resources than personal experience.
Before setting off, our group pursued a variety of shoreside activities. The crew from the Catalina 36, Castlewellan, had folding bikes and were already cruising around Saturna. Others strolled out to check out the park's resident tidal rapids at Boat Pass. Those remaining got to enjoy a rally tradition — lawn games overlooking our anchored armada. Repeat rally attendee, Ed aboard his Tartan 3400 Rugosa, had brought a ladder ball set along; and I had my favorite lawn game, Kubb, as I typically do. After several hours of exploration and serious lawn game amusement ashore, it was time to weigh anchor and make our 10-mile transit.
After exiting Winter Cove, we noted several whale watching boats southwest of the channel. Proceeding slowly across Plumper Sound, we were giddy with anticipation… could it be? Yes! "Orcas!"
We sailed slowly under main alone, enjoying the intermittent show of at least four of these extraordinary animals. They swam east along Saturna's Elliot Bluff and Payne Point, essentially greeting several rally boats as they began the day's travel. The whole experience was gleefully PNW!
It's tough to tear oneself away from an orca show, but soon we pointed north and enjoyed a bit of upwind sailing until the breeze evaporated in Trincomali Channel and we motor-sailed around Pile Point, the northernmost point of Prevost Island.
Passing several other enticing anchorages, we approached Annette Inlet slowly. It is a nerve-racking entrance, with a centrally located unmarked rock at the mouth. The mile-long bay is only a few hundred feet wide at its widest point. In the northern section of the inlet, boats were swinging at anchor, staggered to fit in tight spots. Passing by required weaving between these vessels in close proximity — we even disturbed a nude sunbather aboard one. Oops!
Continuing deeper into the inlet, we rounded a corner and began assessing options for a stern-tie raft up. We like to do this at least once per rally, because it invites cruisers with a range of experience and skills to try backing into a raft-up and/or practicing their stern-tie anchoring technique. It's never quite as dead-easy as we envision yet, like always, after a little effort it worked like a charm. In the end, four boats joined the raft-up, another decided to anchor stern-tied nearby on their own, while others chose to swing. There was plenty of room in this southern portion of the inlet, which we had all to ourselves.
With no option to go ashore, the raft-up provided a nice pot-luck and merrymaking platform, and everyone dinghied over to join the fun. Food, drink, and camaraderie were generously exchanged. It's always fun to see how rapidly actual friendships are forged between folks sharing an adventure.
We had another stress-free night before the glass-calm morning I described previously. This was pinch-me cruising stuff of the highest order. Reluctant to leave our idyllic surroundings, we did eventually move on, knowing that we needed to get back to the San Juans if we were to have manageable mileage on the last day back to Anacortes. We left Annette Inlet with the assurance that we would certainly return, and soon.
The day's big adventure arose as we learned that just a few weeks prior to our journey, the US Customs entry point at Roche Harbor — where we had planned to clear customs — had ceased being a "manned" entry location. Kudos to Anita and Andy of the Olson 34, Watermark, who had that on their radar and alerted the group. See, even rally leaders benefit from cruising with friends!
Not knowing exactly what this change in Roche Harbor meant for our group, we rerouted to Friday Harbor just in case we were called to the dock. Meanwhile, we all tried to get ducks in a row to enter using the CBP Roam mobile app. In the end, the process couldn't have been smoother, and all of our rally boats cleared back into the states using the app without stopping ashore.
The stop for our final evening was Parks Bay on Shaw Island. A pleasant and quiet bay, known for great sunsets, Parks is nearly always a good choice — and definitely was on this rally. The bittersweet conclusion of our trip was inescapable. One boat had already parted ways to continue cruising farther north in the Gulf Islands, while another had cruised farther south than Parks Bay to position themselves for a long southbound delivery the following day.
Nonetheless, the rally fun continued! The sweet and generous pair, Dwight and Christa, sailing their lovely Jeanneau 410, Frolic, invited the entire rally crew to join them and their two canine companions for taco night on their spacious cruiser. It was the ultimate rally wrap-up — a circle of new friends sharing a meal, reminiscing about our fabulous week together, trading stories of land-life, and of course endlessly discussing boats and cruising.
Eventually, the fleet of dinghies tied to Frolic's transom shrank as everyone proceeded back to their vessels for the evening. For me, the quote of the week came from a first-time
rally participant, Mary, who is a member of the crew on All' Swell, a Hunter 376. She and her husband had a history of cruising a small boat with their young family many years back. They've recently returned to boat ownership, excited to share the cruising life with their grown kids and young grandchildren. As Mary stepped from Frolic's swim platform into her dinghy, she said grinning, "This was great, I'm not afraid anymore!"
As the sun dipped below the western horizon and set on our rally journey for 2023, it was impossible not to feel grateful and gratified. It had been a splendid week, in extraordinary places that we had mostly to ourselves, with fellow cruisers whose kindness and generosity and spirit of fun knows no bounds. Newer cruisers acquired extra confidence, everyone deepened their appreciation for these precious waters, and we all gained some new cruising pals. This is exactly why we do the 48° North Cruising Rally.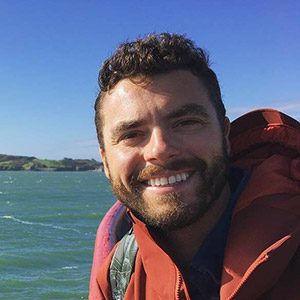 Joe Cline has been the Managing Editor of 48° North since 2014. From his career to his volunteer leadership in the marine industry, from racing sailboats large and small to his discovery of Pacific Northwest cruising —Joe is as sail-smitten as they come. Joe and his wife, Kaylin, welcomed a baby girl to their family in December 2021, and he is enjoying fatherhood while still finding time to sail, make music, and tip back a tasty IPA every now and again.