Thanks to John Juliano aboard SV Caro Babbo for this piece on going with out refrigeration while cruising.
"They cheat. They have a freezer," Jennifer said with surprise and betrayal.
She was reading an article about provisioning in Three Sheets Northwest calling out the high points and places where I, as cook and provisioner, had fallen short. "They carry masa. They make their own tortillas. You buy packaged tortillas."
"I'm not making tortillas. I'm not any good at it," I replied.
The author of the article mentioned that "they" had discovered tequila margaritas and therefore needed lots of lime juice. She thankfully discovered online that lime juice could be frozen, and it was at that point the shock of betrayal struck Jennifer.
We own our current boat, Caro Babbo, a Maxi 95, due to a similar moment when Jennifer stepped below decks on a Hans Christian and looked at me and said, "you can stand up in here!"


On Caro Babbo, we don't have refrigeration. We decided against it because of the frequent breakdowns we hear of and the increased power consumption.
The real question for any cruiser, especially sailors, is why we do without some things and have other things? We all view ourselves as having a purity in the sailing we do and in hardships we endure.
In Glacier Bay, we floated a few hundred yards off a blue-white glacier. Several hundred yards more distant was a large cruise ship. We smugly commented to each other that in all of the tourists' pictures there would be a sailboat in front of the glacier, and that sailboat would be us. We would be admired for our bravery and derring-do.
Off to the right floating amongst the ice and scattered up the sloping glacier were colored ice cream sprinkles that when examined with binoculars were kayaks, kayakers and tents.
Heck, we weren't brave. We exhibited no derring-do. We were just vacationers in a boat with a big stick and multiple diesel heaters.
We all bring to this sport our own parameters that make it our personal sport. Were the kayakers kayaking because it was the level of adventure that they wanted, or were they driven, at least partly, by what they could afford?
Jennifer and I have ridden the financial roller coaster that has taken us from living well and staying in multi-star European hotels to economic vegetarians and back again.
We like to think we purchase no prepared foods, tortillas notwithstanding, because of the health benefits, and low environmental impact, not because there have been times where the food budget would only stretch to dried beans, rice and home-baked bread.


For all of us cruisers, there is pride in how we do it: for Jennifer and me it is food we preserve on board: jams, sauerkraut, corned meat and potted duck; doing our own maintenance, whether going up the mast, under the boat to attach a zinc, or the 2000 hour engine maintenance.
But it is all a continuum. We take pride in what we do, but like the kayakers who leave us slack-jawed, there are others who have it taken so much further than us.
We do have some rules and have made some discoveries: it takes three times to learn how to do something. The first time to merely understand what the job is, the second time to learn how to do it, and the third time to do it right.
It can be an expensive way to learn.
In 2016, we traveled up the Inside Passage for the first time. Every day we were farther north than we had ever been before. It was magical, the way that any first-time major life event is magical.
But, we had parts air freighted in four times. We were on the dock in Ketchikan so long that we made lifelong friends and we are welcomed back whenever we return.
When we returned home we gave a presentation to the Cascadia Sailing Society. The list of things that broke took three, dense slides. After the first slide, there was the quiet murmuring of condolence, after the second slide snickering and some giggling, and after the third open throated laughter. With rare exception everything that broke was because I was learning.
Without refrigeration, we eat fresh meat and vegetables in the first few days. We learned that sealed yogurt will keep for months at a time. We've learned there are two types of limes: true limes, which are rounded and yellowish but don't keep well, and unripened lemons, which are dark green, lemon shaped and keep forever. Hard cheeses can be covered in green mold, but are still good once the mold is cut off.
Jennifer buys Café Bustello coffee in a case of six, three-pound yellow containers that she transfers into gallons storage bags and buries in in the port forepeak locker with huge cans of ground tomatoes and bags of freeze-dried milk.


At Winco, we buy as many different kinds of dried fruits and nuts, beans and varieties of couscous as they stock. A 5-gallon food bucket holds 20 pounds of flour, the smaller 2-gallon bucket will hold 15 pounds of sugar. In a five-month season, Jennifer and I will go through 40 pounds of white flour, and another fifteen or so of various other flours: buckwheat, rye, whole wheat, corn meal.
It's not uncommon for us to sail with a total of five people on board. Two college students will consume 15 to 20 pounds of flour in two weeks in the form of dozens of muffins, multitudinous pizzas, and as much bread as can be turned out.
We sailed for years with a two burner alcohol stove producing rolls instead of loaves of bread, flatbread and pizzas. An oven that will fit two standard loaf pans, or a good-sized chicken, a small pork roast, or a shepherds shepherd's pie is luxury.
Our splurge was not refrigeration. It was a watermaker. A Katadyn Power 40E Survivor that generates only a gallon and a half per hour, but will do so from solar panels. We carry enough water that we have gone weeks without refilling, but with the watermaker we have the equivalent of the three-horse outboard on a dinghy that can move CaroBabbo to safety when the main auxiliary diesel fails.


This is a sport, it is also life. We choose how we live it.
On a boat, sailing with Jennifer, there is no approval or disapproval from the group. We make our own decisions and we live with them.
We do look for people to identify with, so keep an eye out for us on the water or on AIS. We'll be doing it our way. Come tell us your way.


John and Jennifer are currently drinking warm beer and room temperature vodka gimlets on the BC coast heading to Haida Gwaii.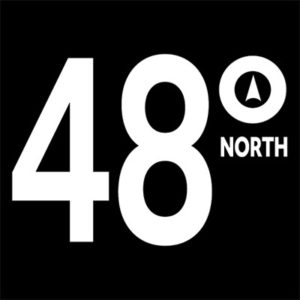 48° North Editors are committed to telling the best stories from the world of Pacific Northwest boating. We live and breathe this stuff, and share your passion for the boat life. Feel free to keep in touch with tips, stories, photos, and feedback at news@48north.com.