This article, co-written by Chuck Skewes and Joe Cline, originally appeared in the September 2021 issue of 48° North.
Since 2018, 48° North has partnered with Ullman Sails to put on a cruising rally in the islands of the Salish Sea for readers and members of the 48° North family, as well as friends and customers of Ullman Sails. The goals and concepts of the rally are to give boat owners more confidence using their boats, to explore lesser known spots and celebrate our magnificent cruising grounds, and to build community and camaraderie amongst a varied group of boaters while traveling together. The group participates in shoreside activities and often a night of on-board music during a raft-up; as well as potlucks and meals together ashore during all pre- and (we hope) post-pandemic years. All ages, a few pets, and a wide array of boats have joined the rally over the years.
Each year has been a huge success, with rally participants meeting new friends and experiencing new things — some anchoring for the first time after years tying up at the dock, others building understanding about raft-ups, and everyone learning to appreciate the anchoring space efficiency if you stern-tie to shore. In 2021, we were impressed and inspired to see three rally skippers (two of whom had their families aboard) enjoying their very first cruises on boats they had purchased in the last year.
A core rally principle is that each boat decides what is best for them, taking into account the situation, the conditions, and their ability. If guidance is requested, it is given with that context. Since advance planning was difficult with the ongoing pandemic, we ran the 2021 rally free of charge — and this reinforced the encouragement for each participating boat to make the trip their own, and it also made the group even more welcoming to friends who might join us for just a night or two.
Over the course of our rally cruise, which took place the first week of August, a total of 14 boats joined the fun. And man, what fun it was!
Without the ability to go into Canada at that time, this year's rally once again called the San Juan Islands our cruising home. There is always a flexible itinerary due to variable weather and crowds, and 2021 was no exception. We kept to our published itinerary until forecast winds made our intended fifth destination of Griffin Bay look less-than-desirable. From there, we never got back to the original itinerary, yet it was hardly a sacrifice! Such is life with the embarrassment of riches in our island paradise.
The rally starts in Anacortes, with boats choosing between a marina stay at Cap Sante or anchoring out at Saddlebag Island, just 20 minutes from the marina. The group was split between the two, with a rally leader at each location (Joe Cline at Cap Sante and Chuck Skewes at Saddlebag Island). The Saddlebag crew enjoyed hikes around one of the hidden gems of the San Juans and Washington State Marine Park system; while the Cap Sante crew got to have a happy hour and itinerary review with professional cruising guide authors, Heather Bansmer and Shawn Breeding. There was no bad option!
The following day, a short trip (delayed a bit by fog in Rosario Strait) brought us to ever-popular Spencer Spit State Park on Lopez. The weather was gentle, but Spencer Spit offers excellent protection from both north and south winds, depending on which side of the spit you anchor. The Great Driftwood House Building Project commenced after the group dinghied to shore. These beaches are covered with driftwood and both children and adults build huts of all styles that eventually get knocked down by wind or waves (or park officials?).
Our third stop brought us to Jones Island for what would be a highlight of the trip. Another well-loved state park island with a small dock and a few mooring buoys — what the rally crew discovered is how efficient anchoring with a stern-tie can be in the fairly small North Cove. With quiet conditions and a thoughtful layout, we constructed a large and sturdy raft-up of eight boats stern-tied on the east side of the North Cove. Jones Island has excellent hiking, scenic views in every direction, lots of wildlife especially deer, and a large grass area at the head of the dock. A big group of rally goers gathered at this open area for the annual Kubb tournament (a Scandinavian lawn game Joe loves to share and play, and that has become a rally tradition). Later that evening, we were treated to the first in a series of superb sunsets as the group got to know one another around the raft.
It was hard to leave Jones, but we had another wonderful destination on the docket: Prevost Harbor on Stuart. A favorite for many cruisers, Prevost was the most crowded harbor we visited; but there was still plenty of room for our group to spread out — which we did, with some anchoring solo, another grabbing a mooring buoy, a small group rafted up in deeper water, and two boats in a stern-tied raft. Many in the group did the rewarding hike to historic Turn Point Lighthouse, taking in spectacular views of the Canadian Gulf Islands. On the hike back, several took advantage of the self-service honor-system store — a little kiosk with t-shirts, hats, and postcards for which you can now pay online (if and when you have service). Only in the islands!
With the prediction of strong southerly winds, the itinerary was modified for the fifth stopover, foregoing Griffin Bay for Parks Bay on Shaw Island. Those that wanted hot showers and a little shoreside luxury opted for nearby Friday Harbor. Parks Bay is one of the most peaceful bays in the San Juans with an ecological preserve surrounding you. You can't go ashore, and that's kind of the point. Settle in, relax, and enjoy the exquisite environs. The sunset view in Parks Bay can hardly be beaten, and as luck would have it, the western sky delivered that elusive "No way!" sunset when you think it can't get better, but then it does, over and over. It was magical.
From Parks Bay, we finally made some fantastic miles under sail, thanks to a fresh southwesterly bringing us all the way to Lopez Island's Hunter Bay, our sixth destination (and another deviation from the plan due to the continuing big breeze forecast). Hunter Bay and Mud Bay are in the same protected nook on the southern end of Lopez Sound. The quality anchoring space goes on and on, with moderate depths and a good-holding bottom. This is a wonderful anchorage for most wind directions and offers shore access via a county dock. We rafted up at the head of the bay and had a blissful night, until the morning dawned with an unexpected northerly that required us to break up the raft.
With the final weekend upon us, participants started making their way toward home. We bid the kind of farewells — far more heartfelt than they
deserve to be after just one week — I've mainly experienced as a kid at summer camp.
Our rally headquarters boat, a borrowed Canadian Sailcraft 40 called Black Bird (thanks again, Roy!), made one final stop on the way back to Anacortes. We motored through Lopez Pass to the bay west of Decatur Head on the northeast side of the island. This was a good anchorage for the evening's strong westerly wind forecast, and if you have a motor on your dinghy, it provides easy access to James Island (due to tidal currents, cruising guides and reports discourage making that trek by paddle or oar).  The beach on the south side of Decatur Head has great shell, rock, and driftwood hunting. The concluding night of our cruise gave us a rainbow backdrop for a fresh crab happy hour. The anchor held firm in spite of the breeze and we had a perfect last night's sleep aboard.
The 2021 48° North Cruising Rally with Ullman Sails is in the books, and we couldn't be more pleased. To see this varied group have this much fun, share this much knowledge, build this much confidence, and strengthen this much community connection…it was just what we hoped it would be. And the islands treated us so very well, as they always do.
Lots of participants are already making plans for next year. Keep a keen eye out for an announcement about the 2022 rally. We found a good groove with a group of this size and anticipate a limit of 15 boats for that event — which will keep the accessible community vibe, while allowing us to consider some smaller anchorages than we could with a larger group. Come join us! You can bank on all sorts of fun with new friends, serene island scenery, and a healthy dose of cruising confidence for any experience level. This is what group cruising is all about!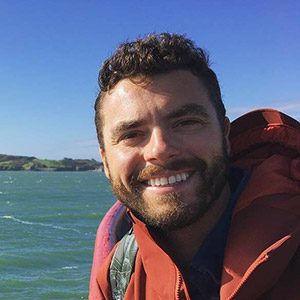 Joe Cline has been the Managing Editor of 48° North since 2014. From his career to his volunteer leadership in the marine industry, from racing sailboats large and small to his discovery of Pacific Northwest cruising —Joe is as sail-smitten as they come. Joe and his wife, Kaylin, welcomed a baby girl to their family in December 2021, and he is enjoying fatherhood while still finding time to sail, make music, and tip back a tasty IPA every now and again.