As we move into another blustery Pacific Northwest rainy season, it felt like a good time to revisit this encouraging editorial from the October 2020 issue. 
When my younger sister and I were kids, our parents took us on a cross-country skiing vacation in northern Minnesota. During that trip, they worked with a local resort to set up an opportunity for us to go dog sledding. Awesome, right?
On the day of this wintry adventure, we arrived at the snowy dog yard and were greeted by 30-or-so sweet and excited huskies. Soon, our guide had a dozen dogs in their harnesses. My sis and I were given Arctic expedition mittens that went up to our elbows and were bundled up in the sled under heavy wool blankets. We were ready to go.
The most memorable part of the whole experience was the moment when the snow hook that secured the sled was pulled and the dogs were given the command to lean into their harnesses and pull—in my memory, something like "HUT!" The sled moved slowly at first, then faster, and soon we were out of the yard and into the forest. But it wasn't remotely quiet. Once we were underway, the dogs that had been left behind in the yard joined together in a chorus of long, loud "take me with you" howls. They literally live to run, and their dismay at missing out was beautiful, haunting, and heart wrenching. Our parents tell us it continued even after we were well out of sight.
This story came to mind because I think boats are like that. Ok, they don't exactly howl, and they're technically inanimate. But they exist to be put to work; and when they aren't, they suffer for it. This is a season when lots of boats around the country and world are necessarily being pulled out of the water before it freezes. Not so for most here in the Pacific Northwest. We can continue to use our boats, and I'm saying we should because our boats deserve it. No matter its design brief, any boat's foundational purpose is to be put to work on the water.
Some of them genuinely need it—lots of wooden boats depend on being in the water to do the first thing a boat should do: float! Water saturates their planks, expanding them into a water-tight seal. To me, this is just amazing, and further reinforces this notion that just about the best thing you can do for your boat is to use it.
This employment helps us, as caretakers, know what the boat needs. Doting on the boat in the marina might increase its dockside appeal, but it is through use that we best recognize what parts or systems may need attention, repair, or upgrade.
Our first purpose for going boating tends to be self-serving enjoyment. It's the same for me, but while I'm on the water, I always seem to develop associated senses of responsibility—to the needs of the boat, the marine ecosystem, or the boating community.
Well, as we head into the rainy season, I encourage all of you to be good to your boats. In other words, get out there and help them realize their purpose. Don your foulies, wear your life jacket, and make safe choices. Then I hope you'll cast off more than a "normal" winter. Remember that even short trips can fulfill this intent, especially in cold weather, delivering the boat the exercise it needs and you a healthy dose of adventure.
t seems likely all of thisI "offseason" boating might be coming anyway, given insanely high amount of activity on the water in recent years. With winter on the horizon, don't leave your boats tugging at their docklines, howling about being left behind while their friends are being taken out for a run.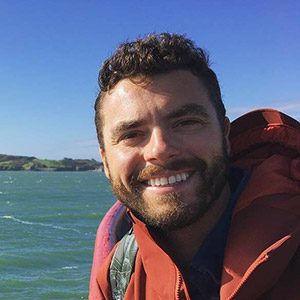 Joe Cline has been the Managing Editor of 48° North since 2014. From his career to his volunteer leadership in the marine industry, from racing sailboats large and small to his discovery of Pacific Northwest cruising —Joe is as sail-smitten as they come. Joe and his wife, Kaylin, welcomed a baby girl to their family in December 2021, and he is enjoying fatherhood while still finding time to sail, make music, and tip back a tasty IPA every now and again.