This article was originally published in the November 2021 issue of 48° North
» SealSkinz Waterproof Socks
Sailors can agree there's nothing worse than wet, cold feet when you're on water — which can lead to numb toes, blisters, discomfort, and even frostbite. Sealskinz waterproof socks are designed to keep your feet dry and on the move in wet or cold conditions. Ideal for a variety of temperatures, their low to tall sock range will keep you dry and warm in rain, snow, and ocean spray — even through shallow water submersion. Sealskinz socks feature a three-layer bonded construction that combines a 100% waterproof hydrophilic membrane between a premium Merino wool interior for warmth and sweat-wicking, and a durable nylon blend exterior with 4-way stretch for great fit and wearability. Built with a seamless construction including hand-linked flat toe seams and the addition of elastic support on the ankle, heel and instep, you won't notice the seams but will notice the extra comfort and fit.
Price: $40 » www.sealskinzusa.com
» Crewsaver Pro 50N EX
In a quest to create a PFD that can be used for a wide variety of watersports, Crewsaver recently introduced a new lifejacket for boating enthusiasts and instructors looking for a high level of on-water practicality and comfort. The Pro 50N EX features a stylish sleek black cover design with honeycomb and bronze detailing. It is highly versatile and designed to allow the wearer to switch between watersports activities without needing to change into a different PFD. Ideal for dinghy sailing, kayaking, paddleboarding, and on-the-water instruction, the Pro 50N EX features several attachment and pocket options for your essentials. Included in the vest is a knife pocket and attachment points for a VHF radio, lights, whistle and more. The 50N is made of lightweight Fusion 3D foam and incorporates stretch mesh shoulder straps and side panels. Breathable Airmesh technology also helps control body temperature, while internal rubber grip strips prevent the vest from riding up on the wearer.
Price: $80 » www.crewsaver.com
» Iosso Water Repellent
Wet weather is upon us in the Pacific Northwest and our boat's outdoor fabrics need to be prepared for it. Constant exposure to rain, sunshine, bird droppings and dirt can make even the most cared-for outdoor fabrics look dingy and grow green. Iosso Water Repellent protects synthetic and natural textiles and maintains their water resistance and original vibrant colors. Ideal for use on boat fabrics like biminis and sail covers, Iosso Water Repellent is a unique water-based formula that doesn't contain solvents or silicone and won't darken colors or leave a tacky finish. The spray provides a long-lasting layer of invisible protection without altering the material's breathability, flexibility or feel. Water Repellent is ideal for solution-dyed acrylics like Sunbrella, natural and hybrid canvas, vinyl, leather, and wood. To apply Water Repellent, simply spray it directly onto clean, dry material until fully saturated. Then let it dry for 24 hours before being exposed to water. Perfect for new fabric, using it seasonally on older materials will help keep mold and mildew from forming. A 32 oz. spray bottle of Iosso Water Repellent covers approximately 40 square feet.
Price: $21.49 » www.iosso.com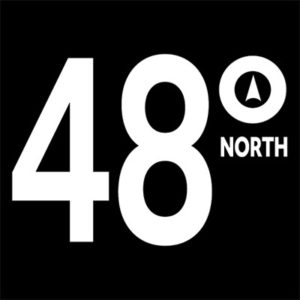 48° North Editors are committed to telling the best stories from the world of Pacific Northwest boating. We live and breathe this stuff, and share your passion for the boat life. Feel free to keep in touch with tips, stories, photos, and feedback at news@48north.com.