In a press conference Monday afternoon, Governor Inslee confirmed what the Seattle Times originally reported this morning: that the Governor will reopen boating in Washington state, slowly and with some continuing restrictions
UPDATED 4:00pm on Tuesday April 28, 2020
Around the Pacific Northwest and beyond, many boaters have felt a cloud of uncertainty around their ability to get on the water in the wake of Covid-19 policies and restrictions. Messages from Washington state and county officials have indicated that most, if not all, types of boating are not approved. Statewide stay-at-home orders, boat ramp closures, postponements of recreational fishing openers, and the fervent and understandable directive from San Juan County residents and officials that boaters should please stay away—all point to staying off the water.
These restrictions haven't prevented some boaters from wondering whether careful day sailing or powerboating with members of their immediate household could still be a safe choice. Equal curiosity has persisted as to whether boating could be among the activities that get early approval as a safe recreational choice, even if some social distancing measures remain in place.
On Monday afternoon, Washington state got some real clarity from Governor Inslee on the topic. And it seems very hopeful for those of us who love being on the water and various other forms or outdoor recreation.
Good News For Boaters and Those Who Love The Outdoors
In his press conference on Monday, Governor Inslee told Washingtonians: "Today, I am announcing a partial reopening of outdoor recreation beginning on May 5. This will open up widespread outdoor recreation, assuming health and safety guidelines continue to be used…" The Governor reiterated several times that this was a data-driven decision.
Inslee elaborated on how difficult the decision to close outdoor recreation lands and opportunities had been, and said of this partial reopening, "We do know that outdoor recreation is one of the best things people can do to promote health, both mental and physical, during this time of stress and isolation."
He offered some more specific details, "The restrictions being lifted today include day use of our state parks, day use of our state lands that are managed by the Department of Natural Resources, and day use of fish and wildlife areas. This includes fishing, hunting, and the ability to play golf as well. … All of these activities do need to be done with appropriate social distancing, as well as protocols for safety and security of everyone enjoying the outdoors. And just as with other sectors where we are beginning to modify our restrictions, if we were to see a sharp uptick in people who are being affected, we'll have to modify these activities again."
Not Quite A Return To Normal, But A Positive Step
The Governor cautioned that "this is not a return to normal," but is only a phase in the relaxation of restrictions. He also clarified, "Today's action does not restrict the ability of local governments to maintain restrictions in their own jurisdictions as they deem appropriate."
As a limited reopening, it comes with some other guidelines. Inslee specified that this measure does not change social distancing expectations for users and "includes a prohibition on anyone exhibiting cold or flu like symptom from participating in these activities." He continued, "People need to limit their partners in recreational activities to only those who live in the household unit. … We also need to recreate locally to the extent humanly possible. We should limit unnecessary travel and not make overnight trips to recreate. … Bring your own food and supplies."
Direct From the Governor's Office:
The following images were released by Governor Inslee's Office on Tuesday morning. They give specific parameters for those headed outdoors, on the water or ashore.
The Seattle Times Broke the Story
This news was first reported by David Gutman of the Seattle Times, and the Governor's message originally came via Peter Schrappen—a spokesperson for a coalition of recreational boating associations, including the Northwest Marine Trade Association and the Recreational Boating Association of Washington. Schrappen and others in the coalition have been actively advocating to state officials for a number of weeks; making every effort to show that it is possible for people to go boating while also safely abiding by social distancing measures.
"Washington will partially reopen outdoor recreation activities on May 5, including many previously shuttered state parks, public lands, boat ramps and recreational hunting and fishing, Gov. Jay Inslee announced Monday."
Social Distancing Guidelines for Safe Boating Remain:
"As outdoor recreation reopens, people will still have to observe social-distancing measures, Inslee said. People going boating together should live in the same household…"
And, according to Peter Schrappen in a previous version of the article, boaters should act responsibly by "not overwhelming boat launches and avoiding things like rafting-up boats in Lake Washington."
All in all, the specific allowance of day sailing and boating with members of your household sounds like a promising first step. You can be sure that 48° North continue to monitor these recommendations as they come out.
Background photo of sailor Trent Piepho single-handing during Race to the Straits 2019, courtesy of Jan Anderson.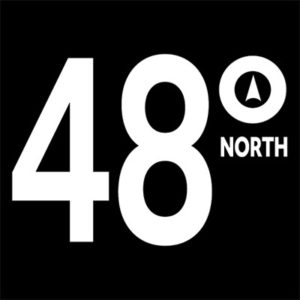 48° North Editors are committed to telling the best stories from the world of Pacific Northwest boating. We live and breathe this stuff, and share your passion for the boat life. Feel free to keep in touch with tips, stories, photos, and feedback at news@48north.com.