Seattle Christmas Boat Parade on Lake Union Scheduled For December 19, 2020.
For Seattle area boaters, there's nothing as quintessentially cheery as a holiday boat parade on Lake Union. When the Christmas Ships pulled the plug on their lighted boat parade this year, we thought the tradition might have to wait until 2021. Turns out they weren't the only game in town, and the Seattle Christmas Boat Parade — taking place on December 19 — is a go in 2020.
To be blunt, we are of two minds as we promote this event. It's the holiday season. Everybody is especially hungry for activities that feel cheery and fun this year, and we boat folks are no exception. But, it's really important that all of our choices are as safe as possible right now. We believe this parade fits the bill for both priorities. Please stay cautious and safe, abide by the protocols for social gatherings and masks — indeed, the event planners require participants to follow all state and local Covid-19 guidelines. And then, have a merry ol' time!
Here is some info from the parade organizers:

Seattle Christmas Boat Parade
December 19, 2020
Parade Start Time — 7:00 p.m.
Registered Vessel Line-up and Check-In
Details: seattlechristmasboatparade.com
Seattle Christmas Boat Parade is a time honored holiday tradition. Join us out on the water for our annual holiday boating event … a Pacific Northwest 'must do' staple. We may be in uncertain, unprecedented times; yet we still need to safely have fun, and also support a great Toy Drive and charity while getting out on the water. This is boating for a cause, and it helps our active Pacific Northwest maritime community stay united and engaged, and keeps traditions alive.

We look forward to Seattle Christmas Boat Parade registered vessels joining our Toy Drive and supporting Seattle Children's Hospital Research Foundation, "A Pandemic Doesn't Stop Santa!" See you on the water this month – break out the Christmas lights and decorate your boat! 'Tis the Season, Seattle!
Organizers require registration (which folks may do here). The parade route starts in front of Fremont Tug just east of the Aurora Bridge on the Northlake side. Boats will follow the lakeshore in a clockwise pattern (staying on Lake Union and passing under no bridges), turning around Buoy 12 in front of Ivar's, and finishing in front of Morrison's North Star Marine on the north end of Westlake.
Western Towboat's yellow and blue tug will be the lead boat, followed by the event organizers (who will be monitoring VHF 68 for check-in) and then everyone else.
The event is to benefit Seattle Children's Hospital. Participants should drop off their toys for the Toy Drive and pick up their registration number at the new Ballard West Marine's Fish Shack.
Be safe, and merry parading, everyone!
All images provided courtesy of Seattle Christmas Boat Parade.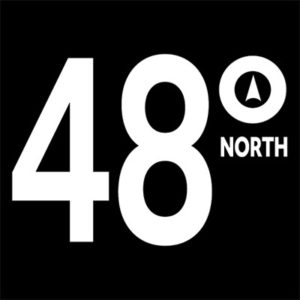 48° North Editors are committed to telling the best stories from the world of Pacific Northwest boating. We live and breathe this stuff, and share your passion for the boat life. Feel free to keep in touch with tips, stories, photos, and feedback at news@48north.com.