Only at Olympia Harbor Days can Puget Sound vintage tugboats be found for a climb aboard show and races.
The free South Sound Maritime Heritage Association family-friendly festival along the boardwalk is set for September 2 – 4, 2022.
Olympia Harbor Days is the South Sound's premier and largest maritime festival with over 250 things to do and see. Vintage Tugboats as well as tug replicas of all shapes and sizes can be found including mini tugs, model tugs, sand carved tugs, lego tugs and even a chainsaw carved tug. Organizers are excited about the return of 85' Tug Chippewa, which has undergone renovation and not been seen at the festival for over a decade. The high end creative Makers Market returns with many new artisans and the Food G'Alley is offering a wide assortment of international and seafood tasty treats. Two stages offer live music, tribal sharings, maritime presentations, poetry, and more. Over 50,000 are expected to attend. This award winning event is one not to miss. "49 years and we keep going and growing by adding new exciting features and landside activities to the assortment of traditional favorites." says Executive Director Carol Riley.
Schedules, offerings, and music lineups can be found at HarborDays.com. Festival hours are Friday 5 p.m. – 8 p.m.; Saturday 10 a.m. – 7 p.m.; Sunday 10 a.m. – 6 p.m.
By Sea: Participating tugboats will be moored at Percival Landing and are open for touring from 10 a.m. to 5 p.m. Saturday. The famous and last remaining Vintage Tugboat Races in the world will be held Sunday starting at noon in the shipping channel of Budd Inlet. Note, you will need to be on the water to see them. The Lady Washington, the state tall ship, arrives early on Wednesday, August 31, and historic Mosquito Fleet Steam Ship Virginia V arrives at the Port Plaza dock on Friday. Both ships offer on board tours by donation and excursions on Budd Inlet can be secured for a fee, ticket links at www.HarborDays.com. New this year, two Olympia Schooners will be offering chartered sailings for a fee up to six people each. Also, a cedar Tribal Canoe will be on display. Over 25 vessels will be presented, some displayed landside including the hand built Wherry Rowboat that Olympia City Councilwoman Dr. Lisa Parshley rowed in this year's SEVENTY48 Race, a 48 hour 70 mile human-powered race from Tacoma to Port Townsend.
By Land: Olympia Harbor Days opens with a Squaxin Island Tribe blessing followed by a great show by local rock band Pumphouse on the Main Stage at Percival Landing. You can find Lucky Eagle Casino staff smoking cedar planked salmon over an open pit for your dinner. Or head down to the Port Plaza Tower Stage for some folky tunes by Cosmos Dream and relax by the bay at the Northwest Beerwerks Beer/Wine/Cider Garden. The Beer Garden will be offered all weekend at the Port Plaza.
This year's festival will have no lack of activities for the kids. A Lego Harbor Build sponsored by Heritage Bank where kids create a tug, yacht, or pirate ship to add to the display and Washington's Lottery Marine Discovery Center with Puget Sound Estuarium and a touch tank on Sunday are featured at Percival Landing. Kids will love Olympia's award winning Hands On Children's Museum's Rumble Tug make-race-take activity at the Port Plaza as part of "Ships of the Harbor" sponsored by Capital Heating, Cooling & Plumbing. Also find remote control model tugboats and sailboats. There is even a treasure chest at the Harbor House for kids that come to the festival dressed like a pirate, or not.
New this year, Olympia's local boating clubs, including rowing, sailing, dragon boating, and kayaking, will be displaying boats and information about on the water recreational/sporting activities. Coast Salish Tribes will present tribal drum making and cultural sharings at the Port Plaza. A wide array of music, maritime presentations, and poetry are offered on both the Main and Tower Stages. The Midway Stage offers something different daily — music, chainsaw carving, and a sand quick carve contest.
Olympia Harbor Days is now riding the wave to the future with two events presented by Thurston Climate Action Team (TCAT) on Columbia St. Stop by Saturday for Art in Climate Change Action – LoveOly Heart photo booth, collaborative art projects and climate change information. TCAT returns on Sunday with an Electric Vehicle Car Show, induction stove demos and solar displays. At the dock be sure to check out a converted electric sailboat.
"Without the support of the community and sponsors, this festival would not have survived the pandemic and be able to return with so much.  Special thanks to all." says Riley.
For a complete schedule, festival details or more information, please visit www.HarborDays.com. While the festival is free, they do ask for a suggested donation of $5 per person or $10 per family.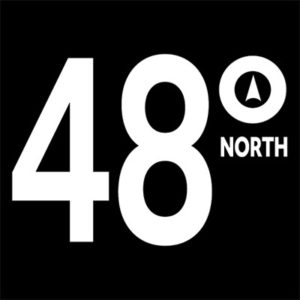 48° North Editors are committed to telling the best stories from the world of Pacific Northwest boating. We live and breathe this stuff, and share your passion for the boat life. Feel free to keep in touch with tips, stories, photos, and feedback at news@48north.com.