From the September 2002 issue of 48° North by Peter Mikkalsen
On a hot Thursday afternoon in August, curious onlookers lined the shores or took to their own boats to see the fleet of vintage ships sailing through central Puget Sound. After a short stop at the Seattle waterfront, the 17 ships ranging in size from 52' to 185' made their through the Ballard Locks and into Lake Union. Sponsored by ASTA, (American Sail Training Association) these vessels finally settled in on the south Lake Union waterfront.
The weekend full of activities included food, music and tours which allowed the general public a chance to see what life is like on the decks of these unique vessels.
The ASTA organized Tall Ships Challenge stopped in Seattle on a tour that, for some began in Yokohama, Japan. ASTA is a non profit organization whose mission is to bring the world of sailing, training and education to the North American Public. According to ASTA executive director Peter Mello; "this ongoing event has covered many regions of the globe, including the Great Lakes."
With countries represented from as far away as Europe, Ukraine and the South Pacific, the ships and crews are as diverse as you can get. Garnering the most interest from the public was the highly visible 185' Europa. This steel hulled barque was built at the turn of the century and hails from Amsterdam. She started out her life as a light ship in the North Sea, where she would spend the first six decades of her life. Having gone through needed repairs, she now serves as a passenger carrying vessel and periodically is used for training the next generation of captains and mates.
Local yachts were also represented including the La Conner Sea Scouts on Rejoice, a 56' schooner, as well as Yankee Clipper, a 57' full time Sea Scout vessel that sails the waters between Bainbridge Island and Seattle. Also on hand was Suva, a 63' staysail schooner some 75 years old, built of teak . Locals  recognized the Zodiac, who will be joining another local yacht Coaster II, for the trip down the coast with the fleet.
ASTA provides a platform for the ongoing support of these classic vessels. Classic in their sense of design, (some dating back several centuries) their construction may be as contemporary as a decade ago. Perhaps indicative of the overall fleet is the delightful New Zealand entry R. Tucker Thompson. Built by the Harris family in their backyard in the early eighties, she takes her lines from our regions coastal halibut schooners of years past. A gaff rigged schooner, she is 85 feet overall and carries 1,400 square feet of sail. Having participated in the Yokohama to Richmond, B.C. ocean passage, she completed the crossing in 35 days. Evan Harris recalls the day he came across an incredible sight; "We were ten days out (from Richmond) and we had the Europa off our bow!" Having stayed in radio contact with the Dutch based crew, what a vision it must have been to see these ships on the open ocean. A sight some 80 years ago that would not have been uncommon. Evan continues; "Sailing the next leg down to San Francisco will be such a thrill! The entire fleet will be within eyesight of each other all the way down the coast."
Like many other ships and crews present, Evan and his crew have worked with disadvantaged kids. Evan exudes pride in the contribution they have made to otherwise difficult to reach troubled youth. One young sailor-to-be would make a strong impression on Evan; "We had this one young woman who was very quiet and kept to herself. All of a sudden I hear this beautiful guitar playing from down below and it was her!" Evan describes his impressions on bringing the world of sailing to our young people; "Kids will come on board with their pants worn low, all hunched over and many in real trouble. By the end of the voyage, a real change takes place; and when they leave, their chests are out, eyes forward and a new person emerges."
Among others on the sea-going team are those that are paying for the privilege of learning the ropes. Not to be left out is Debbie Gittinger who, like Evan, is quick to flash a smile and eager to share an understanding of the ship, sea and dream she follows. Coming from Missouri, Debbie sold her CPA business and home in order to fulfill a vision that many only think about and never realize. Sailing for the first time aboard another boat some three years ago, Debbie recalls her first passage; "we were struck by a storm that lasted for three days. I spent that entire time (during the storm) in my bunk sick and wondering what in the world am I doing here!" Those feelings quickly faded and now her enthusiasm is what drives her and at times perhaps the other members of the crew. With a month before her 37th birthday, Debbie has no plans to slow down. After visiting friends in the South Pacific, she will once again join the R. Tucker Thompson and deliver her this winter from Tahiti to New Zealand.
Also on hand, but arriving a day behind the rest, was the Ukrainian entry Bat'Kivshchyna. This 97' gaff schooner is made from a combination of steel and ferro-cement that the captain is quite familiar with. Captain Dmytro Biriukovich is not only the yachts owner but he has authored many books published in his native country, including building with ferrous cement. Like most of the yachts in attendance, she makes her income by taking on paying passengers, thereby allowing  her to participate in similiar events  world wide. Her other mission is to help raise awareness of the Ukraine as a business and tourist destination. Struggling the last few years financially, Bat'Kivshchyna will be continuing down the coast for the remainder of the Tall Ships Challenge.
Those who chose to spend a rare moment aboard some of these yachts were treated to great weather and a story or two that participants were glad to tell. But this glorious display of sailing ships was also about enabling these types of vessels to continue functioning on a daily basis. This was very evident by the coffee cans and donation boxes on many cabin tops.

In a world of fiberglass mass produced boats, our maritime heritage is disappearing right before our eyes. Whether extending the life of a grand lady or building anew with the designs of yore, our rich maritime history can remain alive only as long as we preserve it. Perhaps a few visitors came away with a "real life" appreciation of the people; work and funding these yachts need to operate.
Thank you to American Sail Training Association for bringing these beautiful ships to Seattle.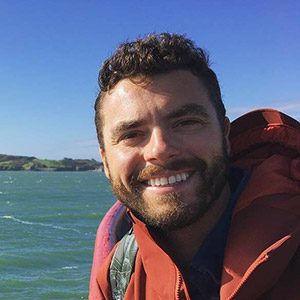 Joe Cline has been the Managing Editor of 48° North since 2014. From his career to his volunteer leadership in the marine industry, from racing sailboats large and small to his discovery of Pacific Northwest cruising —Joe is as sail-smitten as they come. Joe and his wife, Kaylin, welcomed a baby girl to their family in December 2021, and he is enjoying fatherhood while still finding time to sail, make music, and tip back a tasty IPA every now and again.