Three Sheets Northwest Donated to Northwest Maritime Center, Merges with 48° North!
When the ball dropped on New Years Eve, amidst the (hopefully mild) public displays of affection, something else thrilling happened. As of January 1, 2020, Three Sheets Northwest, the highly-respected and most-read boating website in the Pacific Northwest, has become a part of the Northwest Maritime Center and is merging with 48° North. In 2018, when 48° North came under the Northwest Maritime Center umbrella, a number of friends used a "perfect marriage" metaphor. Well, if we're sticking with that, things are getting blissfully polyamorous around here, and we couldn't be more stoked. Like the 2018 merger, this is a donation, a generous act for the good of the boating community.
Three Sheets Northwest was founded in 2009 by journalism veterans and avid cruisers, Deborah Bach and Marty McOmber. If you're interested in learning more about their arc with Three Sheets, please read their new column on page 34 of the January issue. Thanks to Deborah and Marty's commitment, savvy, and skill, the site quickly grew into the primary digital resource for news and stories both for and from boaters around the Pacific Northwest. As the years passed, Deborah and Marty each pursued careers that demanded enough of their time that they needed some help, and they hired full-time cruiser and former Editor of Blue Water Sailing, Andy Cross, to be the new Editor of Three Sheets Northwest in 2015. Andy has excelled in this role and fostered some excellent new editorial directions in his tenure.
In 2019, Deborah and Marty approached Northwest Maritime Center with the idea of a donation, and all parties eagerly pursued the possibilities. It wasn't long before the big questions were answered and we were all turning our focus toward an exciting new era.
Combining Forces
Fans of both publications may have seen the writing on the wall. Since last May, Andy Cross has been the acting Guest Editor at 48° North. With numerous features and several cover photographs in 2019, it's easy to see why Andy is such an asset. Andy will essentially combine his roles with Three Sheets and 48° North into a permanent role as Editor with 48° North. He will be instrumental in driving evolution in the magazine and critical to honoring the Three Sheets legacy in our new online vision, which includes the retention of nearly all contributing writers. In addition, while they're stepping away from active ownership, Deborah and Marty are definitely staying involved. As you'll see in the January 2020 issue, they're going to become monthly columnists. Their column, titled Three Sheets Northwest, will sometimes be published in print and other times online. They are also taking on an active advisory role to help maintain the trust of Three Sheets readers and help 48° North grow into the online content space more actively and effectively in conjunction with the magazine.
Big Tent, One Community
As Joe wrote about in his editorial this month, one element of this new partnership brings a new direction with broader subject matter. Three Sheets was successfully even-handed in service and support of sail and power—all were welcome. A core principle of this new direction for 48° North, we see an opportunity to break down barriers similarly and acknowledge the community doesn't exist with neatly drawn lines of demarcation; to highlight the profound joys we all share when plying the waters of the Pacific Northwest. This includes an acknowledgment that, like powerdriven cruisers, small boat activities—from adventure sailing to paddle sports—have not necessarily had a home in 48° North either, and we're eager for that to change as well.
Our commitment is this: 48° North serves the entire sailing community. 48° North serves the entire cruising community. 48° North serves boat borne adventurers of all types. Most
importantly, we believe that we are all one community, and we have a responsibility to cultivate unity accordingly; to inspire and inform, and encourage engagement in all sorts of on-the-water activities. Indeed, it is the stated mission of the Northwest Maritime Center. Oh yeah, and if it wasn't obvious, we're all fiercely Pacific Northwest.
The Future
Imperative to the broad horizons with this partnership is a new digital platform to complement the magazine. We are counting down the days to the launch on January 24, 2020. Our new site will be co-branded for a while, but in the long term, we are all 48° North now and www.48north.com will be the site's forever home. We will blend our brands, our contributors, our subject matter, and our perspectives into one big happy boating media family; one thoughtfully designed to serve each of you and benefit the entire boating community, present and future.
48° North in 2020
When 48° North became a part of the Northwest Maritime Center, the vision we all shared definitely included our beloved magazine, but wasn't only our beloved magazine. None of us knew exactly what expansion looked like at the time, but as we enter this new decade, we now see the path forward in tack-sharp focus. Must… Resist… 2020 pun. Gahhh!
Especially with Three Sheets Northwest as a part of the family, 48° North is growing and now encompasses the magazine, a cross-platform digital experience, a subscription program that provides new value to subscribers (new benefits! check it out y'all—you should really subscribe…), and ever-increasing opportunities for boat-related travel and community events.
The Magazine
We hope you already love the magazine, yet, there are a few new things to expect from 48° North magazine this year. Readers have grown accustomed to the same selection of columnists in each magazine. You will still hear from our columnists regularly (either in print or online), but the mix of columnists in each magazine is getting a shake up that we're hoping will make it extra fun to open each issue. Additionally, keep your eye out for more theme-specific issues in 2020.
Digital Presence
When it comes to digital, our first priority is to build on the tradition of Three Sheets, as an active source for information, entertainment, education, and inspiration that's worth checking daily. The new digital 48° North will be more than the sum of the existing Three Sheets and 48° North websites. Print and digital can enhance one another—perhaps an article in the magazine has a video to accompany it or there were too many great photos to include with a column—boom, it's going up on the website. If a web post reveals audience interest in a particular subject, it may become a print feature. We're also upgrading our classified options with a more robust online system and print/web packages to benefit readers and advertisers.
Subscription Revamp
On the day the new website launches, so does our new subscription program. If all you want is a magazine in your mailbox each month, you'll still have that option (disclaimer, the price has to go up a bit). Yet, we hope many of you will be intrigued by an inner-circle premium subscription—it's your chance to get the magazine and be part of something bigger. Our premium subscription will give you more than just a magazine, including: a year-long discount code for purchases at Fisheries Supply; early access and discounts on 48° North events like our Cruising Rally; 10% off most items at the Wooden Boat Chandlery & Marine Thrift in Port Townsend; 10% off classes at the Northwest Maritime Center; and one 3-day pass to get you access to the boats and 100+ presentations at the Port Townsend Wooden Boat Festival ($40 value). More important than those benefits to us, however, is the acknowledgment that 48° North is now part of a non-profit ecosystem that exists to connect and engage our region with the water. From science education on the 60' yawl, Carlyn, with our colleagues at Salish Sea Expeditions, to technical maritime training for high schoolers, to accessible on-the-water instruction for all ages—the Northwest Maritime Center is a force for good. Any success 48° North has helps fund and fuel these initiatives, and while you can always pick up a copy and read the articles/ogle the boats in the classifieds for free, your premium subscription will make you a part of that effort.
Travel and Events
In the spirit of connecting more people with the water, 48° North will be offering more and better opportunities to engage with us and the broader boating community than ever before. From local events—like the 48° North Cruising Rally— to international travel to explore other parts of the watery world—like Norway in July and Croatia in September of 2020— please join us!
We hope all of this is as exciting for you as it is for us. 48° North is growing and evolving. Thanks for being a part of the crew. It's going to be a great year!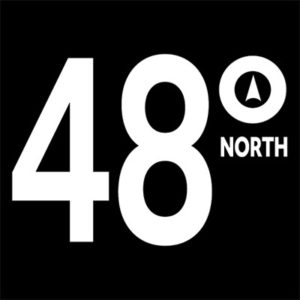 48° North Editors are committed to telling the best stories from the world of Pacific Northwest boating. We live and breathe this stuff, and share your passion for the boat life. Feel free to keep in touch with tips, stories, photos, and feedback at news@48north.com.