Every circumnavigation of Vashon Island holds some intrigue, and this year's second installment of the Seattle Yacht Club Tri Island Series was no different. Unlike many Vashon races, though… it was a mostly sunny, mostly windy, and an awesomely pleasant day of sailing.
Forty boats took to the waters of Puget Sound for the annual May edition of a 'round Vashon Island race. Most of these sailors had been out two weeks earlier for the first event in Seattle Yacht Club's Tri Island Series, the Protection Island Race. Let me tell you — whether you pulled the plug before finishing or were among the hardy souls who stuck it out through the cold, wet night — the unceasing rain and chilly temps took it out of every sailor on the course that day. So, heading into the the second race of the series, this time around Vashon, I imagine I wasn't the only sailor whose gear bag was a bit heavy with extra warm layers when I arrived at the boat last Saturday morning.
As luck would have it, we didn't need those layers, and were actually in for a real treat of (mostly) glorious spring racing.
The race started in a light but sailable southerly toward the south end of Shilshole Bay. The southerly was forecast to be around all day, and mostly was. A crazy big left shift made the pin (and probably a port tack start) the clear choice at the start. If you found yourself on starboard with another boat above you on the starting line, you were officially hosed because it was barely possible to run the line even sailing close hauled, and you really couldn't get high enough to push your competitor over the line.
Once across the line, the light stuff only got lighter as we all made our way into Elliott Bay. The ORC Class in which I was sailing (three TP 52s and the Reichel Pugh 55, Zvi) made achingly slow progress toward Alki. For reasons related to both breeze and current, the traditional route that brings sailors across the Sound to bang the Bainbridge side over near Blakely Rock was off the table. In our fleet, two boats — TP 52 Smoke and Zvi —  had better starts and generally more mojo in the light stuff. They extended across Elliott Bay, finding shore breeze near Alki. The other two TP 52s, Glory and Mist, arrived there a bit later and traded tacks and places a couple of times as they headed southwest around the point. The leading boats made it through the zone more or less unscathed; but pretty soon Glory and Mist were in glassy waters, trying desperately to avoid seeing 0.00 on the knotmeter.
What left the later boats in the ORC fleet in worse shape became clear when the classes behind them started putting up the colorful sails. A surprise convergence zone and northerly had come to mess with the predominant southerly. This northerly was short lived, thankfully; and once the southerly returned, it stayed steady through the rest of the day.
As we made our way across East Passage from Alki toward the Vashon Shore, the ORC fleet separated further — with the two lead boats extending and Glory in third pulling slightly away from Mist. Meanwhile, the southerly built and brought 30-degree wind shifts influenced by the Quartermaster Harbor puffs shooting over the strip of land and into Tramp Harbor. "We're reaching. We're beating. We're reaching. We're beating. Who cares, we're moving well in the right direction!" Eventually, we had enough wind to merit a sail change from the #1 to the #2 jib. Nice!
There's always a risk of going too close to the beach once you make the turn southwest at Point Robinson… but how far out do you go? Conventional wisdom says, "Not too far," before one should head back into shore. Yet, at least when Glory got there, a starboard tack lift kept going and going, making it tough to head back in. Some sailors with a lifetime of experience sailing around this island admitted they'd never gone out this far after the point. In the end, it didn't seem to hurt us and maybe even provided small gains — a reminder that there's always value in trusting your eyes not your expectations in this sport we love.
We had beautiful breeze in the mid teens as we started to crack off around Tahlequah. We set the #2 spinnaker, and it would stay up for the rest of the day. By the time we were into Colvos, Smoke and Zvi were long gone in front of Glory, and we had extended a bit on Mist. The result was that we really were sailing our own race through the storied passage. And man, it sure was nice. As ever, there were a quite a few jibes as we headed north, but not a one with any drama (ok, except maybe the one when I managed to pull the sheet off the winch). Yes, we were trying to sail fast, but it was a low-key scenario — and that left a lot of room to just appreciate how enjoyable it was to be sailing with your pals through a beautiful channel on a badass boat… in weather that didn't put most of us in shivering misery as it had a few weeks prior.
The trip from Point Vashon back to West Point and the finish off the Shilshole breakwater followed much of the same pattern. Trim for speed and VMG. Jibe cleanly. Watch the compass, work the shifts and stay in phase. The forecast had indicated the possibility of some westerly influence in the southerly, but for us it was minimal and made its appearance only briefly between Blake Island and Restoration Point on Bainbridge.
While it didn't turn out to be a winning effort for our boat, it was a terrific day of sailing. For a little icing on the cake, Glory's tactician Andy Koch called the layline jibe to the finish from 2.5 miles off. We sailed across the finish line in the late afternoon with shades on, jackets off, and big smiles all around. As Vashon races go… I'll take it!
Congrats to the others across all fleets, and great sailing to those in our class — Smoke (1st place), Zvi (2nd), and Mist (corrected just a couple of minutes behind Glory). Result for all classes can be found at Seattle Yacht Club's website. The last in the Tri Island Series is the Blake Island Race on June 5, 2021.
Title background image by Erin Noelle Parker.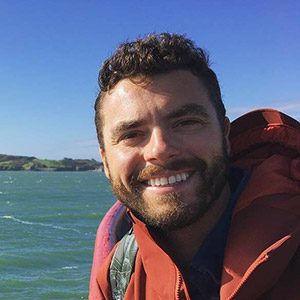 Joe Cline has been the Managing Editor of 48° North since 2014. From his career to his volunteer leadership in the marine industry, from racing sailboats large and small to his discovery of Pacific Northwest cruising —Joe is as sail-smitten as they come. Joe and his wife, Kaylin, welcomed a baby girl to their family in December 2021, and he is enjoying fatherhood while still finding time to sail, make music, and tip back a tasty IPA every now and again.