Vindication for Barker or triumph for Outteridge? Experience versus better boat speed?
Coming into the last semi-final race Artemis Racing had pulled ahead of SoftBank Japan with a score of 4 to 3. The previous day Artemis consistently had better boat speed. Speed, together with an impressive show of boat handling, sailing tactics and bravado was an unbeatable combination. Confidence on the Swedish team was high after their hat trick of wins.
Friday morning. Another day. Looking out over the Great Sound the wind was high and the seas were choppy. Readings at Pearl Island weather station registered 23 knots with gusts to 29 knots.
Iain Murray, Regatta Director, would make the decision based on a rolling average of wind readings. Close to race start time averages were settling down to 19 – 22 knots, well within the upper limit set by the America's Cup protocol.
Course management boats were sent out, the teams geared up.
In similar windy conditions Barker had bested Outteridge earlier in the week. Could he do it again? Barker knew he had to win the first race to keep his hopes alive. If not, he would be eliminated.
SoftBank Japan headed out from their Dockyards Home Base looking sprightly when suddenly they came to a sudden halt. They seemed to have run into something submerged in the water. Divers were sent down to check below the waterline. Some minor scrapes were found but nothing to prevent them from racing. Disconcerting but not damaging.
The race was on.
Barker won the start with a neat hook at the line, popped up on the foils and took off. He led the first leg. At the mark rounding he was ahead by just 0.2 seconds but with slick boat handling Outteridge managed to get the inside track. This gave Artemis a tactical advantage on the next upwind leg.
Barker took SoftBank Japan to the outer boundary and made a late tack. This gave Outteridge the chance he was looking for. He did not hesitate. Tacking quickly and smoothly he lee-bowed Barker. A basic Sailing 101 maneuver. Now with rights over SoftBank Japan, Outteridge aggressively luffed up. Barker headed up to keep clear of Artemis.
For the second time that day SoftBank ground to a halt as the boat stalled. Artemis took off. The damage this time was catastrophic. It was the 'sayonara' for Barker and SoftBank Japan.
Artemis crossed the finish line 12 seconds in front of SoftBank. With five wins under their belt they were through to the final of the Louis Vuitton Challenger Playoffs.
SoftBank Japan headed for their Team Base. All they could do was hoist a flag that said "Arigato Bermuda."
Outteridge and his team now have just one day to get ready for the Final against Emirates Team New Zealand. It may once again come down to experience over boat speed.
By Wendy Gray
Photos by Mac Madenwald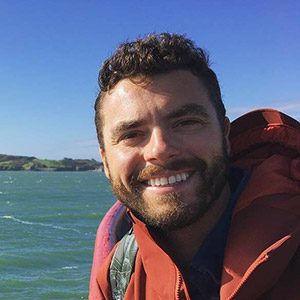 Joe Cline has been the Managing Editor of 48° North since 2014. From his career to his volunteer leadership in the marine industry, from racing sailboats large and small to his discovery of Pacific Northwest cruising —Joe is as sail-smitten as they come. Joe and his wife, Kaylin, welcomed a baby girl to their family in December 2021, and he is enjoying fatherhood while still finding time to sail, make music, and tip back a tasty IPA every now and again.