As many of you know, we have been very excited about both Hawaii races this summer, Pac Cup and Vic Maui. In particular, we did a couple of articles about the pre-Pac-Cup refit and preparations of the "Poke and Destroy" team, skippered by Alex Simanis. The team has been charging away, and their gybe onto the rhumb line yesterday has put the team's Evelyn 32-2 into first place in their division with about 750 miles to sail to Kaneohe Bay. Here's the latest update from the Team P&D Communications Manager (and father of P&D crewmember, Skyler) Dennis Palmer: 
Poke and Destroy, charging along the rhumb line, has moved into first place in Division C of the Pacific Cup race to Hawaii!  762 miles now separate her from the finish line of this 2069 mile race
As of the standings report on the morning 7/20/18, Poke and Destroy has a 1 hour 35-minute lead on corrected time over second place Zaff [from Vancouver, BC], and have extended their lead over Sweet Okole, in third place at 5 hours and 55 minutes behind Poke and Destroy.
Poke and Destroy continues to stay on the southern side of the fleet in Division C, with Sweet Okole still claiming the north side of the pack, even after gybing to come closer to the rhumb line.
The wind forecast continues to show light areas of wind developing that could strongly influence the outcome of the race. This race does not yet have a foregone conclusion.
The wind direction will be blowing the boats straight to Oahu, so they will be sailing deeply downwind.  This presents a challenge for second-place Zaff, because the forward, lower corner of their [asymmetrical] spinnaker is tacked to a bowsprit extending straight in front of the bow, and cannot be pulled back to move the spinnaker out of the wind shadow of the mainsail.  Poke and Destroy can pull their spinnaker pole back, allowing the wind to fill the spinnaker so she can sail faster while aiming deeper downwind, which happens to be the direction of the finish line at Kanoehe Bay.
Aloha, the Hobie 33, is in fourth place, 9 hours behind Poke and Destroy on corrected time.  Aloha sailed the most miles of all the boats in Division C in the past 24 hours, covering 171 nautical miles. Poke and Destroy sailed 168 miles in the past 24 hours, good enough to be the second greatest distance covered by Division C boats. Aloha has a faster speed potential than Poke and Destroy, so they are assigned with a less advantageous handicap. Their elapsed time is corrected by their handicap, so even though they sailed a few more miles, Aloha still dropped back on corrected time compared to Poke and Destroy.
It has been a blast to follow along with the Poke and Destroy adventure. In particular, I've enjoyed the messages directly from the crew that Dennis has been sharing. Here they are, in reverse chronological order (most recent first). 
From Alex Simanis (skipper) on July 19, 2018:
Good morning.  Yesterday brought us our halfway party.  We got plenty of wonderful treats and trinkets.  A special shout out to everyone who contributed to our halfway party.  
Mid-way through our party a big 25 to 30 knot breeze came. We had a blast for a few hours.  Later, as the wind subsided, we decided to jibe to port to consolidate with the rhumb line.  Seemed like a good move.  
The P&D crew settled in for a beautiful starlit evening with a nice sliver of moon and 19 to 25 knots of wind.  From midnight to 7 am was very, very wet, at times very windy and at times lacking wind.  It was a very tough early morning with all four of us on deck for this as we did kite peels and sail transitions.
The breeze is back to our usual 12 to 15 knots and we are rolling along with the rock solid A2 we have named Sunshine.  Bitchin' workhorse of a sail.  Now we had our morning breakfast treat of biscuits and gravy and trying to get things dried out.
We made a good move yesterday – the boat is moving well.
From Skyler Palmer, July 18, 2018:
Good morning from Poke and Destroy. 
Here we are just a few miles shy of half way! We are planning on having our half way party at noon today. We're all looking forward to seeing what's in the halfway celebration box that our friends and families prepared for us. 
Overnight was frustrating sailing, though our average speeds didn't suffer too much. The winds were fluctuating about 90 degrees with in the span of a few minutes with some of the most 
confused seas we've yet seen. This morning finds us another 14 miles north of the rhumb line from evening yesterday. We are still running square with the A2 spinnaker trying to make the best VMG possible. We've been considering a short gybe to consolidate back to our preferred 
course to try threading the needle between two weather systems. However, each time we bring up the subject we get headed.*
More flying fish this morning as well as plenty of plastic debris in the water. We've noticed that the number of black albatross has dwindled but we've spotted a few shearwaters and a handful of other birds that none of us recognize. No boats on the horizon today but we FINALLY got a position report from yesterday's 0800 check-in showing us in good standing with the fleet. 
Spirits aboard are good as ever with the talk of mai tais and loved ones in Hawaii creeping into the conversation more often.
Poke and Destroy out.
From Alex Simanis, July 17, 2019:
We spent the night in an odd squall line. The breeze flipped from 7 to 22 knots and veered 60+ degrees.  We opted for the A4 spinnaker as we saw a bunch of cloud activity as we were getting ready for night time. It was a good call.  The A4 is full-sized, but fairly flat in the head making it handle transitions in wind velocity and direction well. 
The boat is screaming along at easily 8 to 10 knots all the time. Really making tracks.  We expect to reach the halfway point of the race tomorrow afternoon.  The crew is happy and jovial.   
Been getting a bunch of squid on deck overnight.  Nick got one to the face last night!  This will be our last day of prepared food.  Into freeze dried food tomorrow.  
Cheers from the crew as we have been able to manage our batteries.  Our solar panel will not fully charge the batteries, so we are playing games with them.  We get instruments all night, and turn everything off for a while during the day.  The Velocitek compass is solar powered and works like a dream.  We just won't know what our top speed has been.  We saw 14.2 knots once.
From Skyler Palmer, July 16, 2018:
Hey Dad, Sky here with a daily update.  We have just completed 24 hours of full-on bite-your-lip and hang-on-to -something sailing!  We started out yesterday with champagne sailing the A2 spinnaker*.  Early yesterday morning things go sporty with the same sail. We then peeled to the A5 and heated up 20 degrees to the rhumb line and let her RIP!  The boat was in full control though the living conditions below were a bit harsh.  We crossed paths last night with whom we believe to be Aloha and we are now sailing beam to beam about 2 miles apart.  Starting to get thirsty for that mai tai at the finish line!
From Alex Simanis, July 15, 2018: 
Good morning!
Big evening – I'm guessing we have a 20 to 25 knot northerly. The boat is scooting along at an easy 12 knots speed over ground. Everyone is stoked to have the big A2 spinnaker up and knocking off some miles.
We are experiencing a lack of sunshine, so as you can imagine, we are using a lack of instruments*. We used emergency battery powered running lights and only the Velocitek last night. It was super dark – no moon or stars.We are really having a blast now. Hoping for some sunshine!
From Alex Simanis, July 14, 2018: 
We finally have a northerly breeze. Light, but the spinnaker is up on a starboard jibe.
It was a tough night again, trying to avoid this low that has been chasing us the whole trip. It's like a very long Swiftsure** race out here. We had enchiladas and coffee for breakfast. Had a max speed of 7kts today. The breeze has let up, but it goes in waves.
A note, we are running in very cloudy skies, so if you do not hear from us tomorrow, we are conserving power.
From Alex Simanis, July 13, 2018:
Day 3 brings us a fair amount of breeze. Still southerly.
 Eating has been hard, but sea state is getting better. Beef bourguignon will be for lunch. 
6.7 kts on the Speedo with the #1 genoa on the fence is happy days! Breeze is building. Hoping to get into the Jib top soon.
Poke & Destroy handles the waves well. We are looking forward getting a spinnaker up!
Cheers to all ashore. we are feeling your good vibes.
From Skyler Palmer, July 12, 2018: 
Wind 8.3 knots at 217 degrees, Apparent wind angle,  67 degrees
Headsail reaching with #1 genoa and barber hauler. Speed 4-7 knots. 
Wow what a start! 18 knots of breeze and sunny skies off of St. Francis Yacht Club. We had a competitive start with multiple boat fighting for the pin end of the line.
Our skipper, Alex, as per usual nailed it and within a few minutes we led our fleet out under the Golden Gate. Unfortunately the breeze and sun quickly morphed into clouds and shifty frustrating conditions.
Overnight and into this morning we have been fighting light breeze from the South with large leftover swells from the north making for difficult and slow driving at times. The confused seas led to two of our crew feeding the fish multiple times overnight. Spirits on board remain high none the less as we were all able to get some needed rest between watches.
Our latest routing should take us close to the rhumb line for the course in hopes of evading this stubborn system we find ourselves in.
Plenty of sea life so far. A whale at the start, plenty of porpoise, pelicans, millions of jellyfish and this morning we spotted our first albatross. All is well aboard as we hope it is back home.
Team Poke and Destroy out.
Background Information
Poke and Destroy is an Evelyn 32-2 sailboat competing in the Pacific Cup race, crossing 2069 nautical miles of Pacific Ocean from San Francisco to Kaneohe Bay on the Hawaiian Island of Oahu.  The Poke and Destroy crew includes owner/ skipper Alex Simanis, Elishia Van Luven, Nick Bannon and Skyler Palmer.  They started their voyage at

1:15 p.m. PDT

on July 11, 2018.  The fleet of 61 boats is organized into eight divisions of boats with similar speed potential.  Poke and Destroy is in Division C.
Resources
• Race Tracker: download the YB Races app to your smart phone, then add the Pacific Cup Race
About the writer
Dennis
Palmer
is a life-long sailor, and enjoys racing, day sailing and cruising. He has been a sailing instructor for more than 30 years, and is certified as a professional sailing instructor by the American Sailing Association.  He is a Captain with a 100-Ton Master's License issued by the US Coast Guard.  His career has been in marketing communications, and he has contributed articles to a number of sailing publications over the years.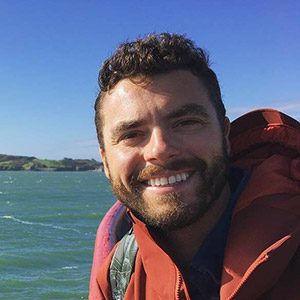 Joe Cline has been the Managing Editor of 48° North since 2014. From his career to his volunteer leadership in the marine industry, from racing sailboats large and small to his discovery of Pacific Northwest cruising —Joe is as sail-smitten as they come. Joe and his wife, Kaylin, welcomed a baby girl to their family in December 2021, and he is enjoying fatherhood while still finding time to sail, make music, and tip back a tasty IPA every now and again.