The Fun Part
There has been racing in 2020, and it has delivered thrills, adventure, and socially-distanced community that everyone has been so dearly missing. Crews are honing their skills at racing shorthanded, and genuinely enjoying the challenge. October is always one of the busiest and most exciting months of racing, and it looks like even in the bizarro-world of 2020, that will still be the case!
The Disclaimer
I think we all might have thought that the prospect of holding sailboat races would have looked a little more certain heading into October that it does. We are publishing the following with the best information we presently have at this moment, and with the open acknowledgment that all of this is subject to change in the coming days. We are including in this only SARC events that tend to draw racers from outside of an individual sailing community. Be sure to keep close tabs on your local club's schedules. If you don't see a local race here, it does not mean it's not happening!
October 3: 40th Annual Foulweather Bluff Race
Hosting Club: CYC Edmonds, www.cycedmonds.org
Crews of 5 or fewer, with a provision allowing crewsize of 6-12 if a plan to meet or exceed the Governor's Phase 2 Guidelines for Outdoor Activities is submitted and approved. Moorage in Edmonds limited to 30 boats. No activities ashore. Race committee will fly no prep flags—only using the class flags and horn, while using GPS time for the starts.
October 10-11: Puget Sound Sailing Championship
Hosting Club: CYC Seattle, www.cycseattle.org
Details: These dates will combine the "Small Boat" regatta originally scheduled for October 3-4 with the "Big Boat" event that was always to be held on these dates. CYC will run multiple committee boats and courses, with dinghies and small boats off Shilshole Bay Marina and larger boats north of there. CYC's crew restrictions presently allow for 3 crew on boats under 30 feet, 4 crew on boats under 40 feet, and 5 crew on boats over 40 feet. However, CYC Race Fleet Captain, Matthew Wood, says, "Things are evolving, so please refer to the club website in the days leading up to the event for final crew limit policies." As with any CYC event, there is likely to be a strong showing of one design fleets (both dinghy and keelboat) and a number of other combined fleets racing under a handicap. Racing dynamics will depend on participants and conditions, but the PROs are encouraged to be creative and responsive in race and course set-up. Juniors are encouraged (and receive a special discount). No shoreside activities will be held.
October 17: STYC Fall Regatta
Hosting Club: Sloop Tavern Yacht Club, www.styc.org
Details: Tied with Women at the Helm as STYC's "raciest race" with three races planned in one day of racing. Will utilized fixed marks. Five person crew limit with masks and contact tracing required.
October 23-25: Grand Prix Invitational Regatta
Hosting Club: Seattle Yacht Club, www.seattleyachtclub.org
Details: Typically an event that requires qualification, all boats that meet eligibility requirements are invited, across ORC and PHRF-NW fleets, as well as one design keelboats of at least 24 feet with at least five boats. Limited to first 80 boats to register. The Notice of Race stipulates that crew size and composition should comply with applicable governmental regulations regarding group size and households, but also indicates that "Crew size or composition will not be grounds for protest." There will be no club-organized social events or trophy presentations after racing. We'll all miss the famous Grand Prix Dinner.
October 31: STYC Race Your House
Hosting Club: Sloop Tavern Yacht Club, www.styc.org
Details: Run in partnership with Shilshole Liveaboard Association. Boats must be used by the owner as the principal place of residence. Racing will utilized fixed marks. Five person crew limit with masks and contact tracing required.
November 7-8: CANCELED Round the County
Hosting Club: Orcas Island Yacht Club/Friday Harbor Sailing
Details: After initial optimism, the organizing clubs have made the tough decision to cancel RTC to Covid-19.
Title background image courtesy of the amazing Jan Anderson.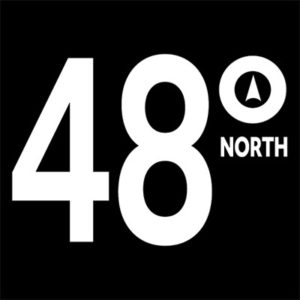 48° North Editors are committed to telling the best stories from the world of Pacific Northwest boating. We live and breathe this stuff, and share your passion for the boat life. Feel free to keep in touch with tips, stories, photos, and feedback at news@48north.com.