Local Sailor and Designer Paul Bieker
Heads BMW Oracle Structures Team in Seattle
by
Liza Tewell
One of Paul Bieker's earliest memories is of a car crash. Seems his plastic surgeon dad had a taste for fast excitement and less of a tolerance for tailgaters. On the road near the family home in Portland back, about 1966, Paul's father opted to outrun another driver who was following too closely. After quibbling with a sister, Paul had been relegated to the floor boards near mom's feet, which in retrospect, was probably the safest spot to be when the car in which you're riding barrel rolls. The resulting tumble landed Paul's youngest sister, originally in the arms of mom, Gayle, on the ceiling, near the rear-view mirror, which was of course now the floor. Two cousins visiting from Chicago ended up bruised and slightly shell-shocked but no one was too badly damaged.
Fred's punishment for endangering the family was to trade in his hopped-up Mustang for a clunky luxury sedan. And Paul's mom also made him select some other hobby. He chose sailing. His father's taste for monuhulls gradually increased in length over the years, from an International One Design, to a Coronado 25, then an Ericson 35, a Standfast 40 and finally a Swan 48. In the spring the family would bring the boat up the coast and race in Puget Sound. They'd cruise during the summer months, throw in some more racing before the days got too cool and short, then sail back down to Portland for a few more regattas on the river before winter set in. The apple didn't fall far from the tree. Fred Bieker's son, Paul, is now on his second quest to recapture sport's oldest trophy and return it to its eponymous roots.
Step into the ground floor entry way to Paul Bieker's newest office space and you enter a Northwest rainforest. The mural, painted by an artist friend of Paul's artist wife, Charlene, portrays towering old growth trees, half a world away from the old world venue where the next America's Cup will be held in 2007 in Valencia, Spain. Magenta rhododendrons and creamy white trilliums peek from behind huckleberries and ferns. A waterfall splashes down one corner. At the first landing the sky opens up to reveal a panoramic vista of faraway mountains. You can practically hear the spotted owls.
He's not sure how it happened, ("I just got a call out of the blue," he says) but Bieker was selected to head up the structural design team for the San Francisco-based BMW Oracle Racing Team, one of the top contenders for the 32nd America's Cup contest. In the second-story, five-person office overlooking Ballard's Salmon Bay and a fleet of commercial fishing boats, the two hulls that will hopefully advance through the Louis Vuitton challenger series to match race current cup holder, Switzerland's Alinghi, are being formulated in the grey matter of three German designers, a Frenchman and Bieker. The collaborative conception of their collective expertise sparks out of fingertips into computers and gets spit out on the plotter in the center of the room. Those designs will then be built into boats up at Janicki Industries in Sedro Wooley.
"They were originally interested in employing me as the liaison between the designers and the sail team," Bieker says softly. "I sail high-performance boats and also build them so I could see it from both worlds. But I could also see that would be a really hard job so I told them I'd do the structural design work. A few weeks later I got a call from Farr, who designs the hull shape, and they flew me to Annapolis."
Bieker's boating background is far from the world of America's Cup moguls and mystery. Yet he's no stranger to winning. A former I-14 world champion, he looks forward to once again trying his luck, make that skill, when the I-14 Worlds come to Southern California later this summer. He'll be racing one of his own creations, of course, as will some of his rivals who seek out Bieker boats which are known for their maritime magic.
I-14s and America's Cup sleds aren't the only boats Bieker designs. Aside from the odd engineering job that helps pay the bills, Bieker also works with clients to create Riptide designs, which are the boats to beat on local amateur courses. One of those clients is his good friend Jonathan McKee, his pal from speed-dinghy days spent skittering across the seas in tiny saucers suped up to push the envelope of sanity. Both are past champions in their respective vessels of 49ers and I-14s. These days McKee just happens to be crewing alongside his brother Charlie on rival America's Cup contender, Italy's Luna Rossa. Jonathan and his wife, Libby, commissioned Bieker to design Ripple, a 35-foot racer-cruiser that now scares the pants off competitors in Southern California. Ripple's sister-ship, Terremoto, as well as her 44-foot big-sister, Dark Star, the McKee's latest Bieker boat, are proving they're the boats to beat in Puget Sound, as evidenced by their performance during the Southern Sound Series' Duwamish Head race last January. Each boat smoked her class. Bieker joined his friends on that Duwamish Head race and recounts the day with the glee of an 8-year-old remembering that game he hit the ball out of the park.
"It was a downwind race to begin with. And it had that big breeze in the last part of the downwind leg. Terremoto really gets up and goes in that. Dark Star too. We were the first monohull around the leeward mark and I think Terremoto was third! In the last part of that leg they just screamed. Going back was just a fetch. Just off the beat. Fairly flat water. Not a lot of tacking. And Jonathon's pretty game too, so we finished and then started back home. We reached up to just off Blake Island, set the kite and saw 22 knots."
Jonathon and Libby race Dark Star every chance they get, which is often considering he's commuting from Valencia. (Think of the frequent-flyer miles.)
At age 42, Bieker has decided that while designing boats is where his heart is, perhaps building them isn't too good for his health.
"I did that for 8 to 10 years part or full time. I enjoyed building the boats. But you kind of get the sense that if you don't set up your shop to take care of the dust and the fumes it's going to shorten your life span. It probably already has."
That doesn't mean that his boat-building days are over though.
"I still have a shop at my house. I've probably built 6 or 7 I-14s there. I like to build things. I'll probably build a boat for the family. I have one in mind. A cruising boat for the family. I'll do something like that."
Like nomads, Bieker and his wife, who were engaged on an I-14, will take their two boys, Will, age 9, and Leo, age 6, to live in Spain later on into the America's Cup regatta, as they did when the contest was in New Zealand. Although the kids' schooling schedule hasn't quite jived with the local district calendar, Bieker admits that they're probably smarter because of it.
Bieker's boat-design skills were a natural extension of what he loved—art, especially sculpture—and science. Finding the academia of the art world a little too loosey goosey he concentrated his education on naval architecture and earned his degree from UCLA Berkley. It was there by the Bay where he also fed his genetic passion for going fast—sailing and crashing and winning in I-14s and Wiley Wabbits. (It was from his time in San Francisco where he thinks the networking of the America's Cup caught up with him.)
Bieker enjoys talking boats, and being the polite person he is, tries to accommodate inquisitive intrusions but holds trade secrets pretty close to the hip. He's willing to share many aspects of the AC boat design, such as the interesting fact that the bulb weight is 80% of the total weight of the boat, including rigging and hardware. He wisely omits what those weights are, however. He also shares that the composite material of the hull is benefiting from the design team's close proximity to the West Coast's aerospace experts, but we'll have to wait until the regatta is over to discover what those composites are—and if they really do make the difference between winning and losing.
"We have no idea how the boat will perform until it's on the water, so when to launch the boats is actually one of the biggest challenges and one of the most discussed. When are you going to launch and how will it perform? We have a pretty good idea thanks to the computer models, but we don't really know until it's on the water."
Assembling the boats is like putting together a puzzle with the pieces arriving from the four corners of the world.
"The hull is coming from here, the mast from New Zealand, the keel from Germany, hydraulics from Italy, hardware from the Midwest."
But perhaps the most interesting aspect of the America's Cup is not the tangible side of how to win, but it's chess-like allure.
"When are you going to launch the second boat? When is that second boat going in the water? You don't want the other 10 or 11 teams to know when you've locked yourself into the design of the second boat. There are two competing urges. One is to test your boat against the other boats, to learn about your boat and how it performs. But you don't want to teach the other teams about your boat until it's too late for them to do something about it. I'm not that into that side of the game. There are people whose whole job is the tactics, the strategy of that."
There is more talk this time round about the comparison between the America's Cup and Formula One racing, and perhaps it is the time constraint that binds those two sports. Sure, the aerodynamics and downdraft and composites are also shared variables, and BMW is now a viable player in the AC field, but as Bieker points out, "Both the AC and F1 are on pretty short schedules. Each time you don't have that much time in each cycle of racing to develop and conceive the concept and to design and build it and figure out what it does and doesn't do well."
"It's a strange game, the America's Cup. I'm getting more of an appreciation over time. It's many faceted, almost like war. You don't have enough time to do what you need to do with the design. You're always stretched. It's so hard. On the other hand, you learn so much from it. I remember when I first started working on the America's Cup, somebody told me something that Bruce Nelson, who has designed America's Cup boats, told them: "The only thing worse than working on the America's Cup is not working on the America's Cup." It's hard, and not fun, and it's tense, but on the other hand you're working with really interesting people. You're working on this in more depth than you'd have an opportunity to do otherwise. The flip side is that the boats aren't as exciting as boats like Dark Star or Terremoto."
And it is here where Bieker points out that the America's Cup is not just about the boat. It's so much more than that.
"To put together a team that can win the Cup a lot of things have to go right. The hull, sails, appendages, and more than anything else, it's the team. The dynamics of the personalities of the people on the boats. You're going around the course with 17 guys, they have to work together as a really close team. I think that's one of the biggest challenges. You can't win in a slow boat or with slow sails, but if your team doesn't work together you can't win."
And perhaps that is the trickledown benefit of the America's Cup, not the boats with their forestay loads of 12 tons and main clue pull of 4 tons, or their mysterious composite hulls and 80% weight bulbs, or $30 million price tags, but the reminder of the importance of teamwork.
This article first appeared in the February 2006 issue of 48° North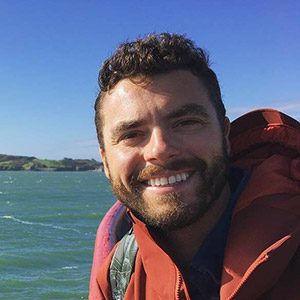 Joe Cline has been the Managing Editor of 48° North since 2014. From his career to his volunteer leadership in the marine industry, from racing sailboats large and small to his discovery of Pacific Northwest cruising —Joe is as sail-smitten as they come. Joe and his wife, Kaylin, welcomed a baby girl to their family in December 2021, and he is enjoying fatherhood while still finding time to sail, make music, and tip back a tasty IPA every now and again.