Beneteau Oceanis 51.1: Elegant & Easy
There are a lot of different priorities that can take center stage when it comes to boat design. Going sailing is the best way to truly discover what they are for a particular boat. This month, I went sailing on the new Beneteau Oceanis 51.1 and it was a voyage of discovery indeed. The 51.1 is the first release of the new "point-one" series in the immensely successful Oceanis line, and it represents some subtle, but significant, updates to previous iterations. The boat I sailed is the first 51.1 in the Pacific Northwest, and our trip on Lake Union happened to be her maiden voyage under sail.
The Design: All About Options
Similar to some prior Beneteau offerings, the Oceanis 51.1 is all about options. There are different packages that offer three draft depths, two mast heights, and an array of interior layouts and other options. The boat I sailed is likely to have the broadest appeal for Pacific Northwest cruisers: it had the standard-height mast (70'3"), the medium depth draft (7'9"), the "downwind package" to better utilize flying sails including a Code Zero, and was upgraded to the more powerful engine (110hp) with a shaft in place of the stock 80hp with a saildrive.
Returning to the notion of design priorities, my first and lasting impression of the 51.1 is that it might be the easiest boat I've ever sailed, of any size. Hull form, interior layout, or sailplan can be sexier to talk about, but the systems that help us sail and the ergonomics of a deck layout are of deep design importance and have a massive impact on our enjoyment of day-to-day sailing adventures. The Beneteau design team, in this case led by naval architect Berret Racoupeau, has arranged a bounty of sail-assisting tools into a simple and elegant amalgamation. These include a self-tacking jib, an in-mast furling main, a German mainsheet system (which can be trimmed from either side of boat), dual electric self-tailing winches at each of the two helm stations, and the clean and intuitive arrangement of six clutches just forward of the winches that manage the under-deck-led control lines for everything you need to get the sails out and go. Some of what makes the deck appealing is what isn't there: there were no jib tracks on the wide side decks because of the self- tacking track in front of the mast, there's no traveler because the mainsheet attachment point is on fixed dodger arch, and there isn't a single line in the seating area of the cockpit at all. From the moment we started to unfurl the main until the final dockline was made fast around a cleat at the end of our sail, every process seemed effortless, and it put me at ease. The sophistication of the layout for sailing was reminiscent of the finest gourmet cuisine—the ingredients might be available to others, but it's abundantly clear when the finished product is a cut above.
Performance
Even a brilliant deck layout wouldn't overcome a boat that doesn't sail, and the Beneteau Oceanis 51.1's sailing performance more than held up to its other impressive features. I'll be honest, as a performance sailor, I was ready to be underwhelmed. We took the boat out on a lovely, but light, Lake Union day with 4-8 knots of breeze. Many of the systems that make this boat so easy to sail sometimes bring compromises in performance, most notably the ever-more-popular stock configuration of a self-tacking jib and in-mast furling main—these do not allow most boats to sail as well as they could with a traditional set- up with more adjustable headsail sheeting and a main with horizontal battens and a real roach. My skepticism was evident when I tactlessly inquired, "Is that main out all the way?" after we unfurled the sail for the first time. Yet, once we settled in, I was quite pleased with how the sails trimmed and found that the boat did admirably on reaches and very well close-hauled. We cruised around the lake at an easy 3-5 knots on most points of sail. Upwind provided the best sailing of the day, and the boat found the combination of efficient waterline shape and hull form stability on its full-length chine and pushed nearly six knots to weather at around 45° true wind and 30° apparent. Also evident going to weather is the improved helm balance thanks to dual rudders—which are the standard configuration for all "point-one" series boats (a first for Beneteau). In the strongest breeze of the day, I let go of the helm for a full minute and the boat continued to track in perfect balance.
The combination of conditions and sailplan were never going to make us look too cool downwind on our test day, but with a bowsprit and an optional package that includes a 2:1 spinnaker halyard, it's a clear signal that the design encourages (or even expects) most owners to add a Code Zero or an asymmetric spinnaker (or both) to the stock sailplan.
I have spent a lot of time on a racing boat of a similar size, and obviously I knew this would be a different animal entirely. That said, my previous experience on larger boats of varying designs (including dedicated cruising boats) has instilled an appropriate respect for all that goes into boat handling on larger boats where the power and loads increase exponentially. That's why I was genuinely surprised at the confidence I quickly developed in the systems and the general accessibility of the sailplan. Two winches at each helm station make line management a lot less of a headache than it would be with only one; and since they're both two-speed powered winches, the only part of you that's going to be worn out after sailing is the end of your finger. Much more than I would have anticipated before sailing the 51.1, I began to easily envision how feasible it would be to handle this boat for the average sailing couple, or even a singlehander.
One sailing observation that might be personal to me, with so many simple systems and sail controls that are easy to set-and-forget, I was making more adjustments with driving instead of sail trim. In fairness, Lake Union demands a lot of adjustments, but on more than one occasion, I found myself altering course and thinking, "I normally would have eased out, but everything is cleated off for now, so oh well." It's a different mindset, to be sure, but I could imagine situations when this could be problematic.
Though neither was particularly on display during my test sail, there are a couple of design evolutions that are likely to catch the eye of potential buyers. The first is a new infusion technique that expands on the previous approach—now, the hull and deck are both completely resin-infused, helping ensure even strength of the layup while saving weight. Specifically, the 51.1 gives three more feet of length overall and slightly more beam than its predecessor in the line (the Oceanis 48), but only increases the overall displacement by about 1,400 lbs. The other big update is the change from a chine that was previously only on the aft portion of the hull to one that carries all the way forward to the bow. Chines are hardly new technology, but even the extra couple of inches of available interior volume contributes to the sensation of enormity in the V-berth cabin, which boasts a queen-sized bed that has walk- around room on both sides. And, having test sailed one other boat with full chines in wavy conditions, I would forecast that this boat would provide a similar sea-kindly sensation of bow buoyancy in its movement.
We put the capable 110hp engine with its fixed prop through its paces, momentarily breaking the speed limit law on Lake Union. The top available speed was just above 9 knots, but cruising speed would likely be more like 8 or 8.5 knots at more efficient RPM levels. Still, the two-knot gap between that and my default expectation of 6 knots cruising speed is the difference between a 10 hour delivery from Seattle to Anacortes (with neutral current) and one that only takes 7.5 hours. A high-end after-market propeller could possibly even increase those cruising speeds.
Interior
Not surprisingly, the interior of the Beneteau Oceanis 51.1 leaves nothing to be desired. The first clever element I noticed is a pair of sturdy stainless steel handrails (leather wrapped, of course) for the companionway stairs.
On a boat this big, there's more freeboard, which means more stairs to get into the cabin. With those handrails, you can safely and comfortably go down the companionway facing forward. Indeed, it's luxuriously spacious, but it's functional as well. The C-shaped galley to port looks like a place I'd happily spend a lot of time. It is complete with ample cabinetry and cold storage space (fridge and freezer). The salon seating to starboard is provides enough room to entertain, and some clever seating options to port mean that it doesn't have to feel like the whole party is crammed into one half of the boat. The owner's cabin in the V-berth, with its large side-accessed bed, also has an en-suite head and shower, each in a separate compartment, meaning more getting-ready space and a head that isn't perpetually covered in shower water. It's a big boat, but it's hard to imagine that Beneteau could wring any more comfort out of the interior space.
Final Thoughts on the Beneteau Oceanis 51.1
Viewed from the dock or the deck or the cushy interior, the Beneteau Oceanis 51.1 is a step forward in quality and elegance. It performs well under power and sail. And most importantly, it just felt so easy to use. It's the kind of boat that will make its owners want to untie the lines and pull the sails out more often than other boats. I hope they invite me to join them!
This article was published in the December 2019 issue of 48° North.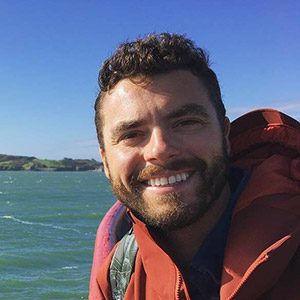 Joe Cline has been the Managing Editor of 48° North since 2014. From his career to his volunteer leadership in the marine industry, from racing sailboats large and small to his discovery of Pacific Northwest cruising —Joe is as sail-smitten as they come. Joe and his wife, Kaylin, welcomed a baby girl to their family in December 2021, and he is enjoying fatherhood while still finding time to sail, make music, and tip back a tasty IPA every now and again.