48° North Boat Test
From the May 2019 issue
In 2018, the British small boat specialists, RS Sailing, came to market with a new keelboat that has been generating a lot of excitement; and now it's come to the Pacific Northwest. By the numbers, it might not seem particularly unique – it is one inch shy of 21', displaces 1,433 lbs, draws 4' 6", and carries its 7' 3" beam well aft. Yet, after sailing it, there is both a ton to like about the RS 21, and also a lot to distinguish it from its competitors.
The intent from RS Sailing was not to create the fastest 21' sport boat in the world. In fact, much of the design intent is built around a different priority, and an RS rep told me they aren't even calling this a sport boat. The RS 21 aims to be quick to plane and a blast to sail, while emphasizing simplicity in its systems, design, and sailing experience; all of which put it squarely in the conversation for the best available club racer and training platform. Sport boat enthusiasts might have noted that the displacement seems a tad on the heavy side for a sport boat of this size. This can be at least partly explained by the choice to endow the boat with 730 lbs of ballast. That better-than-50% ballast-to-displacement ratio clearly fits the design ethos.
The boat has a distinct and eye-catching appearance, sleek and low-slung, somewhat reminiscent of an RS Aero on steroids. I liked it from the jump. Its chamfered bow design and hard chines maximize waterline and denote modernity. Unlike nearly all of its competitors, it is an open-boat design; meaning there's no cabin or doghouse of any kind. The boat actually is all cockpit. Forgoing what would be a tiny interior anyway means that there's a much greater sense of space for the crew and more real estate for ergonomic rigging. There's still a water-tight hatch in the bow that offers a surprisingly generous amount of storage for crew bags, lunch, and your beverage of choice.
The structure of the one design class is taking shape and will be inviting. The boat will be sailed with three or four, and there's no legs out hiking allowed, making it comfortable compared to some sportier alternatives. There are restrictions on sail purchases, sail cloth usage, and professional sailor involvement, meaning an effort is being made to keep the cost of racing the boat fairly low.
I got to go sailing on the RS 21 on a puffy April day in Richmond, CA. Seeing no outboard on the transom, I assumed we would be sailing off the dock, but then Jake Sorosky, the sales rep for West Coast Sailing (the regional RS dealer) in Washington State stepped to the middle of the cockpit, released a line that was keeping the electric Torqueedo of the water, and asked me, "You want to drive us out?" This innovation is a clever solution to the auxiliary power problem on small sport boats; anyone who has ever done the contortions to stow an outboard down below will appreciate the set-it-and-forget-it ease.
We began sailing inside the harbor in flat water with wind affected by geography and some massive commercial traffic, and mystery puffs and lulls from seemingly every direction. Driving and trimming main, I had to stay on my toes but found it easy to keep the boat on its feet. After a while, I fought my instincts and started letting the big lifting puffs heel the boat without easing. We even tried powering-up in the puffs, inducing excess heel while close-hauled to see if we could lose the rudder. We couldn't. This kind of sailing is neither comfortable nor fast, but such stability and drive-ability boggles the mind. One word that RS uses to describe the 21 is forgiving, and this is definitely accurate.
Sailing beyond the breakwater into 15-20+ knots of breeze against San Francisco Bay tide, I was aware of the boat's relatively low freeboard. It tracked beautifully and stayed pleasant to drive, but digging a wave didn't just slow the boat, it sent a bit of water through cockpit. Careful driving minimized this tendency. The boat seemed to like backstay and the jib, which has athwartships-adjusting leads, could be sheeted hard and still gave great shape and a well-proportioned slot.
We set the kite and lit up. The boat jumped on the step, skimming atop the water with notably little bow wave. It was just plain fun to drive. It didn't have the no-margin-for-error sensation I've known on some other helms when planing – it felt confidence inspiring. We wiped out a couple of times, but only as we were pushing the boat to test its limits. I'm quite sure that average sailors could sail the boat conservatively in those conditions and keep the boat safely upright, and more adventurous sailors would find no end of enjoyment on the ragged edge. With four on the boat downwind in chop, you do need to get the crew weight as far aft as possible. When planing in flatter water, this was much less of a necessity.
Upwind or down, it's a combination of hull form and foil shape, in addition to the ballast, that makes it eminently drivable. This puts the RS 21 in stark contrast to some of its closest competitors, boats that may be faster and more powered up, but that require much more nuance of tune and trim to drive easily.
You might think all of this stability and ease makes the boat feel slow. Hardly! It was just about as easy to get on a plane as any keelboat I've sailed, and declaratively easier than some. It never felt heavy to me, but rather stiff and stable. We weren't using any instruments, but on an easy plane, I'd guess we were happily cruising along in the low double-digits, pushing into the low teens in the puffs.
Of all the features, the one that gets the double-edged-sword award, in my opinion, is the mid-cockpit pedestal that doubles as a housing for the Torqueedo and the bar for the mainsheet attachment point (there is no mainsheet traveler). The backstay adjustment is also here, as is the double-ended main sheet that may be trimmed from forward or aft of this pedestal.
It has numerous positive attributes. Sheeting the main from an aft and above-the-deck position means that the boom can be trimmed to nearly centerline. Keeping the lifting motor there retains the full range of tiller-motion at the transom and keeps the weight better centered. It's an easy foot push for the crew seated nearby. And finally, the arch in the middle is an exciting asset as a hand-hold for sailors who struggle with balance or mobility. A recent J/70 world champion installed something somewhat similar to aid him in getting from one side of the boat to the other, and this pedestal could do the same for RS 21 sailors.
The potential downside of this element is that it really is in the middle of everything. On jibes, in particular, we had a couple issues in which the extra main sheet would get caught on parts of this pedestal. There will surely be a learning curve for someone regularly sailing the boat, and it's far from an insurmountable challenge.
Considering these unique attributes, who is the RS 21 really for? It will be a great first boat for anyone entering sport boat sailing, whether they're adults getting into it or kids coming out of high school or college racing. Because of its simple and user-friendly approach, I think it will be a popular choice among sail training programs and clubs that provide race boats for fleet or match racing. And, among the boats of similar design, I would call the RS 21 the easiest to day sail, either short handed or with an inexperienced crew. So with this in mind, a fair answer to the question above could genuinely be: everybody.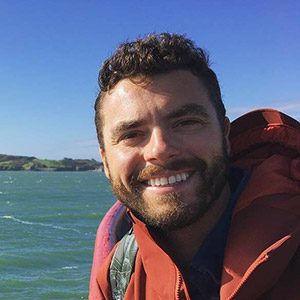 Joe Cline has been the Managing Editor of 48° North since 2014. From his career to his volunteer leadership in the marine industry, from racing sailboats large and small to his discovery of Pacific Northwest cruising —Joe is as sail-smitten as they come. Joe and his wife, Kaylin, welcomed a baby girl to their family in December 2021, and he is enjoying fatherhood while still finding time to sail, make music, and tip back a tasty IPA every now and again.