This article was originally published in the December 2021 issue of 48° North.
Wichard MXEvo
With over 100 years of manufacturing experience, Wichard's marine products are continuously evolving in function, strength, and safety. This has never been more evident than in their MXEvo 2:1/3:1 block range. While technically a friction sheave, the MXEvo has a smooth bearing surface that a halyard or control line can pass through. An additional attachment point (becket) acts as a dead-end for the line, which takes it from a 2:1 to 3:1 purchase system, making its versatility suitable for a large range of different applications like Code Zero halyards or blocks at the base of the mast. A handy "leash" saves the pin from escaping when opened and tabs help keep the line on track. Made of 316L grade stainless steel, the blocks can fit lines up to 14mm.
Price: $114 » www.Marine.wichard.com
Wick Portable Electric Candle
Whether in the cockpit or down below, Wick is a portable light that is meant to create the perfect ambiance in shared spaces. Designed in Seattle by a mix of cruisers, racing sailors, and power boaters, the battery-powered lamp simulates the charm of candlelight without an open flame that can blow out in a breeze or potentially start a fire if it tips over. Wick has three intensity settings and one flickering setting (like a candle), that can be adjusted with a simple tap on the light. It features a wide, weighted bottom for stability and a thin light at the top. Wick works well as lighting in the salon at night or while swinging at anchor enjoying a beverage in the cockpit in the evening. Sleek yet sturdy, Wick comes in a Graphite or Brass finish. 
Price: $150 » www.Graypants.com/products/wick
Dometic Gravity Series Marine Toilets
Sometimes a product comes along that is "ahead" of its time; such is the case with Dometic's new Gravity Series Toilets. The innovative new Gravity Series eliminates the need for a holding tank, pumps and hoses, making installation simple and freeing up space on a wide variety of boat sizes, types, and styles. The Gravity Series comes in two bowl styles (Model 700 and Model 5000) to accommodate different vessels, available space, and personal preferences. The Gravity Model 700 features a floor-to-seat height ideal for use in even the most space-restricted compartments like on small sailboats or racing boats. The Gravity Model 5000 provides a seat that is higher for boaters who are taller, or just prefer a more elevated seat position. The system's self-contained waste tank doubles as a toilet stand for comfort and ease of use and the 6.5-gallon tank is 260% larger than the typical portable toilet, ensuring plenty of capacity for all-day use. Smooth surfaced, high-strength ABS tank construction allows for easy cleaning and foot reliefs on the front corners improve footing when getting on or off the seat.
Price: Starting at $429.99 » www.Dometic.com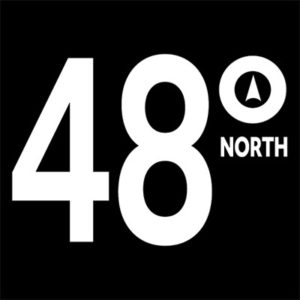 48° North Editors are committed to telling the best stories from the world of Pacific Northwest boating. We live and breathe this stuff, and share your passion for the boat life. Feel free to keep in touch with tips, stories, photos, and feedback at news@48north.com.