This article was originally published in the March 2022 issue of 48° North.
» BoatLIFE Fix Repair Putty
Boaters of all stripes know that heartbreaking feeling when their fiberglass is dinged or their gelcoat is chipped. Hiring a professional to fix the problem can be time consuming and expensive. Thankfully, there's an easy restoration solution that you can do yourself. BoatLIFE's Fix Repair Putty is specifically formulated for marine use, making it ideal for a wide range of watercraft from powerboats, sailboats, canoes, and kayaks. An easy-to-use, moldable putty that hardens like steel, it bonds to fiberglass, wood, metal, glass, and concrete, and can even be used underwater. Because it doesn't sag, it can be applied on angled, vertical, and overhead surfaces. After curing for 24 hours, the high-strength material can be drilled, sanded, painted, and tapped to accommodate a bolt. Impervious to oil, gasoline, alcohol, caustic detergents and saltwater oxidation, it cleans up with only soap and water.
Price: $26.88 » www.boatlife.com
» Questus Self-Leveling Radar Mount
Any sailor who has spent time at a radar screen knows the unsettling feeling of potentially missing targets as the boat heels. With a self-leveling radar mount, previously unseen vessels, squalls, and hazards to navigation suddenly become visible. Made in the USA, the Questus Self-Leveling Radar Mount can be used with a wide range of radar types including broadband, pulse, and high definition. The mount is hydraulically-dampened to prevent oscillation. This gives signals ample time to reflect back to the unit as the radar beam remains aligned to the horizon. The mount is easily installed on a mast or 4-inch stern pole, or on a standard, split or hydraulically adjustable backstay. Its mounting plate fits most marine radars without modification. Two models are available: The 300G is designed for radomes up to 24-inches, and mounts to a mast or pole. Version 400G accommodates radomes up to 18-inches, and installs facing forward or aft on a backstay.
Price: $1,399 » www.questusmarine.com
» Hubbell Circuit Tester
You pull your boat into an unfamiliar slip in a marina, take one look at the shoddy power pedestal and wonder if it will indeed produce power… or if the wires are even connected. We've all been there. Sure, you could get out your multimeter to check, but there's an easier way. Hubbell Marine's simple Twist-Lock Circuit Tester allows you to quickly test a 20A or 30A 125V receptacle. Colored LEDs illustrate whether the connection is correct, or whether there's an unsafe circuit condition that needs attention. The Circuit Tester features a patented design made from yellow Insulgrip® nylon and the LEDs glow bright enough to be seen in full sun. Attached to the device is a two-sided plastic card to interpret the seven possible combinations of colored lights, including dangerous open grounds, and reverse polarity conditions. A carabiner is included to clip the tester to a tool belt or bag. 
Price: $150 » www.hubbell-marine.com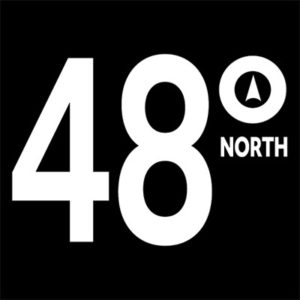 48° North Editors are committed to telling the best stories from the world of Pacific Northwest boating. We live and breathe this stuff, and share your passion for the boat life. Feel free to keep in touch with tips, stories, photos, and feedback at news@48north.com.