Learn more about our colleagues who offer awesome deals on cool second-hand boat stuff at Port Townsend's Marine Thrift.
Marine Thrift is a second-hand store with boat stuff ranging from the genuinely fine to "what-the-heck?" to exactly what you were looking for. Located in Port Townsend's Boat Haven and started in early 2016 as a project of the Northwest Maritime Center, Marine Thrift is growing into itself in 2022. With record levels of donations and sales "through the roof," Marine Thrift is beginning to look like a lot more than a fledgling clever idea.
Since March of 2022, Marine Thrift has been in the care of Robert Brechlin. A former engineer and software developer and an avid boater for more than 20 years, Brechlin embodies enthusiasm for this little shop and service. His positive energy is doubly impressive considering the incredible amount of work he's devoted to re-envisioning all things Marine Thrift. When he took over, he says it was in such disarray that he "couldn't even find the floor." Traditionally, donations would come in haphazard boxes, and there they stayed for would-be customers to pick through. Brechlin admits that some visitors enjoyed picking through boxes to find a treasure. These days, however, Brechlin has a thoughtful (if labor intensive) protocol for organizing incoming donations and distributing them in a carefully coordinated fashion around the store. He says, "Now, I get to find the treasures, but this way I can display them for more people to see and consider."
While a Facebook page has existed for Marine Thrift since its inception, Brechlin has started consistently promoting new donations via thepage for the first time in its history. A customer purchasing a variety of shackles volunteered, "I can't tell you the number of times I've seen something new on the Facebook page and come straight over." Brechlin has e-commerce dreams to serve a more geographically diverse audience, but even the consistent marketing via Facebook is a noteworthy step forward.
As with all Northwest Maritime Center initiatives (including 48° North), a great deal of thought has been given to what good can be come from these efforts. Indeed, Marine Thrift isn't just an enterprising whim. It provides a service intended to increase accessibility to boat life by providing a variety of gear at amazingly low prices, all while helping to keep re-usable marine goods out of the landfill. People often ask whether there's a consignment option, but Marine Thrift only takes donations.
The shackle-buying customer mentioned that he buys quality items to have on hand for when friends and fellow-boaters find themselves in need — he likes to give stuff he's purchased at Marine Thrift away to those folks to help keep people on the water. Brechlin noted that, in addition to the tangible service Marine Thrift provides, the community that has developed there is a huge part of what makes it special. He says, "We get a ton of donations and people buying things, but the thing I remember is the people and the adventures and stories they share. Those are the treasures we get at Marine Thrift."
With so much positivity going on at Marine Thrift, Brechlin asks for more… of everything. He says, "With more sales, we need more donations. As more donations come in, we need even more folks to know we're here and to come check us out." Marine Thrift has added a second employee to accommodate its growth, and the Marine Thrift team is ready to keep the throttle down toward even broader horizons.
Marine Thrift is open from 9 a.m. to 2 p.m. Tuesday-Saturday. Visit the store or make tax deductible donations of your extraneous boating gear at 315B Haines Place, Port Townsend. Learn more at nwmaritime.org/marine-thrift/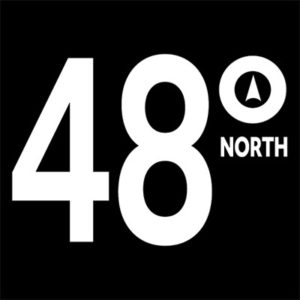 48° North Editors are committed to telling the best stories from the world of Pacific Northwest boating. We live and breathe this stuff, and share your passion for the boat life. Feel free to keep in touch with tips, stories, photos, and feedback at news@48north.com.