The sparkling varnish and classic lines of this vessel turn heads wherever she goes.
Approaching 100 years old, Faun is pure Pacific Northwest beauty. When the crew at 48° North learned that owners​​ Laura Stone Shifflette and Michael J. Passage were interested in sharing more of her story in this month's My Boat column, we jumped at the chance.
Tell us about your boat.
Faun is a Blanchard Standardized Cruiser, 36 feet long and launched in 1926. She was one of approximately 25 built, at least six of which survive today. She was designed by Leigh Coolidge and built by the Blanchard yard on Lake Union in Seattle for W.N. Winter, and named after his wife, Faun. She's built for cruising in our local waters, but he bought the boat so he could easily cross Lake Washington from his Medina waterfront estate. The boat cost $6,000 new, which was the equivalent of two nice houses at the time. 
She was launched with a Van Blerk gasoline engine, but,  since 1947, she has had a Chrysler Crown. Her hull is red and yellow cedar, her frames are oak, her keel is fir, and her house is Burmese teak. She still has her original cast iron stove, a Neptune. Faun's interior spaces are wide open so you can see from one end to the other, making her an ideal two-person boat.
Miraculously, Faun's name has never been changed despite having 16 owners. It's the perfect name for her. We, Michael and Laura, have owned her for the longest of anyone — 25 years. We keep her in Portage Bay.
How did you find Faun and what makes the boat special to you?
One Saturday in 1997, Michael suggested that we visit a wooden boat show, the Classic Yacht Association's Bell Harbor Rendezvous. We'd been married only a year, and although we'd walked many docks, looked at many boats, and it was clear to me that a boat would be somewhere in our future, we specifically intended to NOT buy a boat that year. 
At the show, we sought out Faun, where a friend was aboard. I remember sticking my head in the large aft window of Faun, seeing the beautiful salon with the wicker chairs and decorative rugs, plus the amazing galley, and blurting out, "THIS boat could work for us! If it were for sale, I'd buy it!" The woman aboard popped her head up and said, "Well, as a matter of fact, it is for sale!"
Two weeks later, we'd negotiated a price with the owners, scheduled and completed surveys, and we owned her. It was utterly life-changing.
Can you share more about the boat's history? 
Influenced by Henry Ford's production line success, the boat building industry was first experimenting with the concept of building production boats versus custom one-offs in the 1920s. It was part of the industry's conscious effort to make boating more accesible to the masses. Calling 25 boats built over six years "mass production" seems a stretch, but it was the first glimmer of what was to come. In fact, each of the 25 was completely customized! 
Nearly every boatyard in the area built vessels of similar design through the 1920s, as the design proved immensely popular. The design was based on a 1910 prototype, Klootchman, designed by Otis Cutting and built by Taylor & Grandy on Vashon Island. Klootchman met her demise early, but was immediately followed by four identical vessels, including Kingkole, which still exists today as Lawana. 
In 1924, Blanchard launched its first Coolidge-designed Standardized Raised Deck Hunting Cruiser. Lake Union Drydock soon followed with its first similar vessel in 1926, which they named (and trademarked) Dreamboats. Today, all vessels similar to that design, regardless of builder, are commonly referred to as Dreamboats. 
Faun is the ninth of the Blanchard cruisers built. At the time, the area aft of the helm would have been entirely open with just a roof overhead, a design feature known as the "Alaska Deck." To keep out the elements on the Alaska Deck aboard Faun, there were roll-down green striped canvas curtains that made it nearly pitch black inside the cabin. At some point — we're not exactly sure when — the curtains were removed, the aft area was enclosed with large glass windows framed in teak, the top of the cabin was strengthened, and the dinghy moved from the foredeck to the top. These changes improved the boat tremendously, and made it possible to use it all year.
Faun's original owner sold her within just a few years and then she changed hands rather frequently after that. She's had good times and hard times. She did wartime service in WWII on Lake Union and Elliott Bay on patrol with the Coast Guard Auxiliary.
What do you like best about your boat? 
Faun was designed and built for cruising the waters of Washington and British Columbia, and she performs superbly at achieving this directive. We cruise her extensively every summer throughout the Salish Sea. She is quiet underway and her plumb bow cuts through the water cleanly with little wake and fantastic fuel efficiency at about 8-plus knots.
Aboard Faun, we love being so near the water that we can see and hear wildlife up close and personal. Anchoring in a quiet bay in any of the islands is my idea of heaven. We love her huge windows and all the light they provide, but this means she's not built for big waves and heavy weather. She's purpose-built for inland waters.
With Faun approaching her 100th birthday, we understand and appreciate that we are merely the caretakers of a maritime and historic treasure. There's something special about that to us and others. 
What do you know now about Faun that you wish you'd known when you bought it? 
We thought we knew what we were getting into, but you never really know. When we purchased Faun, her exterior paint and varnish were in sorry shape. She'd had no maintenance on the outside for a couple of years, and it doesn't take long for a vessel to decline when this maintenance is neglected. We had to take everything all the way down to the wood and we faired, longboarded, and grooved the hull after we bought her. That was a big project. 
We were lucky that the previous owners had done a meticulous refit of the interior — taking her all the way down to the frames and redoing everything. They did a beautiful job with the interior design which was sensitive and period-appropriate, yet completely functional and modern. We inherited a new electrical system where every wire was bundled and labeled every few feet. 
Then we got our turn. We went into the yard in 2013 to repair a few ribs and planks and ended up coming out 13 months later with everything new from the waterline down: ribs, frames,  and planks. 
Describe the most challenging situation you've experienced on your boat and how it performed. 
Faun can take more than we can. We once got into much bigger seas than we should have by basing our decisions on a weather report that was dead wrong. We couldn't turn around safely and had to plow through it. The forward hatch flew off and we started taking seawater inside the cabin. We had seaweed all over the interior. We were eventually able to secure the hatch. 
Climbing up the faces of waves, our 50 lb anchor was going vertical, then slamming down on the stem, and ultimately, the whole assembly let go, but we'd prepared for that and already secured the anchor chain in the chain locker so it couldn't smash a hole in the side of the boat. The whole experience was terrifying. We learned to pay attention to what we see with our own eyes and not to rely so heavily on reports. 
That was in the early days. We've since learned that it's okay to turn around if we don't like the looks of things, and we also have made a rule that if one of us wants to turn around and the other doesn't, we turn around. No further discussion required. 
Where do you plan to take your boat? Do you have a dream destination?
We could happily explore the nooks and crannies of all of the islands of the Salish Sea for the rest of our lives and be perfectly content. After all, that's what Faun was born to do. We try to add new destinations to our repertoire every year, even though returning to old favorites is always tempting. 
What didn't we ask you about your boat that you wish we had? 
What's her signature? When we bought the boat, we put pots of pink geraniums on the back, since the so-called back deck isn't big enough to do anything else! Those geraniums have become our signature and we can't leave home without them. We take endless grief from the shipwrights about them.
Want to share the story of your boat in a future column? Contact andy@48north.com.
This article originally appeared in the May 2022 issue of 48° North.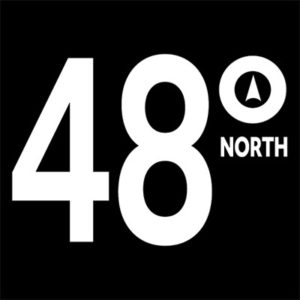 48° North Editors are committed to telling the best stories from the world of Pacific Northwest boating. We live and breathe this stuff, and share your passion for the boat life. Feel free to keep in touch with tips, stories, photos, and feedback at news@48north.com.