From the February 2021 issue of 48° North.
Sometimes, a sailor's hunt for the ideal boat can take mere days. More often than not, though, it takes much longer. And every once in a while, it's a combination of both. The latter scenario happens when, during the search, a boat comes out of nowhere like a bolt of lighting and, just like that, you've found it.
So went the boat search for Hugh and Lynn Creasy while looking for their perfect cruising sailboat. Hugh, a longtime sailor and mechanical engineer by degree, had a very good sense of what he wanted in a boat. Alas, his search for the right boat spanned years, with Lynn as a willing partner.
They stepped aboard numerous boats during that time and, in the summer of 2019 while chartering a catamaran, they spotted a Moody 54DS and began drooling. That was the lighting bolt moment. Though they could not get on the boat for a tour and there was no make/model identifier on it, Hugh and Lynn committed its unique styling to memory.
A few months went by and Hugh finally found a similar Moody 45DS online. These boats are rare on the U.S. market, with most of them residing in Europe and Australia, so they knew they'd be looking abroad. After doing their research and finding numerous 45DS's that they liked, the third one they bid on was the very best of the bunch. Lynn wrote a "To the Buyer" letter as to why they would be the best owners for this special boat, and explained the couple's long term dream of sailing the open ocean. Just like that, the offer was accepted and Hugh flew to Sweden to inspect her and the bond began. Fittingly, the name of the boat was Happy! She is now homeported in Seattle.
ABOUT HAPPY
When did you buy your boat?
We bought her in September 2019 from the second owner in Lysekil, Sweden. We sailed her from Lysekil on the west coast of Sweden, through Denmark to Germany, then through the Kiel Canal to Holland where we loaded her onto the deck of a ship to Florida. In fact, Happy is the third 45DS in the Americas. We wintered in South Florida and the Bahamas and placed her on another ship home just before Covid-19 struck. She arrived in April 2020.
Tell us about your boat's name.
The previous owners named her Happy when their son was in his 'tween years and the Pharrel Williams song of the same title was quite popular. We debated changing her name, but fate intervened. For years, Lynn has been on the hunt for a word that combines the implications of lucky and fortunate and blessed (all of which individually did not quite resonate). Searching the web, she found a definition of 'happy' that in fact incorporated all of these words, so the name remains. To our knowledge, there is no other boat named simply Happy.
What's the history of your boat? (Where's it been? Who built or designed it? Has anyone famous owned it before you?)
There are no famous owners to brag about, but the legendary Bill Dixon designed the boat and we think he was well ahead of his time. She was built in Germany; and the first owner had her in France for a couple of years before falling ill, forcing the sale. The second owner trucked her to Sweden, where he and his family sailed her locally merely a few weeks a year. She spent 11 months a year out of the water, meaning she's lived a pretty quiet life. We are now connected with seven other Moody 45DS owners globally and find them to be a very proud group.
What do you like best about your boat?
Lynn: The livability is exceptional, and she's easy to sail even for a modestly experienced sailor such as myself. It came equipped with several homey additions including a dishwasher, washer/dryer, and separated showers. Stellar for the two of us.
Hugh: Like Lynn said, the livability factor is incredible. And, not at the sacrifice of performance!  This is a great sailing boat, super easy to handle with the self tacking jib and all lines led aft for safety. She is smooth, fast, and maneuverable with those twin rudders.
What's your favorite story involving your boat?
When we took delivery of Happy in September 2019 in Sweden, our first stop was an island called Karingon. There are no cars on the island and there are many long term residents who call it home. Hugh's father was in the U.S. in hospice and we had just had a conversation with him the night before we arrived.
The people of this island were very welcoming and we met a couple as we docked into the harbor. We described to them that this was our first sail with our newly acquired boat. Elna promptly said she would be right back. She went to her home and retrieved a bottle of champagne and glasses for all to celebrate! During the day, we got the news that Hugh's father had passed and she was very compassionate — so while we were celebrating the joy, we were also acknowledging the sorrow of losing a beloved parent and fellow sailor. It was beyond blissful and, as is often experienced with sailors, we have friends for life.
Describe the most challenging situation you've experienced on your boat and how it performed.
On day three of owning Happy, we were sailing in foreign waters and stretching for 83 miles in one day from Skagen to Grenaa, Denmark. We had an ontime 0600 departure and were close hauled for most of the day in 30 knots of wind. The fin keel and twin rudders make this boat sail like a dream — she has a great motion and speed. With 7 miles to go, a lee shore a half mile away and an hour before sunset, the jib halyard shackle snapped and the jib fell into the water and wrapped under the boat. We had the engine on because we were trying to get around the last point without tacking again. Luckily, as Hugh headed to the foredeck, Lynn had the foresight to drop the boat into neutral to not damage the sail or foul the prop. We were able to heave the sail back on deck, get it secured, then make our way into the very small entrance into Grenaa as darkness fell. The good news, we found another shackle in town and Lynn got to take her first trip up the mast!
Where do you plan to take your boat? Do you have a dream destination?
Happy is our home for the next 12 to 15 years. We have a handful of years before retirement and, until then, we plan to cruise the Pacific Northwest, possibly making a Hawaii to Alaska circuit and then working our way slowly south. A single dream destination is a bit of a silly question as there are so many places to explore! That said, Hugh looks forward to visiting the South Pacific again and sailing to Alaska. Lynn is excited for the journey itself and letting it unfold as we go. The sailing community is so welcoming, helpful, open and inclusive, we look forward to making new friends and seeing old ones. As we currently sit in the middle of winter in Seattle — anywhere warm looks inviting enough to be a dream destination.
Whether it is a beloved cruising sailboat, powerboat, racing boat, wooden boat, work boat, tug boat or even a kayak or old Laser, we want to share your boat's story for 48° North's "My Boat" series. Email andy@48north.com to get started!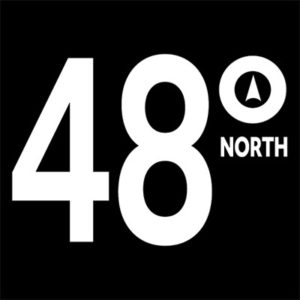 48° North Editors are committed to telling the best stories from the world of Pacific Northwest boating. We live and breathe this stuff, and share your passion for the boat life. Feel free to keep in touch with tips, stories, photos, and feedback at news@48north.com.