ICOM M605 VHF Radio
Not simply a VHF radio, M605 is designed to allow users the choice on how to set up the radio with up to three separate stations on the boat. Boaters can now add an exclusive complete display as another station on the vessel along with two COMMANDMICS™. The radio's large, bright LCD display is easily visible and includes "night mode" to view in the dark. The full featured M605 also gives customers the option of an integrated AIS receiver. This integrated receiver can show AIS vessel traffic information on the display and the AIS combo screen allows you to monitor the AIS plotter during basic operation. The M605 also allows the user to directly call a selected AIS target from the AIS screen using an individual DSC. Other features include built-in GPS, NMEA 2000/0183 compatibility, active noise canceling, and more.
Price: $849.95 » www.icomamerica.com
Arntson Marine Dry Bags
From the folks who created the popular Tahoe Brim WindSun Hats™ comes a fresh line of dry bags for boaters and travelers that recently debuted at the US Sailboat Show in Annapolis, Maryland. The new range includes the 10 liter Rolltop, 25 liter Fastpack, 30 liter Tote, and 35 liter Ultracrew duffle. All of the bags are constructed with 100% watertight, airtight welded seams and lightweight, eco-friendly TPU (Thermoplastic Polyurethane) material instead of cheaper PVC (Poly Vinyl Chloride) that is harmful to the environment. The Fastpack and Ultracrew bags feature IPX7 watertight and airtight zippers with clever pull tabs to help open and close the zippers with minimal effort. Whether you're racing or cruising, powerboating or kayaking, the bags are perfect to keep your gear dry. Color options include cooler aqua or true red, each with asphalt gray accents.
Price: $26 – $150. » www.arntsonmarine.com
IGLOO Playmate Classic KoolTunes Cooler
A blast from the past is back! When it first hit the market in 1989, Igloo had no idea how iconic their Playmate slide-top cooler would become. Now, over 30 years later, they've reinvented the Playmate with built-in speakers. The new KoolTunes, 14-quart cooler includes two Bluetooth-capable, low-profile 5-watt speakers that deliver a premium sound experience with punchy bass and a dynamic frequency response range. Perfect for the boat or beach, this 26-can capacity cooler has an audio playtime of 10 hours on a single charge and a control panel on the back includes LED status indicator, charging port, and pairing and volume buttons. The Playmate KoolTunes cooler comes in a variety of color options and includes a 3-foot USB charging cord.
Price: $149.99 » www.igloocoolers.com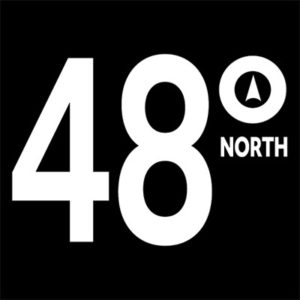 48° North Editors are committed to telling the best stories from the world of Pacific Northwest boating. We live and breathe this stuff, and share your passion for the boat life. Feel free to keep in touch with tips, stories, photos, and feedback at news@48north.com.