ZHIK SEABOOT 700

When working on deck in cold, wet weather, there's nothing worse than a clunky boot that limits mobility. Zhik's new waterproof and breathable Seaboot 700 aims to change that, with a boot that is extremely lightweight and flexible, giving the feel and comfort of a modern running shoe. The boots weigh just one pound per boot and are designed to be worn in nasty offshore conditions, yet are light and versatile enough for moderate coastal cruising or racing. Inspired by technologies in motor racing and wet weather, Zhik has collaborated with tire experts at Michelin to create the mid and outer sole design. A special rubber formula was created to provide outstanding grip and maneuverability across different deck types, whether dry or wet. Inside, a specially formulated cushioned and supportive midsole ensures the boots are secure and stable on your foot, yet remain flexible, enabling easy kneeling and rapid movement around the boat. The midsole offers excellent thermal insulation from cold decks and icy waves and an Ortholite inner sole adds extra cushioning and arch support. The boots also feature pull-on loops, an ultra-fast lace system, external stretch gaiters, and an elastic hem at the top to prevent water intrusion.
Price: $449.99 » www.Zhik.com
BARTON MARINE CARBON TILLER EXTENSIONS
Barton Marine recently launched a new technically enhanced range of stronger, lighter, and more colorful carbon fiber tiller extensions suitable for all dinghy types. Manufactured in the UK using an advanced carbon fiber construction process, they are extremely robust while also remaining remarkably lightweight. The new extensions offer a unique grip, molded directly into the carbon fiber finish that runs almost the entire length of the extension, starting about 8 inches from the universal joint and has been optimized to provide secure handling of the tiller while not shredding hands or gloves. The universal joint is held in place using a torx screw to enable it to be swapped out for a dinghy specific unit or to allow for maintenance. The new extensions are available in various lengths and a choice of bold florescent colors, with the option to custom order special colors to fit a sailor's team colors. Stock colors include laser blue, ruby red, black with gold weave, and hot pink. They are Laser and ILCA class legal and ideal for Scorpion, RS Aero, Blaze, National 12, Hadron H2, Musto Skiff, 49ers, and almost every other dinghy class.
Price: $150-$350 » www.BartonMarine.com
PATAGONIA BIG WATER FOUL WEATHER KIT

Emerging from a collaboration between the Polynesian Voyaging Society and Patagonia's Forge Advanced R&D team, the new Patagonia Big Water Foul Weather Kit is built for open-water voyages. Blending full storm protection, unencumbered mobility and high-visibility reflectivity, the new jacket and bibs are a highly durable foul weather kit for long and demanding ocean crossings. Fair Trade Certified™ sewn, the mens' and womens' kits use a highly durable, 4-layer H2No® Performance Standard shell that is made of NetPlus® 100% post consumer recycled nylon from recycled fishing nets to help reduce ocean plastic pollution, with a slick jersey backer to manage moisture and stay comfortable next to skin while enhancing movement. Paneling across the elbows, forearms, and back hem will withstand years of abuse. A stowable hood with an integrated cord lock adjustment and a laminated visor will maintain fit and shape, while the independent high collar blocks wind and an offset center-front zipper reduces chin chafe.
Price: Jacket $650, Bibs $550 » www.Patagonia.com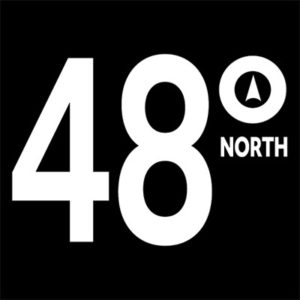 48° North Editors are committed to telling the best stories from the world of Pacific Northwest boating. We live and breathe this stuff, and share your passion for the boat life. Feel free to keep in touch with tips, stories, photos, and feedback at news@48north.com.