This article originally appeared in the January 2017 "Boat Show Preview" issue of 48° North.
There is something uniquely "Pacific Northwest" happening in Anacortes right now. There are four identical 43' offshore cruising cutters being built out of carbon fiber at Betts Boats. These are a special custom project, designed by the prolific Pacific Northwest yacht designer, Robert "Bob" Perry.
To me, this project represents the capacities and complexities found within our group of local industry professionals and sailing enthusiasts. Like so many of the extraordinary projects that come out of our region, these carbon cutters have one eye looking back toward the traditional and the other looking to the leading edge of modern development, design, and technology. Whether fast boats built of wood or, in this case, cruising boats built of carbon, this creativity, variety, and versatility are on display. The cherry on top is to find the knowledge, talent, skills, and facilities to make it all happen right here in western Washington.
Perry is a Northwest guy who has been successfully drawing boats since the seventies, so you may already know him personally. Even if you don't know him, you certainly know his designs: the Valiant 40; the Baba 30, 35, and 40; the Tayana 37; the Passport 40; a fleet of Islander designs; the Nordic 40 and 44; among many, many others. The Perry brand is built on boats that pass the sail test as well as the eye test – they're generally known to be beautiful, capable, and fast. Though he's best known for his cruising boat designs, Perry has designed boats to be built out of carbon before, including the powerful and banshee-fast racer/cruiser Icon.
When I've described this Perry Carbon Cutter project, I've gotten looks that range from inquisitive to perplexed to skeptical. Yacht design seems to me to be as much a balance of priorities and compromise as it is a balance of art and science. In this case, the priority was to build comfortable passage-making yachts with a traditional look utilizing modern materials. Though Perry says he shared the vision with the client immediately, as with all custom projects, many elements and motivations for this project are very client-driven. Perry's answer to many of my questions didn't go far beyond, "that's what the client had in mind, and I got to figure out how to make it happen."
While these are not high performance boats, the carbon build will make these boats perform better than many similar looking boats. However, it may not be for the reason you'd guess. It was when I asked, "Why build offshore cruisers out of carbon fiber?" that Perry helped me have that ah-ha moment.
"Well, first off, these are not going to be light displacement boats. The total displacement is going to be over 35,000 pounds." Perry noted that this is not significantly lighter than a similar boat would be if built out of fiberglass. But here's the kicker: Perry told me, "Most boats like this are actually under-ballasted. The weight of the hull is usually so heavy that the boat becomes far too heavy if you use as much ballast as you probably should. One of the main benefits of building these boats out of carbon fiber is that we can get the ballast-to-displacement ratio to roughly 45%."
As a comparison, consider several of Perry's proven offshore designs. The Valiant 40, which has a long fin keel has a ballast-to-displacement ratio of 36%. The full-keeled Baba 40 makes it to 41%. When I learned about the ballast-to-displacement ratio on these carbon cutters, I immediately thought of the only boats I knew of that were in that range, ultralight displacement boats like the Moore 24 (49%) and the Santa Cruz 27 (50%). At this comparison, Perry smiled and said, "Well, it's getting there."
Perry went on, "You could build this boat out of pretty much anything, but, the further you get away from carbon, the less ballast you would get."
Perry noted that "the displacement-to-length ratio is about the same as a Valiant 40. It's 43' long, and it's almost all waterline." So, while this is a carbon boat that will never plane and Perry thinks it's unlikely that it will even surf, he did say, "this is a boat that will do eight or nine knots in pretty much any direction for days on end."
Though the construction is cutting edge, there's a lot that's quite traditional about the design. These cutters have transom-hung rudders, which was a specific request of the client. Perry sees that the rudder, the lower freeboard, and the deck layout all contribute to the more traditional look. On first glance, hull #1 reminded me slightly of a big Bristol Channel Cutter. I learned that Perry and this client each had Atkin cutters in their minds as inspiration.
One of the first things Perry showed me when we entered the shop was the carbon strut that extends from the bottom aft corner of the keel to the bottom of the outboard rudder. Like essentially all the parts on the boat, this was a custom part built (of carbon fiber, of course) right there in the Betts shop. It sat right next to the female mold that one side of the strut came out of. Perry told me that he wasn't positive it was necessary, but the strut will protect the rudder and the propeller while supporting the rudder tip. It's also replaceable in the event of damage or failure. While he acknowledged that the boat could function without it, this part has been dubbed, "the chastity strut," because if you didn't have it, you might be f**ked.
Once the drawings began taking shape, the client asked Perry about where to have the boats built. "I told him I had been thinking about Jim Betts in Anacortes," Perry remarked. The client was floored. As a PNW local, he is in Anacortes frequently. A local builder appealed to both Perry and the client, so they could both participate in the process. Indeed, they've been there at least weekly since the build began.
Getting to poke around the Betts Boats shop would have been cool regardless of the project they were working on. Their whole team was friendly, welcoming, and professional. Betts is one of the nation's leading carbon composite boat building specialists. Founded more than 45 years ago, Betts Boats has built everything from the always-competitive Sierra 26s, Uno and Dos, to speedy Bieker Riptide designs like Longboard, to a variety of cruising boats, and even an America's Cup boat for a campaign in 2000, America True.
Betts Boats lead designer, Neil Racicot, notes that in the Perry Carbon Cutters, they have kind of a dream project. It's a custom job, so, they get to have the fun and challenge of designing, engineering, and manufacturing custom parts. But since there are multiple units, they can use component designs for the next few projects, making the construction of the later hulls more efficient. There is also a possibility of doing some testing on the early components that will benefit or streamline their systems for the later hulls. It's a massive job, but all parties seemed pleased with the progress and the results thus far.
Racicot and the Betts team have had a hand in the design process with Perry, in addition to the build and the all the custom tooling. One instance where Racicot tweaked the design is the bowsprit. Perry had drawn one originally, but Racicot had a couple of alterations that would make the carbon construction easier. Ultimately, Racicot found a few ways to improve functionality as well, particularly for the windlass and anchor roller positioning, and Perry told me he likes Racicot's design of the bowsprit better than his own.
Racicot also engineered stanchion base attachments that would fail (if they fail) above the structure of the bulwark and could be easily replaced underway, without having to drill or re-seal bases through the deck.
I asked Racicot how different the carbon fiber layup was for a cruising boat than a carbon race boat. He raised his eyebrows, "very different." He told me they work with Jim Antrim, a naval architect and engineer in Califiornia, for load testing of their components and composites. Ultimately, the carbon fiber layup is much heavier than most of the boats Betts builds. They have the license to slightly overbuild, because the overall hull weight will still be much lighter than a similar fiberglass boat.
Betts made the molds in-house. A key factor in what kind of mold to use is the choice, again a request from the client, to have internal ballast. For this reason, a male mold is required, as it would otherwise be very difficult to ensure even construction in the deep cavity of the keel sump.
The choice of internal ballast displays the client's desire for a careful and conservative approach. There are arguments for both types of ballast – internal and external – but a well-made internally ballasted boat is less likely to lose its keel. I trust that there are great examples in the world, but it is hard for me to imagine bolting on a 16,000 pound lead keel to anything.
The keel itself is a notable design feature. It is long, compared to more performance-oriented fin keels, and deep compared to standard full keels. The capacity for increased ballast is accomplished in both dimensions. Internal ballast is most common among full-keel boats, including many that Perry has designed. The client's original request was for a full keel. But after some deliberation with Perry the three-quarter keel with the "chastity strut" was the choice.
One of the complications of internal ballast is that you don't have soft lead to limit damage from a grounding. As a means to counteract that concern, the lay-up begins to mix some fiberglass with the carbon composite as you move from the hull to the bottom of the keel. There's more than an inch of pure fiberglass on the keel's bottom edge. Accomplishing a layup that thick with carbon would have been both too time consuming and too expensive, plus at this position on the boat, the additional weight is only a benefit.
The client's desire for a meticulous product has influenced some other elements of the design. He seems like a real belt-and-suspenders kind of a guy, which can be a great attribute in an ocean sailor. A good example is that he wanted two antennas for the SSB radio, instead of only one. Perry had drawn the boat with a single backstay, but considering the double antenna request from the client, he split the backstays and the antennas will be inside these composite stays, one on each side.
Another example of the very conservative approach for these boats is the fact that they don't have any thru-hulls. Utilizing technology typical of larger boats, the carbon cutters use a sea-chest, which the Betts team designed and manufactured to fit the boat. Making the boats safer yet, the cutters have three water-tight bulkheads.
These cutters don't have traditional chain plates, either. The shroud attachments, which are integrated into the massive rolled bulwarks reminded me of some I've seen on carbon TP52s. Those shrouds will be attached to a two-spreader carbon fiber mast. I asked Perry whether he was loading the boat up with a lot of extra sail power, given the extra ballast. While he drew a more modern cutter sailplan than the boats that had inspired the design, he didn't add a ton of extra sail. This is in line with his thinking that many boats are under-ballasted. He's hoping the client won't have to shorten sail too early in offshore conditions.
The interior layout of the cutters highlights their given purpose. They are spacious with ample storage, but very ocean friendly. There's not a double-berth to be found on the boat, and all the single berths were designed to be proper sea berths. The glossy carbon fiber handrails give the interior a sexy look. Access to the engine is superb, and there's still space for a genset and a huge battery bank.
Ultimately, my impressions are that these will be beautiful and sturdy boats. I admit it wasn't exactly my expectation. Having spent some time on carbon boats, I know them to be fast and light, but also know that they must be treated with care in a way I never experienced on fiberglass boats. I figured these would be burlier than those race boats, but I didn't have a read on exactly how much. The answer is clearly a lot burlier! These boats will be fast cruisers that are going to love the ocean. I think they will be a striking boat at the dock, at anchor, and especially under sail.
I can't wait to see one in action. The planned splash date for hull #1 is sometime in April. As I understand it, there will be a production break between the completion of the second boat and the beginning of production on the third, to allow for new information from sail testing.
One of my favorite parts of my meeting with Perry at the Betts facility was asking him whether he'd been this involved with the production of any of his other designs. Though he has spent a great deal of time in boat yard sover the years, he said this was by far the most time he's spent at every step in the process. He continued, "It's been remarkable to see it all come together, all the aspects of individual work and expertise. I'd compare it to a symphony, where so many parts must have mastery on their own, but work together for a common purpose." To that, I'll say to all parties: BRAVO!
Joe Cline is the Editor of 48° North. Photos by Boomer Depp (available at www.flickr.com/photos/boomerdepp) and Joe Cline.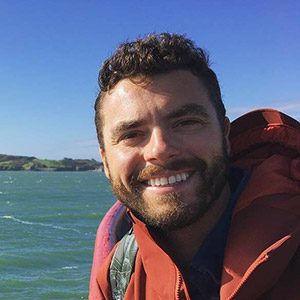 Joe Cline has been the Managing Editor of 48° North since 2014. From his career to his volunteer leadership in the marine industry, from racing sailboats large and small to his discovery of Pacific Northwest cruising —Joe is as sail-smitten as they come. Joe and his wife, Kaylin, welcomed a baby girl to their family in December 2021, and he is enjoying fatherhood while still finding time to sail, make music, and tip back a tasty IPA every now and again.