John and I flew to Arizona for a few days for a getaway. I was excited to return to the "Copper State" as I'd only once before visited. I was in my teens on a family road trip clockwise around America after we'd sold our cruising boat and home, Swanhaven II, in Seattle. We'd enjoyed a few days hiking in the Grand Canyon, but with flights booked home to New Zealand from LA, we were on a deadline and had to hightail it though the remainder of the state.
Phoenix greeted John and I with clear blue skies and as we headed north to our destination in Carefree, we began to take in the landscape. The transition from Washington green to desert brown is rather dramatic and when we spied our first roadside saguaro cactus, with its classic upright vertically ribbed trunk and upward reaching arms, we both commented that it looked like the perfect disguise for a cell tower. I was intrigued to discover that the trunk only grows arms when 50-100 years old, and that along with being an important food source, they're also nesting sites for desert animals including martins, woodrats, lizards, owls, woodpeckers and wrens.
When our stomachs started growling we opted for a pit stop lunch at Sprouts Farmers Market, which is based in Phoenix. It's impressive salad bar offered an amazing array of colorful and interesting salads which inspired me to create the following recipes. On driving the remainder of the way to Carefree, the streets with names such as Lone Mountain Road, Desert Hills Drive, Stagecoach Pass and Dynamite Boulevard soon cemented us into a desert mode.
Nopales Cactus Salsa
1 poblano pepper
1 serrano pepper
5 tomatillos
½ onion
2 prepared nopales (cactus paddles)
handful cilantro
squeeze of lime
salt to taste
Heat oven to 400°F. Over a gas stove flame roast peppers until black. Roast tomatillos, onions, and cactus until the tomatillos split. Peel the blackened peppers. Roughly chop everything and whizz it all together in a blender.
Southwestern Pasta Salad with Black Bean Dressing
½ lb. cooked short pasta
1 15 oz can black beans – drained
1 cup chopped tomatoes
½ cup sweet corn
½ cup chopped green bell pepper
½ cup chopped red onion
½ of hot green chile – finely chopped
½ cup chopped cilantro
salt and pepper to taste
4 tablespoons black beans (from beans above)
1 teaspoon ground cumin
½ teaspoon chipotle pepper flakes
1 garlic clove – minced
1 teaspoon mustard
¼ teaspoon paprika
2 tablespoons pickled jalapenos
3 tablespoons lime juice
For the salad, combine first nine ingredients (through salt and pepper). For the dressing, blend remaining ingredients until smooth then combine with salad.
We were to be guests at Sam's house, a longtime friend who has done many memorable expeditions with us. It was also John's birthday, so celebrations were in order. Sam had also invited Ron, another ex-expedition member and his partner Donna. Once parked at Sam's house I went running into the house to announce our arrival. Sam and Ron were astounded that I'd contemplated navigating the driveway and on into the house barefoot. They asked "Don't you know about translucent scorpions, rattlesnakes or gila monsters? Oh, and don't let the terrier out or she'll be attacked by a coyote or perhaps catch rabies from a javelina." It was a fantastic to be with good friends and everyone lent a hand to create the following birthday dinner.
Grilled Shrimp Tacos
1 tablespoon olive oil
½ teaspoon chili powder
¼ teaspoon ground cumin
¼ teaspoon salt
1 clove garlic – minced
1 teaspoon lime juice
1 lb. large raw shrimp – peeled and deveined
8 6-inch flour tortillas
Toppings: chopped red cabbage, chopped cilantro, homemade guacamole and salsa, and Cojita cheese
In a large bowl combine first 6 ingredients. Add shrimp and let marinate while grill is heating. Thread shrimp onto wooden skewers that have been soaked in water. Grill shrimp 3 minutes each side. Warm tortillas on the grill. Assemble tacos by placing some shrimp and topping ingredients in each tortilla finishing with Cojita.
Almond Pear Clafoutis
3 eggs
⅓ cup milk
⅔ cup cream
⅓ cup flour
½ cup sugar
1 teaspoon vanilla extract
½ teaspoon almond extract
¼ teaspoon salt
2 pears – peeled and sliced
2 tablespoons butter
¼ cup brown sugar
¼ teaspoon nutmeg
½ cup sliced almonds
Confectioner's sugar – for dusting
Preheat oven to 325°F. In a bowl, whisk together eggs, milk, cream, flour, sugar, extracts and salt. Heat a 10″ cast iron skillet, add butter and pears: cook 3 minutes. Add brown sugar and nutmeg; cook 3 minutes. Pour batter over pears, sprinkle with almonds. Bake 35 minutes. Sprinkle with Confectioner's sugar.
The next day saw us off to Janey's Coffee Co. and Bodega on Cave Creek Rd for morning coffee and burritos. I was a little skeptical as to the cuisine as the building is not much to look but once inside it's reveals a charming deco of old west meets funk art. The best part along with its scrumptious food is a gigantic dinning garden with tables and large umbrellas scattered around cactus rock gardens. This place is defiantly a local hangout and it was fun to get a view of desert life from the posters ranging from the latest yoga hangouts to the art and band scene. Sadly, we'd miss the Cave Creek Fiesta Rodeo, it starts mid-March, but Sam took us on tour of town to view the venues and there certainly seemed to be any number of cowgirls and boys ready for action. An afternoon hike was in order before dinner out at another Cave Creek establishment which inspired me to create the following.
Tequila Spiked Tortilla Soup
1 tablespoon olive oil
3 cloves garlic
1 jalapeno
8 Roma tomatoes – halved
¼ teaspoon oregano
¼ teaspoon dried cumin
½ teaspoon chipotle chili powder
4 cups vegetable broth
4 corn tortillas – diced
1 teaspoon sherry vinegar
2 tablespoons tequila
juice of 1 lime
for garnish – corn tortilla chips, Cotija cheese and cilantro
Heat oven to 350°F. Toss tomatoes, garlic and jalapeno with olive oil and bake 20 minutes. In a large pot combine roasted ingredients with next 6 ingredients. Simmer 20 minutes then puree with a stick blender add tequila and lime. Serve with garnishes. Serves 4.
All to soon it was time to leave and as we headed back down the highway hot air balloons dotted the early morning sky as if to say hurry back and have some more adventures.
This month Amanda and John are preparing for their Offshore Seminar and free seminars at the Pacific Sail and Power Boat Show in Richmond CA, April 6-9.
Details on www.mahina.com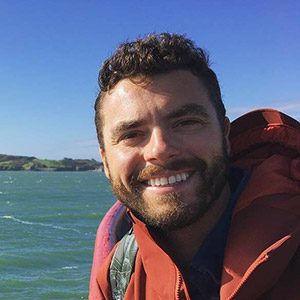 Joe Cline has been the Managing Editor of 48° North since 2014. From his career to his volunteer leadership in the marine industry, from racing sailboats large and small to his discovery of Pacific Northwest cruising —Joe is as sail-smitten as they come. Joe and his wife, Kaylin, welcomed a baby girl to their family in December 2021, and he is enjoying fatherhood while still finding time to sail, make music, and tip back a tasty IPA every now and again.