Pacific Northwest Sailors Chartering in Croatia
To learn about cruising in Croatia is to picture yourself there, and simultaneously to skeptically side-eye the notion that it could actually be as incredible as it appears. We've hardly talked to anyone who has even a whiff of awareness about chartering on the Dalmation Coast in central Croatia who doesn't default to the term, "bucket list." Indeed, it is a magical place to visit in any fashion you can, but to explore these ancient villages and the impossibly electric-blue Adriatic in the way that people have been for millennia—aboard a small boat (or two, or nine)—is to experience the quintessence of this sailing mecca.
Croatia cruising reality is every bit as exquisite as the glossy photos indicate, perhaps even more. That discovery was clear for the group of forty-or-so individuals who joined the Northwest Maritime Center/48° North flotilla in September 2019. The group boarded nine boats at the Sunsail base in Marina Agana outside of Split, and embarked on chartering adventure we'll all be talking about for years.
Wait, Where is Croatia, Exactly?
Croatia veterans, bear with us… Prior to the trip, a few of us knew little more of Croatia than the fact that it was supposed to be a terrific place to vacation under sail and it has a pretty great soccer tradition that brought the national team to the World Cup Finals in 2018. One of the authors of this article (not to name names, but it begins with a "J" and rhymes with d'oh) may have spent months telling family and friends that he was off to explore the Aegean Sea (instead of, more accurately, the Adriatic).
The Adriatic Sea is centrally positioned on the north coast of the Meditteranean, and is actually the northernmost portion great sea. Croatia flanks the northeastern shore of the Adriatic across from the calf-side of Italy's boot, and occupies most of the Adriatic coast on the Balkan Peninsula.
The archipelago outside of Split, Croatia's centrally-located "second city" after the capital Zagreb, is known as the Dalmatian Coast. This area pairs some of the world's richest maritime geography with rolling lowland hills covered in vineyards and olive groves, set against a backdrop of the Dinaric Alps. It's stunning.
Our Route
For charterers out of Split, it is often recommended to decide on either a northerly or southerly route. Sometimes the recommended direction coincides with the weather system at the time of departure—if it's blowing from the north, go south, and vice versa. The northerly route surely holds loads of intrigue, but for our group, the destinations were more noteworthy to the south.
We sketched out various itineraries with building excitement. Our trip would bring us in a counter-clockwise direction, visiting the islands of Vis, Korčula, and Hvar, among others. As any cruiser does, we weighed the balance of travel and layover days, and considered how daily mileages might affect the group.
Chartering Ease
Our group chartered with Sunsail in Croatia. The experience was simply fantastic, and we found the Sunsail staff to be very friendly and helpful.
While ease was our lasting impression, chartering in Croatia began with difficulty. Each country has its own regulations and requirements for charter captains; and Croatia's were pretty confusing, at least to us. A US Coast Guard Captain's license means nothing to them, but basic keelboat seemed to be acceptable. We got mixed messages about a maybe-required radio license (it wasn't) and an International Proficiency Certificate from one of the US-based certifying bodies (helpful but not necessary). In spite of this preliminary puzzlement, all our captains were given the Sunsail thumbs up.
Our charter started on the busiest day of the year for the Marina Agana base, with the staff turning over some 60 boats. Nine monohulls among them—several 41-foot models, a couple 47-footers, and one 51-foot boat—would carry us on our trip. Our boats were in the three- to eight-year age range and were well maintained, intelligently outfitted, and easy to figure out. The rigging was clearly marked and straight forward. The galley had everything we needed. The interiors were cozy, but comfortable. The 47- and 51-foot models had separate heads for each cabin, which is pretty darn nice. The 41-footers had only two heads, but sailors on our trip had no complaints.
Some boats had USB ports for charging phones and cameras, but most didn't, so bring your adapters (note, several we brought—which said they would work in Croatia—did not work. Classic!). The easiest choice was to rely on the 12v DC chargers, which work underway, anchored out, and at the dock.
Among the equipment, the dinghies were the only weak link in the whole Sunsail program. Generally small with tiny engines, they got you to shore and back, but no extended dinghy touring, unfortunately. Kayaks and paddleboards turned out to be the better way to explore anyway. These cost extra and are well worth the price.
Off the dock!
As we made our way through the day of orientations and boat walk-throughs, information began to surface about the weather forecast for our first day and night away from the base. Yes, the weather apps showed Zeus hurling thunderbolts in our direction. We considered our options.
We wanted to get safely into a port where we'd be happy to spend two days if we found ourselves storm bound. Months of planning for Vis to be our first stop went right out the window because of the 18-mile open water crossing and the potential exposure to the storm breeze in that harbor.
Thus, we began our loop backwards, deciding instead to head southeast in the direction of Stari Grad on the island of Hvar, both for protection and because we knew it would be a fabulous place to spend two days if the situation required it.
Knowing that mooring space on the Stari Grad city quay was limited, our armada of nine woke in the pre-sunrise twilight and all were treated to a stunning neon display as we cast off lines and began our 30 mile journey under motor power.
Not long after departure, a little breeze built. Nearly all the boats turned head-to-wind, and gleefully filled their sails on a close reach. Progress under sail was less efficient than motoring, but many of us gave it a college try for a bit, before everyone wound up doing some motor-sailing when the breeze tailed off.
Navigation was dead easy. Similar to navigating in the Pacifc Northwest, you don't have to be on constant hazard watch. There are a handful of danger zones, but everything appeared well marked and well charted. The Boating app (Navionics) was more than sufficient for us, and provided a familiar complement to the on-board electronics, which varied from boat to boat.
Far more notable than anything navigationally was the traffic. It was breathtaking—so many sailboats! Nowhere outside of the biggest regattas have we seen so many sailboats underway at the same time, most with canvas up. We transited a narrow channel between the islands of Šolta and Brač on our first day and counted eleven boats actively in the channel and a total of 27 in view. But, since the only one doing breakneck speeds was a high-speed passenger ferry, it was comparatively stress free.
Into the early afternoon as we continued toward Stari Grad, suddenly the breeze returned. Engine off, jib out. Ten knots. 15 knots. 19 knots! We were warm and comfortable in shorts and t-shirts, fully powered up and under control, making better-than-motoring speeds toward our ancient destination. This was better than advertised.
Power in Numbers
One of the primary advantages of traveling with the flotilla group was on display that first afternoon. The only boat in our group that had chosen not to hoist sail in the lighter breeze of the early morning made quick work of the day's miles. They may have missed the great sailing of the early afternoon, but they got into port early and were able to contact the rest of the flotilla and alert us that there was not a surplus of dock space available. They couldn't hold space for us, but they could tell us not to dawdle on our way in.
Thus, when the breeze shifted and we were no longer making perfect progress toward our destination, we thought of the incoming storm and prudently fired up the iron genoa. Even though all nine boats didn't stay together the whole trip, this would be the first of many times that cruising in a group facilitated information sharing about dock and mooring buoy availability. It was a huge relief to get reliable intel when so many spots were first-come-first-served.
Many mornings, several folks from around the fleet would gather for coffee together, making plans for the day, and discussing weather and navigation. With our group, there was a lot of expertise to go around, and advice or the latest forecast update was easily passed from boat to boat. It's hard to say how different it would have felt to be doing this on your own, but I think we all felt reassured and appreciated the presence of qualified friends nearby with whom we could share plans, ideas, and questions.
Another particular advantage to our group set-up was the length of trip itself. Sunsail typically offers either a seven-day or a fourteen-day option. Because of the size of our group and the fact that we were nearing the end of the season, we were allowed to choose a ten-day itinerary, which felt like the perfect amount of time to us.
Deep History
Entering that first destination of Stari Grad, which translates literally as "Old Town," we were wowed by the scenery. But it wasn't until we began to walk the narrow village lanes that we started to see how old this place was. Stari Grad was first settled by the Greeks in 400 BCE. Some of the buildings and stone pathways were constructed not long after. Outside of town is a UNESCO Heritage Site called Stari Grad Plain, where agricultural activities have been conducted non-stop on the same plots laid out by the Greeks for 24 centuries.
It seemed everywhere we went, we were confronted with history on a scale we simply hadn't experienced before, even on other trips to Europe. We did wind up heading to the isle of Vis early in the trip, which has a history of military significance—dating back to the time of the Greeks and Liburnians, a long stretch as a key asset of the Republic of Venice, and more recently with control being wrestled from the Austrian Empire by Italy during World War I. As one refurbisher of antique weaponry told us outside of his shop, "The people who have lived in these islands have almost always been at war, because everyone wants to be right here."
No historical marvel could hold a candle, however, to the cave called Vela Spila. Located on the island of Korčula outside of the blissful little port town of Vela Luka, the cave was on the radar of local historians for several centuries, but it wasn't until the 1940s that the world became aware of it. Since then, the cave has been excavated in partnership between numerous Croatian academic and archaeological entities and the University of Cambridge. The findings have revealed human inhabitance that dates back to the last Ice Age, more than 20,000 years ago.
Like so many world-class aspects of Croatian culture and history, Vela Spila is unassuming. The cave is open for the public to explore, with a few areas of current archaeological excavation roped off, but it hardly felt like a tourist destination. My boat only learned about it because of the recommendation of a local. The hour-long walk up the hill following baby-blue painted domes on the sidewalks belies the significance of the destination that sits 430 feet above the harbor. Simply put, it's one of the world's oldest archaeological treasures. On top of that, it's clear why humans chose to take up residence here over the millennia—it's easily the most habitable cave we've ever seen! It provides reasonable access to the harbor, a combination of protection from the elements and light from the large opening, and high-ground in case of an attack.
Croatian Cuisine
A real highlight for many of the boats in our flotilla was the discovery of the delightful food in Croatian. Wow wow wow! Imagine a mix of Italian and Greek flavors, but now replace most of the meat with fresh-caught fish. We ate like royalty!
Specifically, there were two divergent Croatian cooking methods that were particularly memorable. The first and most common was a technique of grilling fish over an open fire in which the fish is butterflied open, and each side is cooked extremely close to the coals. It's a flash-cooking method, and it leaves the exterior of the fish, both skin and flesh, crispy and delicious, without drying out the meat. We asked one chef, who said he'd been cooking fish in this manner for 27 years, what seasoning he used. His reply: "Really good olive oil and a little bit of salt." Simple. Incredible!
The other cooking style is a traditional Croatian slow-cooking cuisine called Peka. Peka translates as bake, and bake it does in cast iron pots, whose nearly symmetrical top and bottom sections fit neatly together. Our server at Roki's famous Peka restaurant and winery on Vis compared it to tandoori-style cooking. The bottom-half of the cast iron pots have feet, which allows the cook to shovel coals underneath, controlling the heat. Because of the good seal between the two pots, coals are also shoveled on top of the pot. At Roki's, you must order a day in advance to allow them time to prepare the dish; and you are invited to choose between Fish Peka, Octopus Peka, or Meat Peka. We chose octopus and meat, and we were not disappointed. Picture the most tender versions of octopus or veal or lamb, then take the tenderness up a notch… that's Peka. The vegetables and potatoes that are also roasted in the Peka pot were among the best I've ever tasted.
Cruising in Small Bites
One aspect of cruising in Croatia that has some parallels to cruising on the Salish Sea is the proximity of desirable ports. We didn't have a travel day longer than 30 miles, and our shortest day brought us a grand total of eight miles. Short days are beautiful, particularly when crew might have varying sailing backgrounds and experience, and the destinations have abundant appeal.
For some of the boats, the single greatest benefit of the short days was to get into a seaside village and explore. Early arrival removes worry about space availability and gives more time to try some of the unique shoreside activities like renting a scooter or bicycle, wine tasting, or hiking. Most of us are not accustomed to living in tight quarters, especially with people you may have just met. Being at the dock affords ease and autonomy, with warm showers and walks representing a great way to expand our living quarters. All the facilities were very nice, and well managed, staffed, and maintained. Cobblestone streets, charming outdoor restaurants, ancient churches, and local olive oils and wines made the village experience magnetic. Several of our stops had cafes right on the dock, where you could sit and have your morning coffee, an afternoon beer, or gelato at any hour, just off the stern of your boat.
Yet, for others, the short days enabled something unique to the warm-water cruising of the Dalmatian archipelago. Often just around the corner from the hot-spot destinations were the wonders of quiet, uninhabited coves; or a swim-able grotto to explore. For boats with folks who enjoyed playing in the water, the allure of an afternoon anchored in one of these coves quickly became a top priority. Dropping a hook around lunchtime and enjoying a snack and some remarkably good Croatian wine was the perfect fuel to then relax and enjoy an hour or two of swimming, snorkeling, and stand-up paddle boarding. The water was near 70°F and allowed for long periods swimming and snorkeling without getting cold.
There wouldn't have been a thing wrong with staying the night in these spots and, to be sure, some boats did. Yet for others, to have that experience of seclusion and relaxation, and still be able to pull around the corner into a perfect little Dalmatian town for a shower and a nice meal out… it really felt like the best of both worlds, and it was made possible by proximity.
Cost and Accessibility
It's easy to look at a trip like this and think: "Impossible. It would be too expensive. I'm not experienced enough as a sailor. The language barrier would be insurmountable." We get it, many of the folks who took a chance on this trip had some of those same feelings.
Yet, what Croatia showed us over and over is that it is a safe and welcoming environment for charterers. Additionally, while it would be difficult to do on a true shoe-string budget, we found Croatia to be pretty darn affordable compared to other parts of Europe. We had several dinners out for seven, which included numerous bottles of wine and multiple courses, and only once did we see a bill that was over $300, sometimes it was as little as $100 for the entire table.
The boat fees are the boat fees, but we found the variety of overnight options to offer reasonable value. The fanciest marinas were just under $100 per night, the town quays were closer to $50 per night, and lots of mooring buoys were free if you ate at the restaurant that owned them. Anchoring was another option, though our most of our flotilla group was too drawn to the shoreside opportunities to do too much of that.
The cruising skills required were never unreasonable. Proficiency in basic navigation was all that our trip demanded. If there had been fog, with the equipment we had and our range of experience levels, we probably would have chosen to stay at the dock until it burned off.
For a lot of us, as is so often the case in boating, the biggest unknown and area of concern was docking. In both marinas and on the city quays, stern-to Mediterranean mooring was the way it had to be. While our first cracks at it weren't necessarily pretty (an 18-knot side-wind didn't help!), our entire contingent got the hang of Med mooring quickly. The "slime line" system, in which the permanent bow line is led by a long line back to the dock, makes it easy. There's no need to drop the hook and worry about getting tangled up with anchor lines next to you. When you back in, the dock managers helpfully take your two stern lines and pass you the slime line, which you bring to the bow, pull tight, and make fast. After that exciting first attempt, we had quieter docking conditions for the rest of the trip.
Speaking of conditions, while Croatia does have a famously big breeze pattern—the Bura that comes down off the mountains—generally the conditions were very pleasant. More sailable conditions for travel would have been great, but we got some great sailing in on a few of our travel days. Our windiest day brought us 15-25 knots, with gusts above, for our transit to Vis. The crossing took us reaching across the waves, which had 100 miles of fetch to build on their way down from Venice. The 5- to 6-foot seas made for an exciting ride, but with a reef in, it wasn't too much to handle for our boat or crew. That initial storm that sent us into Stari Grad never materialized the way it was forecast, and made for a only mellow dinner-time light show. Mainly it was sunny and warm, and the breeze was light. There is variability with this; some friends sailed there at a similar time of year and had 18-20 knots most days.
Looking at the experience in sum, it was just too good to cover in one article. For example, we didn't really deep-dive on any of the destinations that so profoundly charmed us. Look for additional content about our Croatia trip in 2019 on the new www.48north.com, which launches at the end of January.
Additionally, if this is piquing your interest, we are headed back to Croatia in 2020 and you are invited! Joe and Barb will be doing a seminar about chartering in Croatia at the Boat Show. Please join them on Tuesday January 28, at 4:15pm on Stage #3 in the North Hall. There will be a Croatia Happy Hour following that seminar, from 5:30-6:30 at Jimmy's on First (1046 1st Ave S., Seattle, WA).
written by Barb Trailer and Joe Cline.
Barb Trailer heads the International Travel Program for the Northwest Maritime Center and is the Director of the Port Townsend Wooden Boat Festival.
Joe Cline is the Managing Editor of 48° North.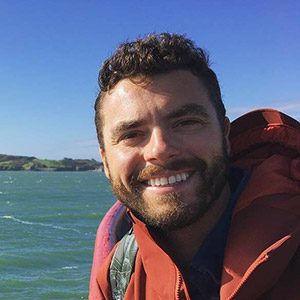 Joe Cline has been the Managing Editor of 48° North since 2014. From his career to his volunteer leadership in the marine industry, from racing sailboats large and small to his discovery of Pacific Northwest cruising —Joe is as sail-smitten as they come. Joe and his wife, Kaylin, welcomed a baby girl to their family in December 2021, and he is enjoying fatherhood while still finding time to sail, make music, and tip back a tasty IPA every now and again.