A lovely and detailed window into a San Juan Islands favorite, Shaw Island. Published nearly 20 years ago, some details may no longer be current, but it certainly captures Shaw's cruising opportunities in ways that ring true today.
From the June 2004 issue of 48° North by Jo Bailey and Carl Nyberg
Finding the most beautiful island in the San Juans to cruise to is an almost impossible choice—they're all so fantastic. But if peace and quiet is a must, along with natural beauty, then you'll enjoy anchoring in a pleasant bay at Shaw Island. And, with a bit of care on the part of visitors, those who live on the island will find your presence also peaceful and enjoyable.
Many northwest racing sailors only know Shaw Island's evergreen covered rocky bluffs and coves from their boats as they chase each other around the island in the fun, famous and frustrating Shaw Island Classic every August, or when racing around it in the Winter Classic in February.
The two races circumnavigate the island, in either direction, and the course includes sailing through rocky, narrow Wasp Passage, Upright Channel and portions of San Juan and Harney Channels. Racers almost always encounter flukey winds and challenging currents somewhere along the way.
Paddlers work their way around the island in the Round Shaw Row each August, sometimes circumnavigating it more quickly than sailors.
Shaw is the smallest of the four ferry-served islands, the geographic center of the San Juans. It is a delightful island of 7.7 square miles with a permanent population of about 165, which doubles or triples each summer.
Shaw doesn't have the busyness of Friday Harbor or the energy of Roche Harbor, both on San Juan Island; or the elegance of Rosario on Orcas; or the thousands of mariners Sucia or Stuart Islands draw for the various anchorages and miles of trails. It simply has peace and quiet in two small parks, one on the north side of the island, one on the south, and a couple of other anchorages.
The only commercial amenities on Shaw are a small grocery store, small marina and post office at the ferry landing on the island's north side; Blind Island State Marine park at Blind Bay near the landing and San Juan County Park at South Park.
Shaw's one-room little red schoolhouse is on the National Historic Register. The log cabin Historical Museum, across the road from the school, is the rebuilt original post office. The library next to it has an old reef net boat out in front. A community center just south of Blind Bay is the scene of island activities and meetings.
Our Lady of the Rock, a Benedictine Monastery, is in the center of the island where the nuns have a beautiful working farm, chapel, and retreat facility.
Cyclists enjoy Shaw because of the "roads less traveled," not too many hills, rural beauty and the county park destination with its enticing, sandy beach and camping facilities.
Let's circumnavigate Shaw to learn a bit of the island, and to check out interesting little coves and bays as we sail past.
Circumnavigating Shaw
Starting at Friday Harbor and going clockwise around Shaw, we head northeast to Point George, less than 1.5 miles away. We round the point's high forested bluffs and sail into the serenity of beautiful Parks Bay.
The secluded bay is about 0.5 miles long and 0.2 miles wide, the waters reflecting the deep green of surrounding trees. Although there's room for perhaps a dozen boats, we've never seen more than three or four at a time. This is a place where yours might be the only boat at anchor. Mariners in Parks Bay tend to be quiet, absorbing the tranquil mood. This is indeed a lovely gunkhole.
Herons stand for hours on long stick legs on the rocky shores of Parks Bay, waiting for snacks to swim past, darting their long beaks into the water for an instant meal. Eagles soar on huge outstretched wings high above, searching as always for food.
The only drawback to Parks Bay is there are no public tidelands in the bay and the entire shore is posted "Scientific Research Area, positively no trespassing on tidelands or uplands and no dogs." If you have kids or dogs that need a shore run, this is not the place to anchor. It's a University of Washington Biological Preserve on about 1,000 acres, with land donated by the Ellis family of Shaw: brothers Henry, Bob, and Fred.
Tift Rocks are one mile northwest of Parks Bay and blend against the shores of Shaw, making them scarcely noticeable when you're cruising in San Juan Channel. The rocks are low, with scrub brush and grass growing from small nooks, surrounded by kelp-covered shoals. The north rock barely contains the remains of a tiny, abandoned trapper's cabin. With care and a good depth sounder it's possible to go between the rocks and Shaw, staying 200 yards from the rocks which teem with families of sunning seals who slip quietly into the water, swim out and take a curious look as you sail quietly past.
Neck Point looks like a jigsaw puzzle piece that can't find a place to fit. There are actually two necks: the unnamed west one is a narrow, 55 foot headland jutting west into San Juan Channel. Charted Neck Point projecting north into Wasp Passage has a much fatter neck and is 87 feet high. Between the two necks is a tiny bay and an unnamed rock, part of the National Wildlife Refuge.
Wasp Passage begins, more or less, between Neck Point and Cliff Island, about 250 yards north of Shaw. The pass is about two miles long, narrow, with homes and cabins peaking out between the trees. Ferries, other boat traffic, and strong currents may be encountered anywhere along the way.
Currents in Wasp Passage may reach over 2.6 knots and can be a trial or a joy to sailors in the Round Shaw Races.
Broken Point on Shaw Island marks the eastern end of Wasp Passage. The point is high, sheer rock on the west side while the east side of the point has low-bank waterfront with several houses and boats bobbing on buoys. About one mile east of the point are charted rocks which extend nearly 300 yards into the channel approaching Shaw's lovely Blind Bay.   
Blind Bay and Blind Island Marine State Park
Blind Bay is immediately west of the Shaw Ferry Landing and indents the north shore of Shaw Island for about 0.5 mile. The bay is about 0.5 mile wide east to west, and depths are mostly 2 to 3 fathoms throughout, except for 4 to 6 fathoms just south of Blind Island.
Blind Island Marine State Park is a 3 acre jewel in the middle of the bay's entrance. This has long been one of our favorite destinations. The island feels like we're at one of the "outer islands"  because it's such a wonderfully primitive place, even though it's only 500 yards from the Shaw Ferry landing and 0.8 mile from Orcas Landing across Harney Channel. The bustling vessel traffic in the channel makes us realize, however, that we're still very close to "civilization."
Blind Island's 1,280 feet of rocky shores have pocket beaches on the east and west sides where a small boat can land. You can fish from the north bluff. It's a great spot for kids to play hide and seek as there are so many neat places to hide. You can scuba dive or even swim here if you don't mind chilly water. One large madrona tree is on the western ridge, and elsewhere there are blackberries, waist high grass, and stubby evergreens. A large composting toilet has replaced an old-fashioned outhouse.
A wonderful variety of views from the island look across Harney Channel to Orcas and West Sound and east to Mount Baker. There was a time when we tied our boat to a buoy at Blind Island and sent the kids ashore in the dinghy with sleeping bags so they could spend the night safely camping out "in the wilds." No more. The Washington Water Trails sites at Blind Island means that only those arriving in human-powered boats are allowed to camp overnight on the island. Kids rowing to shore in the dinghy from the family boat don't qualify.
The park has four mooring buoys and room to anchor off the south shore of the island. There is no power or potable water, but there are picnic tables, fire grates, a composting toilet and four Washington Water Trails campsites. Kayakers must have annual permit or pay per person each night.
There's plenty to do here on little Blind Island: walk, picnic, fish, scuba dive, swim, beachcomb, and just plain relax.
Boats can enter Blind Bay on either the east or west side of Blind Island with caution as both sides are rock-strewn. We prefer going in on the east of Blind Island, keeping west of the charted mid-channel rock marked with an unlighted private navigation aid. The nasty rock, which dries at 3 foot tides, is about 150 yards east of Blind Island.
Blind Bay is great for small boat gunkholing along the low-bank waterfront. A road from the ferry landing is visible as it follows the south and east shores of the bay. The upland is lined with meadows, orchards, and a few homes. Reef net boats are often pulled up on the beaches.     
Anchoring is possible just about anywhere in the bay in 2 to 6 fathoms, mud bottom. This is a terrific gunkhole.
A small nub of an island, an oyster-catcher rookery, is along the south shore of Blind Bay. The rock is state-owned and posted "no trespassing." A heron rookery is also in the south end of the bay, and a Native American midden is reported along the south shore.
We always dinghy over to Shaw Landing from Blind Island, to visit the marina and store at the ferry landing. But changes have come even to Shaw. The Little Portion Store and the marina have been sold, happily to Shaw Island residents Terri and Steve Mason. Franciscan nuns in their brown habits are no longer the ferry agents, nor will they manage the store and marina. The Masons will run the store, marina and the ferry landing in the arrangements which closed mid-May. While islanders will miss the nuns, they are pleased that the local couple will take over.
The marina floats for boats under 25 feet in length are just east of the ferry dock. There is no marine fuel, or any other kind, on Shaw. There are restrooms and a telephone. They do have ice.
A few steps up a ramp and we're at the store and Shaw Post Office. There's been a store on Shaw for many years, and the Franciscans ran it for over two decades with a staff of four nuns. Little Portion Store was named after an Italian church, Portuncula, "little portion of earth," which was the favorite spot of Saint Francis of Assisi.
The store has carried wines, beers, cards, gifts, provisions including dairy products, fresh produce, and seasonal local fruits and vegetables—a fully stocked grocery store. As yet, we have not heard if the store name will be changed.
The hardware selection is befitting an island's only store: extension cords, screws, bolts, fix-a-flat, batteries, small propane cannisters, solder fittings, electrical devices, and magnets. Boaters will feel at home with the skeleton of a small island-built craft suspended from rafters.
Leaving Shaw Landing we continue clockwise around the island, south past the rocky forested shores of Hankin Point into Upright Channel between Shaw and Lopez. The narrowest spot in the channel is less than 500 yards wide between Canoe Island off Shaw and Flat Point on Lopez.
We've gone either north or south around Canoe Island into Indian Cove. A kelp bed leads north from Canoe and a kelp-covered reef stretches south from Shaw, but the two do not meet. We stayed fairly close to Canoe out of the kelp, watched the depth sounder and found we had plenty of water beneath us, about 35 feet. But it does look dicey on the charts, and the south side seems a bit more comfortable.
Canoe Island is a nearly 50-acre private island, home to French Camp where teenagers are immersed in French language and culture.
Indian Cove and Shaw Island County Park
Indian Cove is the delightful, half-mile long, crescent-shaped cove on the south shores of Shaw, the site of Shaw Island County Park. This 60 acre park is a favorite spot for islanders and visitors alike, covering the western half of the cove and continuing around the forested peninsula.
The easiest way to locate the park from the water is to look for a small red house with white-trimmed windows just above the beach, about halfway along the cove. A one lane launch ramp is immediately west of the house—the ramp is the park's east boundary. Kayaks, canoes, rowing boats and small runabouts can be launched here.   
The 3,250 foot long sandy beach is one of the best in the islands, with a long tide run-out that produces "reasonably warm" swimming on a hot, sunny day. Drift logs are tossed about at the high-tide line, making for great beachcombing and fort building for kids, big and little, who love to play on the beach and in the water; fishing, crabbing, digging clams, and all that good beach stuff. Tide pools make for endless fun for little ones.
This is an excellent anchorage with considerable space for boats. While it offers protection from northerlies, it's exposed to southerlies.
Twelve campsites are tucked into the forest above the beach, and there's drinking water, fireplaces, vault toilets, swings, picnic tables and lawns.
And that's about it for our favorite gunkholes on lovely Shaw. Love it, and leave it in the peace and quiet in which you found it.
A Bit of Shaw Island History
The first Shaw visitors were Native Americans who had been visiting the island for eons. They called the island "Somemana." It was the traditional place to gather mussels, clams, and oysters.
By the 1700s, before settlers arrived, there were nearly 750 indigenous people on Shaw, with over 300 at Blind Bay. A second village with about the same population was on south beach, near the present county park, according to a local historian. Some of the native people married settlers, stayed on, and established homesteads and families.
Shaw Island was named by the Wilkes Expedition in 1841 for U.S. Navy Captain John Shaw, for his service in the war against Algiers in 1815.
Wasp Passage and the Wasp Islands weren't named for the pesky insects at all. They were named by Wilkes for the Wasp, an American ship commanded by Commodore Jacob Jones, which captured the Frolic during the War of 1812.
__________________________________
Al Wilding of Shaw Island and Betsy Wareham of Orcas Island contributed information for this article.
Shaw Island is featured in Jo Bailey and Carl Nyberg's Gunkholing in the San Juan Islands, a Comprehensive Cruising Guide Encompassing Deception Pass to the Canadian Boundary. They are also coauthors of Gunkholing in South Puget Sound, from Kingston-Edmonds South to Olympia.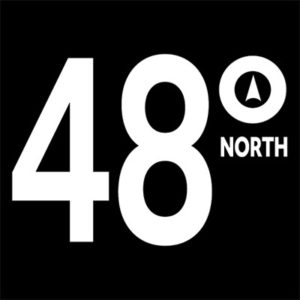 48° North Editors are committed to telling the best stories from the world of Pacific Northwest boating. We live and breathe this stuff, and share your passion for the boat life. Feel free to keep in touch with tips, stories, photos, and feedback at news@48north.com.