A Potpourri Of Perspectives about Cruising in the San Juan Islands
From the August, 2020 issue of 48° North.
For many boaters around the Pacific Northwest, the San Juan Islands are the quintessential destination for summer cruising. Yet, it goes without saying that this year has challenged that notion in all sorts of ways—and not just for boaters. Those who live in the San Juans and run businesses there have navigated the start of the summer cruising season with concern and caution, as well as official closures to outside visitors. Now, closures have given way to the present state in which boaters may cruise the islands more freely, but still with some limitations; and there is a growing understanding of the cautious compromises required to keep communities and individuals safe.
The defining evolution in access, beyond the state-wide Safe Start plan, is that on June 3, 2020, San Juan County Health Officer—Dr. Frank James—signed a new modification to a previous order limiting transient lodging in San Juan County (including marinas). This modification now stipulates that "lodging operators are allowed to operate at 50% capacity, provided they adhere to specific safety guidelines …."   
So, how is it really going in the islands? How different is this year from any other? How are locals, some of whom were vocally resistant to outside visitors a few months ago, feeling about cruising boaters now? And what, generally, is the experience like for visiting cruisers in 2020?
Since we're at the halfway mark of the cruising season in this most bizarre year, it felt like a good time to look for more information and some answers to those questions. Comprehensive statistics and deeper analysis won't come until after the season is complete, but here you'll find various perspectives to paint a picture about the scene in the cherished San Juan Islands thus far in 2020.
Cruising Dynamics
Cruising the islands can often encompass two divergent and equally wonderful experiences. On one hand, there are the quaint-but-bustling perennial favorite marinas and towns; and on the other, you have those unsung gunkholes that a cruiser may discover by poking around beyond the list of cruising guide hotspots.
It seems fairly clear that the second type of experience—the explore-off-the-beaten-path version of cruising the islands—is very much intact in 2020. It's the stops in more well-known cruising destinations that seem to be most affected by the pandemic reality and restrictions.
As a rule, dockside moorage in towns like Friday Harbor on San Juan Island and Deer Harbor on Orcas is less available. This is not only because of the 50% capacity order, but also because, as Orcas Island resident Mike Miller shared with us, some marinas responded to the capacity reduction for transient moorage by taking on more long-term moorage contracts (which were not limited).
The 50% limitation on marinas means that famous island getaway, Roche Harbor Resort, can only accommodate 115 visiting cruising boats. In a normal year, they would welcome 230 boats, according to Roche Harbor Resort General Manager, Brent Snow. While that clearly has an impact on resort experience and economics, it is also leaving significant numbers of cruisers hoping to find overnight moorage looking for other options.
As a result, many of the anchorages near Roche Harbor are much busier than normal, as they become the default accommodation in close proximity for those unable to get a spot at the dock. Both Snow and island residents, John and Amanda Neal, reported that Garrison and Westcott Bays near Roche Harbor were busier on the weekend of July 18-19 than they had ever seen them.
Lindsey Smith, a Port of Friday Harbor employee who lives aboard a boat moored near the ferry track into Friday Harbor with her partner, shares a similar observation in that well-loved destination. "The marina is always full and there are slightly more boats anchored than normal."
I admit that one of my pandemic hypotheses was that cruisers would choose to anchor out more than normal to avoid touch-points and stay distanced. It doesn't seem clear that this is as common an elective choice as I thought it might be, but the reduced dock space means there are more boats anchoring out of necessity, at least near desirable marinas.
Perhaps in support of my anchor-out hypothesis, Chris Guidotti, the area manager for San Juan Islands State Parks, said that some change is indicated in that there seems "to be a preference for mooring buoys, but the docks are still filling up as well." In general, Guidotti notes that, while they don't have attendance numbers yet, the number of larger boats "appears to be the same or up slightly…. The biggest change seems to be with guided kayaking and commercial use of the parks. We have seen lower numbers of kayakers and haven't had as much commercial use. Camping is also down, probably related to the drop in guided kayak trips that are heavy users of our campsites."
Orcas Island's Miller shares an observation that reinforces demand for mooring balls after recently zipping between the islands on his Boston Whaler. "Every single mooring buoy anywhere was full."
Guidotti elaborated that the experience is not identical at all island state parks, however. Looking for compromise with the 50% capacity limitation, "We were able to work directly with the county to get an exemption for the outer islands." Now, he says they're "only [at] 50% of our camping/overnight facilities at Spencer Spit, Moran, and Obstruction Pass, and only 50% of the Olga dock is open for overnight use. This has reduced attendance at our parks on ferry served islands."
Marinas are also struggling to reconcile no-shows for reserved transient slips. With the combination of high demand and limited supply, it is particularly discourteous for cruisers to hold a reservation that they do not ultimately use. In response to this problem, Waggoner Cruising Guide publisher, Mark Bunzel, reports that some marinas are considering altering the proportion of their slips designated available for advanced registration, or even eliminating reservations altogether. This is understandable, but may further increase the cruising boat density in anchorages near mooring destinations because cruisers won't know if they have a slip until they arrive.
Several of our sources pointed out that the closure of the Canadian border means that the islands may be seeing increases in traffic. Roche Harbor's Snow summed it up, "It's like salmon pressed up against a dam without a fish ladder."
While that is true, Bunzel has seen that initial worries about a dangerous glut of boats flooding the islands have been somewhat allayed as the season progresses. "In the beginning there was a surge of people wanting to get out boating and get into the islands. Harbors were just packed. I counted 200 boats at Sucia Island in an aerial photo on the weekend of May 9-10, 2020. I think it has backed off a bit now."
Business Impacts
A common question with regard to summer cruising in the islands has to do with the dueling concerns of virus risk and the financial risks associated with reduced or eliminated tourism revenue.
For Rhys Balmer, a Friday Harbor resident and owner of Griffin Bay Adventures, a small business that runs sailing lessons and charters, a difficult decision had to be made. For a little context, his father (who is also an islander) is a doctor with a masters degree in epidemiology, so Balmer has a unique perspective about virus risk. Since many of his clients were coming from other parts of the country, he decided to suspend normal operations. What ultimately drove his decision was a conversation with one of the captains that works for him, centered around the captain's perspective that by engaging in this kind of work, he was putting his family at risk. Balmer understood and reflected, "As a captain, I'm concerned about the safety of my crew. When people have to go to work in a possibly risky situation, that creates stress." It wasn't worth it for him to create such stress for himself and his employees.
Meanwhile, others on the island seem to be striking a safe balance with business operations. Snow emphasizes that at Roche Harbor, "We spend every single day trying to be safe, employees and guests." He says they're testing frequently and checking employees' temperatures every day. They are not providing bar entertainment at this time, which "tones down the unconsidered aggregation of humankind." Snow depicts commitment to caution and acknowledges that there are many sacrifices involved, but is enthusiastic about the resort experience they're still able to provide. I got the sense that, all things considered, things are going well at Roche Harbor.
One point Balmer made in our conversation represented his view that, "The percentage of people who benefit from tourism is relatively small. Some people who are benefiting from tourism don't even live here. It's just seasonal for many of them." He also notes that full-time islands residents often have other sources of income during the off-season. He is one example, and he's been pursuing other avenues of work in place of his tourism-driven business—he's a delivery captain and also works part time with an arborist.
Health, Well-Being, and Safety Compliance
At the time of this writing, San Juan County officially reports a total of 24 positive Covid-19 test results. Depending on your perspective, that might sound very low or worryingly high. One thing is clear, there remains great commitment to limiting or even eliminating the spread of the virus in the islands as the season continues.
I've been curious whether island residents have evolving feelings about visiting cruisers, considering that the county was unequivocally closed to visitors for the first phase of Governor Inslee's stay-at-home order.
Friday Harbor residents have mixed feelings. Lindsey Smith says, "There's no resentment from the locals, and boaters are being really respectful." Meanwhile, Balmer thinks islanders would generally remind visiting cruisers that, "You're not really isolated here. You're coming to our grocery stores and gas docks." He says, "I feel for the frontline grocery workers who don't make great wages." Accordingly, in addition to standard public health guidelines and protocols, he points out that there are ways for boaters to be extra courteous to the island communities. He encourages cruisers to, "Provision for your whole trip ahead of time so you can limit interaction and touch-points with local personnel." John and Amanda Neal have found that cruisers are doing their part, saying, "Everyone is wearing masks."
Mike Miller observes that in some more remote places, people are being more casual with precautions. He noted a recent gathering of people at Jones Island barbequing and cooking crab, while not wearing masks or social distancing.
Hearteningly, Brent Snow reports that unprompted mask use around Roche Harbor is increasing. He just took a brief vacation from the resort and he said that, just in the days he was gone from the resort, "The number of guests wearing masks without being asked to do was up to probably 98%." This is good news because Mark Bunzell indicated that officials in the islands were watching marinas and hospitality businesses closely for compliance. Snow says their pitch to guests is simple: "Please help Roche Harbor stay open and safe."
State Parks manager, Guidotti, is hopeful. "We are hoping that we can remain open and available. Current usage should be sustainable as long as people continue to follow CDC, State and local guidelines for Covid."
All in all, it seems that island communities and cruisers alike are striking a balance between concern, caution, and compromise. I urge cruisers to remain steadfast in our respect and courtesy as we are out on the water, especially when visiting other communities. If we can do this, trust, goodwill, and cruising opportunities should continue to increase.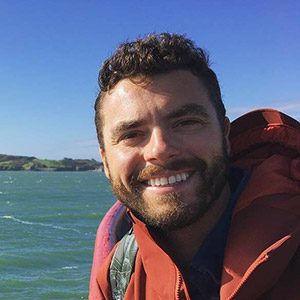 Joe Cline has been the Managing Editor of 48° North since 2014. From his career to his volunteer leadership in the marine industry, from racing sailboats large and small to his discovery of Pacific Northwest cruising —Joe is as sail-smitten as they come. Joe and his wife, Kaylin, welcomed a baby girl to their family in December 2021, and he is enjoying fatherhood while still finding time to sail, make music, and tip back a tasty IPA every now and again.