From the February 1987 issue of 48° North by Frances Barkan
At this time of the year, we're just waiting for spring. The days are getting longer, but it's still chilly and rain falls almost continuously. Sailing seems out of the questions, but we're growing impatient. When will we be able to get the boat out again?
Why not now? Winter sailing has its own substantial rewards. On rainy days, the water of the Sound takes on an evocative, misty character. On those rarer, clear, cold days, the cobalt blue waves and jagged mountains seem newly-minted. Of course, you can't sunbathe, but there are things you can do in the winter that you can't do in the summer.
"What things?" you want to know. Well, for one, you can actually sail! In winter, the winds on the Sound are stronger and much more consistent, and it blows nearly every day. During the summer, the early morning wind dies in the afternoon, so you spend a lot of time using the "iron wind" to get around. Not so in winter. Winds in the winter tend to come from the south, though we do get occasional big blows from the north. High pressure brings clear days and northerlies, low pressure, rainy days and southerlies.
What else? Your favorite stopping places will be uncrowded – except for holiday weekends. For some reason, many boaters roll up the sidewalks after Labor Day. Some cosmic switch is turned off, and from that moment, thousands of boats lie abandoned in their slips. That attitude means that popular parks and marinas will be empty, left to the intrepid. Most marina and parks are open too. I've been to Jarrell Cove, a favorite destination for South Sound sailors in March and have found the little bay completely bare. In the summer months, you can't get into Jarrell Cove with a shoehorn.
Not only that, but state parks don't charge moorage fees in the winter. In almost all Puget Sound State marine parks, the restrooms are open all winter, so you can use shore facilities if you want to. Mooring buoys at still in the water though floats are removed in some state parks to protect them from winter storm damage.
Your favorite places are just as beautiful in winter as they are in summer. If not more so, and you get to enjoy them without the crowds. Ambling on the beach at McMicken Island State Park is much better in the winter, as you don't have to dodge kids, dogs, and dinghies. On clear winter days, (which we do have despite the moss between our toes), the mountain views are spectacular. There is a sharpness to the air, and at night, the stars leap out of the sky, showering you with the intensity of their light.
The water too, is special in winter. At night, there is the phosphorescence. Though I know the scientific explanation for phosphorescence, the cold water seeming on fire, is other-worldly and mysterious. Rowing in the dark, with the oar blades covered with fiery drops, is an experience not to be missed.
Other winter treats in include oysters, which are at their peak in the winter months. The cold water makes them tangy and firm – and of course, you have very little competition on the oyster beaches. Remember the rule, though, 18 oysters per person picking, and you must shuck them on the beach and leave the shells.
If you're a bird watcher, there are many more birds visible in the winter and many winter visitors we don't see in the summer months. Huge flocks of western grebes, augmented by their eared and horned cousins, cormorants and gulls, settle in for the winters. Loons are common in winter, as are small flocks of white-winged scoters and surf scoters. The beat of scoter wings as they take off is one of the most evocative winter sounds.
Winter sailing gives you the chance to challenge yourself, to use sailing skills that get rusty in warmer weather. If you confine your sailing to Puget Sound in the summer, you don't often get a chance to navigate in poor visibility. Knowing you can manage a thick winter day in Puget Sound gives you the confidence to try a trip to Alaska, or around Vancouver Island. Sailing in winter conditions builds up your red-blood cell density points and lets you know how you and your boat will behave under adverse conditions; no amount of mild summer cruise will teach you what one weekend in the winter will. You get a grand opportunity to feel intrepid.
Finally, winter cruising gives you that feeling of being alone. The airwaves are empty; no one is blocking Channel 16 with discussions about fishing. Only a few boats are out, so you have the waterways to yourself. Anchorages are bare, and you can set the hook or tie up wherever you want to. In the winter, you can capture some of that spirit of adventure, the feeling of being on your own and self-reliant that is so hard to get when you're surrounded by 200 boats. One of the reasons we go cruising is to get away from it all, and that's difficult to do in a crowded moorage. Winter cruising gives us the opportunity to be along, on our own.
Winter cruising can be hard on body and boat, and it's a good idea to be prepared, so first of all make sure the boat is ready. Just in case, you should have a full fuel tank, full water tanks, and sufficient fuel for the cabin heater. The food locker should be well-stocked. If the weather turns nasty, you may find yourself stuck somewhere for a few more days than you counted on, an it may be a place without a grocery store.
Take lots of warm clothing, and plan to put on several layers. Wool and wool-like synthetics are best. Most important, take a hat and gloves. A windbreaker of some kind is very useful – your foul weather jacket may suffice. Remember that you'll feel much colder on the water in the wind than you will walking on shore, so be prepared. Of course, oilies and boots are essential.
You should plan on having hearty meals. Winter cruising is no time to be on a carrot-and-hot water diet, as your body will need energy to combat the cold. Make meals simple so they can be made ready quickly. We always stock instant soups, which are particularly encouraging after a day in the cold.
A thermos is a great thing to have on a winter cruise. Just before we go to bed, we fill it with boiling water, so we can have hot drinks as soon as we get up in the morning. we keep it full of hot water all day so we can have soup or tea whenever we want it, and we keep a kettle going on the stove all day.
Remember that alcohol increases heat loss by increasing blood flow to the skin, so don't drink until you're safely at anchor and in your warm cabin (a good policy for any time of the year).
You and your crew should take shorter tricks at the wheel or tiller to minimize the time each person is expose to the cold. Remember that cold sailors are clumsy sailors: even simple tasks become formidable when your fingers are numbed and you are shivering. Crew who work out of the cockpit should wear float coast or life jackets. Not only do they provide extra warmth, but they can make the difference between life and death for the sailor who takes an accidental plunge into the frigid waters of the Sound.
My husband and I sail our H-28 often in the winter, and thought we had anticipated everything – until we had a nasty surprise last year. A friend and I moved Sandpiper from a mooring to a local marina. When we got there, we noticed a thin layer of ice on the water inside the log boom that surrounds the slips. We pushed the ice aside and thought we'd escaped damage. We were surprised the following spring when we hauled the boat, the ice, thin as it was, had gouged a groove in the hull just at the waterline. Fortunately, only the outer skin was damaged, but it taught us a lesson – never move the boat through ice unless it's absolutely necessary. Many areas close to shore will have freshwater ice riding on the salt water if the weather gets cold enough. Two factors account for this: fresh water is less dense than salt, and so forms a temporary surface layer, and fresh water freezes at 32° F., while the freezing point of salt water is at least three degrees colder. If there is a continuous source of fresh water, such as a stream, there may always be a layer of fresh water on the salt in a particular location. Therefore, if it is cold enough, the fresh water will freeze, forming floating ice.
Winter weather is, of course, more severe than summer weather, and sailors should stay alert. Listen to the NOAA weather forecast a couple of times a day, and know where you can run for shelter if it becomes necessary. Choose anchorages and sailing routes more carefully that you do in summer, as winds will be stronger and waves may build more. For example, if you have a choice of two passages, one more exposed, choose the one which gives you a better lee against the prevailing weather systems. Remember that wind against tide creates steep waves, which of course, will be worse the greater the wind. Reef of change down to a smaller jib the first time you think about it – don't wait until the wind is screaming and the deck is slick with rain. Finally, pick your anchorage with an eye to wind and waves. Find a spot in the lee of the land so you'll have a comfortable and safe night. You'll sleep better if the boat isn't dancing around and if you know you won't be caught on a lee shore. Remember that the wind direction may change if a front pass through during the night, so choose a spot with both the current and upcoming weather in mind.
Finally, winter cruisers should remember the best advice I've heard – don't endanger yourself by hurrying home in bad weather. If you find yourself in a bad blow on Sunday, wait it out. You can always us your VHF to call the office to tell them you're stuck. That's a much better solution than becoming a Coast Guard statistic or a headline in the newspaper.
Despite the cold and rain, winter cruising can be rewarding and a lot of fun. Besides, when you live here in the Pacific Northwest you have to cruising when the weather's not so good. Otherwise, you'll never get out of the slip.
Two good references to help your winter sailing are Marine Weather of Western Washington by Kenneth E. Lilly Jr (Starpath School of Navigation, 1983), for detailed weather discussions; and Dr. Cohen's Healthy Sailor Book, by Michael Martin Cohen, M.d. (International Marine Publishing Co., 1983), for a good section on protection against the cold.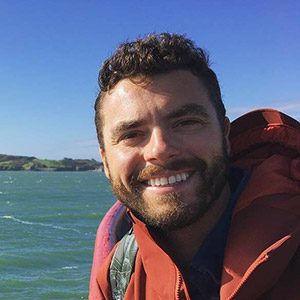 Joe Cline has been the Managing Editor of 48° North since 2014. From his career to his volunteer leadership in the marine industry, from racing sailboats large and small to his discovery of Pacific Northwest cruising —Joe is as sail-smitten as they come. Joe and his wife, Kaylin, welcomed a baby girl to their family in December 2021, and he is enjoying fatherhood while still finding time to sail, make music, and tip back a tasty IPA every now and again.