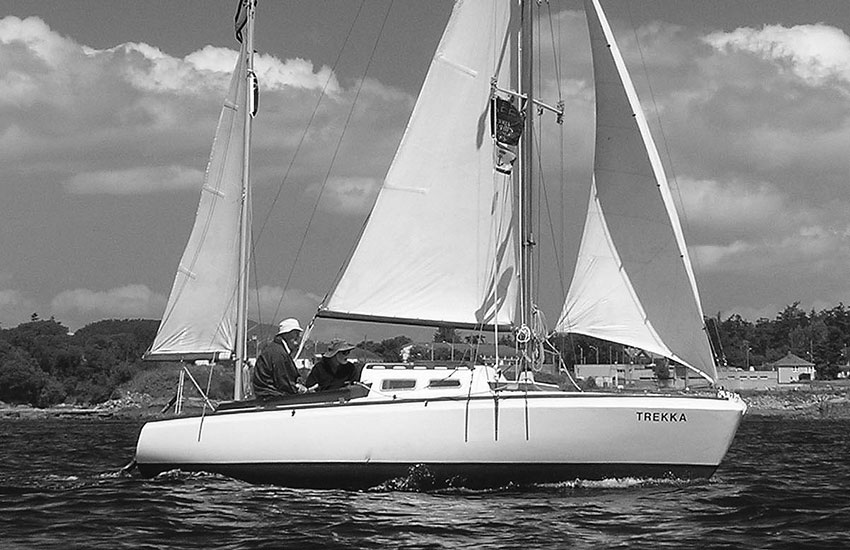 In our latest Throwback Thursday, we revisit the relaunching of John Guzzwell's famous 20-foot yawl, Trekka, from the October 2005 issue of 48° North by Shirley Hewett.
After 25 years on shore, one of the world's most famous yachts returned to the water in Victoria Harbour for the June Tall Ships 2005 events. With her builder John Guzzwell at the helm, the 20-foot yawl Trekka was reunited with the Northwest sailing community during the parade of sail off the Victoria waterfront.
Guzzwell enjoyed taking Trekka's helm in the same location where he set out for short cruises during the winter, spring and summer before he departed for his epic blue water voyage in September 1955. Fifty years after this record-breaking, four year adventure, he makes a comparison, "I thought she was pretty small and simple."  He adds that it was fun to exchange memories of their parallel circumnavigations with former Trekka owner Cliff Cain, who came back on board the boat for the Tall Ships Sailpast and four day dockside open house.
Trekka continued her comeback during Victoria's Labour Day weekend Classic Boat Festival. Festival judge, Port Townsend's Carol Hasse, joined another sailmaker, Victoria's Sandy Goodall, for the Sunday Sailpast and open classic race. The yawl concluded her 2005 summer of sail the next weekend when Goodall took her across the Juan de Fuca Strait to the Port Townsend Wooden Boat Festival.
In September 1980, Guzzwell helped Honolulu delivery skipper Eric Abranovich sail Trekka into Victoria Harbour after her final blue water voyage to begin a new life as an exhibit. For a number of years, Victoria's Maritime Museum of British Columbia (MMBC) showcased the small yacht inside its heritage building on Bastion Square. Then she was warehoused, coming out of mothballs for two public displays last year. Following a five month exhibit in the lobby of the downtown Hudson's Bay Centre, the two international sailing icons teamed up at Government House to help the citizens celebrate 2004 B.C. Day. While the public admired the robin's egg blue boat sitting on the massive front lawn of the Queen's B.C. representative, John Guzzwell chatted with Lieutenant Governor Iona Campagnolo and a parade of admirers.
"After we put Trekka on display last year, we noticed there was a whole lot of public momentum and interest," says MMBC President Jamie Webb. "This provided the impetus to get her fixed up."
Trekka's refit was assigned to another classic Victoria Harbour institution. Shipwrights at the Sail and Life Training Society (SALTS) shipyard by the Johnson Street bridge found that the boat's red cedar hull and plywood deck were in fine shape.
"Her designer Jack Giles was a consummate engineer," says John West, Victoria Classic Boat Festival Chairman. "Although she is very lightly built, she is incredibly strong. In a lot of ways she's like an aircraft in that everything's working. All the berth fronts are structural."
For Trekka's return to the briny, tradesmen fashioned a new spruce mizzen mast, made two big angle iron flanges to bolt the keel back on, and installed new bronze through hull fittings. Except for her lifelines, which Guzzwell noted were missing, the original rigging, main mast and 35 year-old sails were still in good shape.
"The Museum will keep her in showable condition," says Webb. "Not in the water over the winter, but in a shed at SALTS and launch her in the spring for the shows. She'll probably spend four months a year in the water."
Six years ago, John Guzzwell and his wife Dorothy relocated from Seattle to the Poulsbo waterfront. At 75, he still relies on a suitcase-sized box of traditional woodworking tools to earn his livelihood as a cabinet maker and shipwright. There is no slipway, so he converted a two car garage to a workshop, completes a project, then transports the finished item wherever it has to go. He also transports his tool box to marine ways in other towns to apply his shipwright skills on location.
As well as projects for other people, John also maintains the two "woodies" that he built after he sold Trekka in 1961. In Britain, he built another Laurent Giles design, the 45-foot Treasure, and sailed her to the South Pacific in 1965. Although sturdy and seaworthy, the Canadian rock elm-planked cutter proved to be a very slow competitor. She took 52 days to complete the 1994 Pan-Pacific Los Angeles to Osaka Race. The Guzzwells still enjoy short local cruises in Treasure, which served as their Victoria Harbour base when John presided as the 2003 Classic Boat Festival Honourary Commodore.
"There's never enough time," he comments about maintaining his own boats. This fall, John is devoting all his energies to fixing up Treasure. He took her out of the water in Port Townsend early in September, removed her mast, and began a six week major refit.
Blue water racing remains a passion for the man who earned fame as a blue water cruiser. Once a year, John usually hauls out his "racing machine" Endangered Species to maintain her bright hull. He designed the cold molded 30-foot yacht to campaign in major ocean races. Like the French boats that he used as models, Species (as he calls the boat) has tanks built into the hull on either side below decks. This inside water ballast can be pumped to the high side of the boat and is the equivalent to four men hiked out on the rail, a bonus for solo racers.
Between the 1998 and 2002 singlehanded TransPac Races from Los Angeles to Hawaii, Species completed two Cadillac Van Isle 360 International Yacht Races. Designed for reaching and running with a considerable wetted area, she's not the ideal boat for the Swiftsure's often light and fluky winds. She has twice tackled the overnight event, but stalled in one of its "black holes" in 2003. For the 2004 Swiftsure, Guzzwell joined the Coruba crew.
Although his family feels that he should give up singlehanded racing "because I have nothing left to prove," John Guzzwell is keeping his options open. For instance, if the 2006 Vic-Maui Race has a doublehanded division, he's very interested in setting the sails on Endangered Species for another downwind ride across the Pacific Ocean.
"I'm getting a bit ancient for this sort of thing," he explains, "but I still enjoy it. As long as I'm still enjoying it and capable of doing it, I'll keep doing it."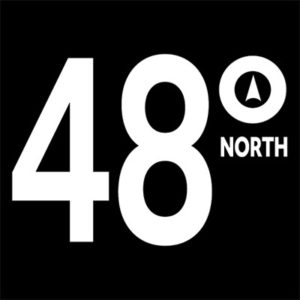 48° North Editors are committed to telling the best stories from the world of Pacific Northwest boating. We live and breathe this stuff, and share your passion for the boat life. Feel free to keep in touch with tips, stories, photos, and feedback at news@48north.com.