The Concept, Design, and Application of a New Solar Electric Powercat.
Ed and Eileen Pauley launched their new custom 40-foot powercat, Electric Philosophy, this July. They've been living aboard and cruising the Salish Sea for the better part of two months and have yet to plug into shore power. They have not refueled, because they have no fuel tank. Ed and Eileen are solar sailors, and they are successfully cruising a self-sustaining platform.
Electric Philosophy is a Sam Devlin design and build, but Ed and Eileen are responsible for the concept of the boat and most of the implementation of its solar-electrical systems. The Pauleys call the midwest home, but their vision has Pacific Northwest roots. Ed and Eileen were visiting Ed's cousin Phil — who lives in Port Townsend and is also a partner in the boat — for the Wooden Boat Festival when they wound up speaking with local electric outboard innovator and entrepreneur, Joe Grez. Inspired by Grez's ideas and stories about solar sailing, and fueled by curiosity honed in their professions as a scientist (Ed) and an engineer (Eileen) — the Pauleys started learning and dreaming.
Eileen and Ed did not have lengthy backgrounds as boaters. They are paddlers, regularly taking backcountry canoe trips in Minnesota's Boundary Waters Canoe Area Wilderness. Their main "cruising" experience, however, was land-yachting in an Airstream camper. Serendipitously, their Airstream explorations brought them along the waterways of the Inside Passage and Alaska on three separate occasions; they would ferry from port to port and camp nearby. All of this provided assurance that not only did Ed and Eileen enjoy traveling together in a small, mobile abode; but they also wanted to see more of the exquisite Inside Passage.
Dutifully, the Pauleys researched their options on a variety of levels. This even included the purchase of an Albin single-screw trawler, aboard which they began doing short cruises, educating themselves about boating and boat systems, and translating their Airstream knowledge into nautical skills.
Resolved to pursue a new solar-electric concept, they began inquiring about a number of production boat options, both mono- and multi-hulls. Nothing seemed quite right. Harkening back to connections made at the Wooden Boat Festival, Ed and Eileen contacted designer and builder Sam Devlin in Olympia, Washington.
Devlin recalled their early conversations and described the idea and undertaking as, "very different and brave." Though he has built a dedicated solar electric boat in the past (Wayward Sun completed a solar voyage to Alaska and back this summer), he still acknowledged that it's "difficult to wrap your head around" the notion that it will never need to be fueled up.
The conversation continued, and soon the project was taking shape. Though Devlin has mostly built and designed monohulls, the evident advantages of a catamaran in this application — especially to accommodate some of the Pauleys' desires — were inescapable. Ed and Eileen were very focused on self-sufficiency and redundancy. The architectural space in the catamaran allowed for enormous battery banks and very large water and waste tanks in the hulls.
One would be correct in assuming that a catamaran has the possibility of greater efficiency under electric power since it has less wetted surface. Devlin says that this is likely the case, but there's variability in reality and expectation because of questions about overloading. According to Devlin, "a monohull would be more forgiving to different degrees of loading." Presuming the Pauleys can resist packing the boat full of gear, they should have a more efficient boat. Devlin noted that generally, "solar electrics have to be much more like a sailing hull — in other words, they can't drag their ass around." It required discerning design when it came to things like exit lines on the hull, since Electric Philosophy will always be a displacement boat; enough power output to push a boat onto a plane is not part of the solar plan. All up, the boat displaces around 25,000 pounds, which means it is stoutly built, but not a tank.
Likely the single greatest attribute of a catamaran, though, is surface area. The boat's beam of 15-feet 3-inches and coachroof width of 15-feet 6-inches were drawn to perfectly fit the maximum number of solar panels. Save for a couple of cabin hatches, the cabin-top is wall-to-wall solar.
Structurally, the boat is "immensely strong," says Devlin. Ensuring strength, while also being courteous to time-effectiveness and cost, several components were sourced from outside Devlin's shop. Notably, they purchased fiberglass beams that provide the structure between the hulls. These turned out to have added benefit in achieving a higher bridge-deck clearance as well, since they are comparatively lower-profile than the plywood beams Devlin makes in his shop. But mainly, the build is typical Devlin — high-end, elegant, plywood, and finished to exacting standards.
In terms of liveability, the Pauleys stipulated simplicity and low maintenance. There is no exterior brightwork. There aren't even any thru-hulls. The only holes in the hulls are for the electric drives. The boat is drawn and built to be plenty sea worthy for the waters of the Inside Passage and Alaska.
Electric Philosophy's interior is an open concept, with a berth aft, head and separate shower midship to starboard and port respectively, the galley and dining area forward from there, and the helm station at the bow. The boat has walkable side decks, a generous aft deck, and a small bow deck that is well elevated thanks to Devlin's attractive rising sheer line. The cabin sole follows these lines, rising slightly underfoot as you walk from the galley to the helm. Visibility from the helm is excellent with large windows offering almost 360° views.
Lots of the interior decisions were made with significant input, and sometimes craftsmanship, from Ed and Eileen. The wood trim throughout the interior is walnut sourced from around their home in Iowa, including some walnut lumber from their own property. Eileen made and upholstered the cushions throughout the boat. They chose appliances based on their Airstream experience — the "gravity" head system, the galley stove, and lighting throughout, among others. Between this involvement and the fact that the solar electric system was of their own design, Devlin said simply, "I have never had a project where the owners were as involved on a day-to-day basis as Ed and Eileen were. We didn't have any difficulties with that."
So, how is Electric Philosophy powered? In a word, impressively. The boat is home to four enormous battery banks. Each hull has a house bank and a drive bank. Each house bank is composed of 16 100Ah Lithium batteries grouped together in parallel, and there are eight of those groups in series making 24 volts. Each drive battery bank is made up of eight 200Ah cells grouped in parallel, and 16 of those groups in series to make 48 volts. The drive banks power a 26-horsepower equivalent electric motor in the starboard hull and a 13-horsepower equivalent electric motor in the port hull.
The coolest part about all of this is that it actually works. I was fortunate enough to have Ed and Eileen take me out from Cap Sante Marina in Anacortes on a partly sunny October afternoon. Frankly, the whole experience was incredibly inspiring. I had to remind myself throughout that this boat has never been plugged in — in fact, because of a supply chain delay, at the time of our excursion, it still couldn't be plugged in.
Once we were off the dock in our benign autumn conditions, the boat was generating a fair amount of solar power, though not quite as much as we were using. At their normal cruising speed between 5.5 and 6 knots, the propulsion drives were using about 3kw each. Of that, the sun was putting in about 1.5kw and the batteries were providing the other 1.5kw. If we throttled up above 7 knots, the draw increased to 4.5kw from the batteries. This was October, though, and the seasonal position of the sun and the patchy clouds didn't provide ideal solar generation opportunities. With full summer sun, they can generate as much as the drives require to go closer to 7 knots.
The boat has a very nice motion, and I was reminded that Devlin has built several other catamaran ferries, including the Admiral Jack, which is now in use as a teaching vessel at Seattle's new Maritime High School. So, this workboat style is one to which he brings familiarity and experience. The motors were quiet, though Ed and Eileen are already looking for ways to make them quieter.
For any cruising boat, range is a critical factor. They chose massive battery banks because they didn't want to think about their range in hours; they wanted to think in days. Though the situation would never realistically come up, Ed and Eileen estimate that the boat should be capable of about 40 hours at normal cruising speeds without any solar generation.
Ed and Eileen call themselves solar sailors and, like any sailor, their philosophy is very responsive to the environment around them. Ed cleverly pointed out that the sun is responsible for wind, anyway, so as he says, "all sailors are solar sailors." Electric Philosophy's careful balance between generation and consumption leads the Pauleys to travel with cooperative wind and current as much as possible, as well as with the sun. They call it "life in the slow lane" and they love it.
With a few months in their wake, it all seems to be going great. Electric Philosophy is beautiful. The concept is successful. Next year, they plan to explore farther north and into more remote areas, powered entirely by the sun. And I bet I'm not the only one who'll think about their journey with admiration and jealousy.
This article originally appeared in the November 2021 issue of 48° North.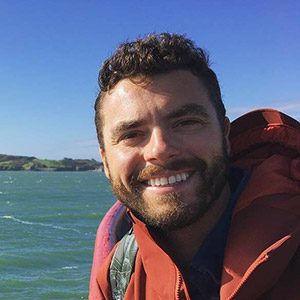 Joe Cline has been the Managing Editor of 48° North since 2014. From his career to his volunteer leadership in the marine industry, from racing sailboats large and small to his discovery of Pacific Northwest cruising —Joe is as sail-smitten as they come. Joe and his wife, Kaylin, welcomed a baby girl to their family in December 2021, and he is enjoying fatherhood while still finding time to sail, make music, and tip back a tasty IPA every now and again.