From the April 2021 48° North Issue.
Around the Pacific Northwest, heroes come in many forms, and 48° North is excited to honor some of them in this series. Here is part two of an interview with Dick Rose, a man many think of as "The Rules Guy" but whose accomplishments and contributions to sailing are truly extraordinary and wide reaching.
Your work on the Racing Rules of Sailing has had global influence, but I know you've also been very involved with youth sailing here in the Pacific Northwest. Tell us about that.
My major involvement in sailing in the PNW recently has been as a judge or umpire helping at PNW high school regattas and as a volunteer with The Sailing Foundation to promote youth sailing. I first joined the Foundation's Grants Committee that helped outstanding young sailors pay the costs of travel to national and international events — especially with my Laser activities at the time, I knew the kids in town who were getting to be pretty good.
About the same time as I joined the Foundation, one of my International 14 crews, Burke Thomas, moved his family to Orcas Island and wanted to get dinghy sailing going up there. He started working with the Orcas Island High School. At that time, there were only six high schools in the Northwest that raced. Burke got high school sailing going on Orcas. Soon Friday Harbor and Anacortes had teams. Burke became the pied piper of high school sailing. He was elected President of the Northwest Interscholastic Sailing Association, covering high schools in Washington and Oregon. Burke built that organization up from six teams to, would you believe it, 60 teams. I helped out by judging at the major high school events and giving seminars on the rules to high school teams.
As high school sailing was taking off, The Sailing Foundation elevated youth sailing to one of its two main goals, and I became the chairman of the Foundation's Youth Committee. (The Foundation's other goal was to promote safety at sea, which it has done consistently since its founding 50 years ago. Its major accomplishment was the development and worldwide promotion of the LifeSling.)
Through the Foundation, I started an annual Coaches Clinic. During the 'off' season, in January, I invited every group in Washington or Oregon associated with youth sailing — including summer learn-to-sail programs, youth regattas, high school and college teams — to a day long program at which the Foundation would fly in a top coach from somewhere in the USA to lead sessions on how to expand youth sailing and how to help young sailors develop more advanced racing skills. The Foundation's Coaches Clinics were well received and grew in attendance until over 50 different programs were participating.
About 10 years ago, during a meeting of the Foundation's Youth Sailing Committee, someone threw out an idea, "Why don't we hire an experienced coach for the spring season to help all the youth teams? That person could help individual high schools and colleges during the week and run clinics on the weekends; also, they could come to weekend regattas." We thought that sounded pretty neat, but we thought we'd have a better chance of finding such a person if we could offer a full-time year-'round job, rather than just a job for three months. After we figured out the difficult task of funding that person's salary for the first couple of years, a group of us — Burke and me, as well Scott Wilson in Bellingham, and Brendan Fahey — advertised the position. Brendan started the job description saying, "This is the best job you've never heard of." We were looking for someone to come to the PNW and make sailing more popular for kids and also raise the skill level of the best competitors.
Tell us more about the positive impact this is having. Is youth sailing trending in the right direction?
What I'd like, and what I hope that Andrew is doing, is to show young people that this is a neat game; and to show them in a setting that is affordable. At one of the last World Sailing meetings, I was one of a group that had dinner with Peter Harken, the president of Harken, Inc. He's one of the great people in the sport and a brilliant guy. Peter held forth on the status of the sport, saying, "Don't worry too much. If you can excite kids about competitive sailing when they're in their teens and college years, they'll go away and they won't sail for a while, but they're coming back." If we can get youth sailing going, Peter felt there would be a rebirth of participation coming into our sport when those former youth sailors reached their thirties and forties.
PNW high school championships have become huge, neat events! Sometime, when Covid is finally behind us, you should come to a PNW high school regatta. What you'll see is really heartwarming — a couple hundred kids spending their weekend racing dinghies, having fun at it, and making friends. That's building a community as well as a love of the game, and, if Peter Harken is correct, that's what it will take to grow our sport in the future. Burke Thomas and Andrew Nelson are very responsible for that, but a lot of others have put their heart and soul into it, too.
What does learning to race add for a sailor, especially a young sailor?
If you've just learned to sail, that's the equivalent of learning to hit a tennis ball against a wall. If you don't try the game (racing), you're missing a lot of the fun.
When you race a sailboat, you are playing three games at once: There's a game against nature — where you've got to call the shots on the wind and the current. There's a game where you're battling your boat — if you get your boat under control, she'll be faster, and with time spent on the water you'll learn how to set up your boat for best performance. The third game is a chess game — positioning your boat for best advantage against the other boats.
Considering the contact you've had with some of the world's top sailors, what characteristics do you see among the best of the best?
They vary. Generally, top sailors are bright, dedicated people. Some of them are fabulous athletes. Anna Tunnecliffe, who won a gold medal in the Laser Radial a few years back, could out hike anybody; she used her frame and height and weight to maximum advantage.
Bill Buchan has talents that are unique to him. He builds his own boats and is a master of boat-speed development. He plays the 'boat game' and tries to stay clear of other boats so that he's free to sail his boat in clear air at top speed. Knowing the rules is not his top priority. He's looking for a clear lane so he can take advantage of his speed.
What are your recommended resources for people looking to better understand the rules?
The two Daves — Dave Perry and Dave Dellenbaugh — publish very helpful material from which you can master the rules. (In past years, I would have referred you to my own articles.) The first chapter of Dave Perry's book is his analysis of how the new rules affect the game and what's important to know this year. But, like Bill Buchan, you've got to keep the rules in perspective. You will not become a world champion just because you know the rules. It's a small part of being a champion sailor.
In your varied and significant contributions to the sport over the years, what do you feel most proud of?
When I joined the World Sailing Rules Committee back in the 1990s, there were only a few of us who were trying to make the rules work well for the weekend sailor. Everyone else at World Sailing seemed consumed with the Olympic Games or professional sailing. What I've tried to do within World Sailing is to keep the rules simple. You can't play a game without rules; I bet you a lot of major league baseball players don't know the rules very well, but they play the game superbly.
My training in math and psychology gives me an edge in picking my way through potential rules to help keep our sport's rulebook as simple and straightforward as possible. Along the way, I've won a number of honors. US Sailing has given me two awards: the Harman Hawkins Trophy for lifetime contributions to the field of race administration, and their Herreshoff award for lifetime achievement in the sport. I'm still working on lots of committees — the World Sailing and the US Sailing Racing Rules Committees, as well as the U.S. and PIYA Appeals Committees.
How has your sailing involvement changed over the years?
Until sixth grade, I went to a Quaker school where they gave no grades. You were judged against your past performance and not against the other kids in your class. If a test was marked up, the comment was, "You didn't do quite as well as you did on the last test; you've got to work a little harder on this or that." Or, it might be, "Hey, well done, this is the best you've done." They were grading you against yourself. That's kind of how I've gone through life — grading myself against myself.
As I got older, I bought a Laser 28, Sloop du Jour, which I campaigned in the Northwest for many years. We were first overall at one of the early Whidbey Race Weeks in it. My wife Carolle was a great boat speed sailor — she was a champion in Canada, and represented Canada in World Sailing Championships and placed highly. The way we sailed our Laser 28, I helmed it and figured out where we should go, and she made the boat go fast.
We raced our Laser 28 under PHRF, which rates boats with a single number. The result is far from perfect. Racing the Laser 28, we could look at the anemometer and know pretty well how we were going to do — if the wind was really light or really heavy, we were going to finish near the top; if the wind was moderate, forget it, because we'd have the same rating as boats with longer waterlines. After decades of dinghy racing, PHRF was, to me, quite unsatisfactory — I prefer one-design racing where we all have the same equipment. Yet, I still enjoyed PHRF racing because I knew enough about the sport that I could tell when I was having a good day or a lousy day, and I could give myself my own pat on the back or kick in the pants — just as I had learned to do in Quaker school. You know when you win the start or when you hit a wind shift just right and pick up three boats.
Are you still finding ways to get out on the water?
About 10 years ago, we decided we needed a simple boat for cruising. We never found that with a sailboat. We were looking for something like the Laser 28, perfect for a couple. We'd go to the boat show and look at modern sailboats and they'd say, "Look it sleeps six!" So, we didn't get something for quite a while. A year ago, some friends told us about a couple that was looking for a partner for their Grand Banks 32, so we bought half of that boat and we're going to do some cruising.
Well, thank you Dick, for your time in this interview and for all of your contributions to sailing. Your commitment has had an impact on sailors of all ages around the globe, especially here in the Pacific Northwest!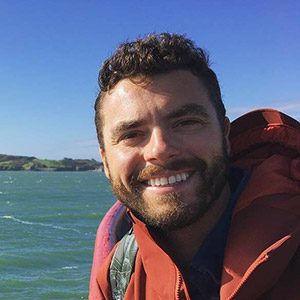 Joe Cline has been the Managing Editor of 48° North since 2014. From his career to his volunteer leadership in the marine industry, from racing sailboats large and small to his discovery of Pacific Northwest cruising —Joe is as sail-smitten as they come. Joe and his wife, Kaylin, welcomed a baby girl to their family in December 2021, and he is enjoying fatherhood while still finding time to sail, make music, and tip back a tasty IPA every now and again.