Port Townsend's historic 50-slip Point Hudson Marina is opening again for boaters on Wednesday, Jan. 25, weeks ahead of schedule.
Port of Port Townsend Executive Director Eron Berg said efficient work by Orion Marine Contractors of Tacoma with strong support by the Port staff made the early completion possible. This phase of the project, and a second one coming in late 2023, are expected to cost a total of $14 million. 
"Orion did a great job, and the Port's team did its work, keeping an eye on environmental compliance," said Berg. "It went as well as we could expect for season one. We're already planning for the next season." 
Point Hudson is protected from southerly winds by two jetties, both failing after almost 90 years of service. The 2022-2023 project replaced the shorter north jetty. Starting in September 2023, Orion will return to replace the longer south jetty and its pedestrian walkway. 
The Point Hudson Marina was closed just after the September 2022 Wooden Boat Festival. Orion's crane and supply barges arrived a day or two later. Official groundbreaking was on  Sept. 14, 2022. At that time, the expected completion date was early March, 2023. Many factors sped up the time table. Port Engineer Matt Klontz pointed to great weather during the fall and early winter, strong collaboration between Orion and Port engineers, and the fact that piling removal and replacement went faster than expected. 
"It was a collaborative first season between the Port, Orion, the permitting agencies and the consultants to problem-solve and think through next steps," Klontz said. The work on the shorter jetty also provided valuable lessons that should make the fall, 2023 work on the second  jetty go better, he said. 
For example, Orion has learned how to place rock more efficiently, he said. While most of Point Hudson will reopen on Jan. 25, one portion of it — the six 70-foot guest moorage finger piers closest to the new jetty and to the RV Park — will remain closed for a few  more weeks. That's where Orion workboats are staged to do finishing touches, such as piling caps. The Port has scheduled some shoreline repair work nearby to repair damage done to the marina bulkhead from high tides and winds on Nov. 3, 2022, said Klontz. Winter storms have also brought a surge of drift logs into the marina, which must be removed.
Even with work continuing, Berg said the new jetty is intact and does its job of protecting the marina. Boaters with permanent moorage at Point Hudson, most of whom found room at the Boat Haven Marina during the project, can start returning Jan. 25. But they don't need to rush, Berg said. They can return anytime until the end of February, he said. Puget Sound Express, with its San Juan Islands tour boats, is expected to move back to Point Hudson by mid February. 
Transient boaters are also welcome to return, said Berg. "Come on in," he said. "Have some dinner and some fun in town." 
Boaters can make slip reservations entirely online via Port website www.portofpt.com, clicking to "Point Hudson." The RV Park is on the same platform. 
Berg was happy with the community's support of the project. "This is the first project I've been involved in where I have received no complaints during the  construction phase," he said. "It's been great to see so many people checking on it daily or weekly." Berg said he hopes that will continue now that Phase One is done, so people can see  how it looks and how it will work to protect Point Hudson for dozens of years into the future. 
By the numbers:
The new jetty consists of 178 U.S. Steel piles buried 30 feet into the sea floor and that rise 16 feet above a low tide level. That's three feet higher than the creosoted wood piles they replaced. Some 1,000 tons of bedding stone forms the base of the new jetty, and 4,000 tons of armor stone was placed inside the piles. In addition, 1,500 tons of stone forms a new sea life habitat, part of a mitigation plan, outside the marina mouth.  
Of the $14 million for both parts of the project, over 50 percent came from the federal  government, $2.5 million came from Washington State and additional funds came from Jefferson County. Local taxpayers funded the difference through the voter-approved Industrial  Development District bond.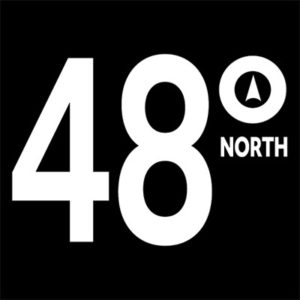 48° North Editors are committed to telling the best stories from the world of Pacific Northwest boating. We live and breathe this stuff, and share your passion for the boat life. Feel free to keep in touch with tips, stories, photos, and feedback at news@48north.com.