In our latest installment of Throwback Thursday, Jo Bailey and Carl Nyberg share some of their favorite South Sound treasures.
Originally published in the July 2006 issue of 48° North.
In 1792, Captain Vancouver turned up in Case Inlet. He had left Restoration Point on Bainbridge Island about five days after Lt. Peter Puget, concerned about what had happened to his lieutenant. In fact, nothing had happened except that Puget had discovered it took time to really explore South Sound.
South Puget Sound's beautiful islands and coves are patiently waiting to be visited by sailors, kayakers and others this lovely summer. These intriguing, somewhat lesser-known places provide enjoyable cruising, with the added bonus of quiet bays, ofter available park mooring buoys and uncrowded marinas because many sailors flee north to other destinations.
Those are the mariners who feel they're not on vacation unless they exodus north along with hundreds of their marina-mates, neighbors and other boaters to the crowded shores of the exquisite San Juan Islands, Gulf Islands or beyond, missing the relatively uncrowded waters south of the Tacoma Narrows.
We'll gunkhole at some great places, delightful spots you can visit in a long weekend, a short cruise, or for a couple of weeks if you're so inclined. You don't have to stop at all of them, only those that sound inviting. These include Eagle Island State Park, Tolmie State Park, McMicken Island State Park, Stretch Point State Park, Vaughn Bay, with its wonderful Department of Natural Resources sand spit, and Hope Island Marine State Park.
Supplies can be found along the way at Zittell's Marina, Fair Harbor Marina or Jarrell's Cove Marina. (See the January 2006, 48° North for cruising to other South Sound regions: Kopachuck and Cutts Island State Parks in Carr Inlet west of Gig Harbor Peninsula, and Dockton and Burton in Quartermaster Harbor on Vashon-Maury Islands.)
Modern day mariners will enjoy following the early explorations of Lt. Peter Puget and Sailing Master Joseph Whidbey in May 1792, 214 years ago, or 15 years before Lewis and Clark began their incredible expedition across the country.
Puget and Whidbey were members of Capt. George Vancouver's explorations of the Northwest Coast of North America, and were the first recorded non-Native Americans to explore the area. They were aided in their amazing week-long voyage through the entire sound by friendly, extremely knowledgable local Indians who shared their lifelong nautical expertise as well as their meals.
Unlike them, we now have detailed charts, navigation aids, marinas, gas docks, state parks, cities, towns and villages all along the way, and even some second and third growth evergreens clinging to some bluffs. (The charts and navigational aids are great, but sometimes we're not so sure about all the rest.)
So let's get underway. If you're approaching from north of the Tacoma Narrows, you might want to spend a quiet night in one of our favorite anchorages just across from downtown Seattle on the south east shore of Bainbridge Island—Port Blakely. You can see the city's twinkling lights, but you don't have to be there. It's good anchoring here in a quiet harbor in the shadow of evergreens lining the shores.
Or you might want to stop at Blake Island State Park where mooring buoys and linear moorage surround the island. Either place is delightful, but we're not going to dwell on them for now because in this trip we want to get farther south. We'll come back to them in the  winter for a good "off-season" cruise.
Let's head down Colvos Passage, that pastoral 11 mile long stretch of water between the west shore of Vashon and Kitsap Peninsula. The pass is lined forests on both shores, hills reaching 350 feet and higher in places, just as in Peter Puget's time, but no longer as pristine.
Several communities on both shores of Colvos, county parks, ruins of old
steamer docks, and youth camp and Olalla help make the trip through the pass scenic.
Incidentally, we're very near where Puget and Whidbey left Restoration Point on Bainbridge Island on May 20, 1792, on their incredible voyage of the body of water named for Puget. In fact Puget's men had their first breakfast at Olalla.
Tidal currents in Colvos are unusual in that during the flood they almost constantly flow north, except twice daily for brief periods of time when they are "weak or variable."
Also, plan ahead so that you can go through the Tacoma Narrows at slack or with a flood current. You might want to wait out a strong ebb in Quartermaster Harbor on Vashon or Gig Harbor on the west shore where you can anchor for a couple of hours or overnight.
Once through the Narrows a world of wonderful sailing and anchoring opens up; you have many options.
Eagle Island
Eagle Island, south of The Narrows in Balch Passage, between McNeil and Anderson Islands, is a 10 acre treasure set aside as a Marine State Park. It's sometimes ignored as boaters scurry through Balch Pass; often they're so busy staring at the massive prison on McNeil Island they ignore tiny little Eagle. Do remember: stay 100 yards off McNeil and don't pick up nearby swimmers.
Accessible only by water, lovely Eagle has been left natural, with the only additions being a few trails crisscrossing the island —  be careful of poison oak inland. Three mooring buoys are at Eagle, one on the east side with a view of Mount Rainier and two on the west. If the buoys are taken, anchoring is possible in three to six fathoms, sandy bottom.  Be aware that currents may run fairly strong past the island, especially if there are very high and low tides. The ebb can reach as much as 4.5 knots and the flood can be up to 2.7 knots.
Bask in the luxury of surrounding evergreens, enjoy the large number of madrona trees, their twisted trunks of light colored, shedding, paper-thin bark are a constant amazement. Walk the 2,600 feet around the island's gravel beaches at low tide, swim, wade, or just sit and enjoy.
This is a day use only park with no overnight camping, so you can't send the kids ashore with a tent for the night. When summers are dry, there is fire danger on the island.
Seals and California sea lions thrive off the west side of the island. They romp and play, diving and cavorting enthusiastically in the water off the island's shores, sunning themselves on Eagle Reef 300 yards west of the island at low tides. The reef bares at its south end on a one foot tide and it has a three foot depth at the north end on a zero tide.
It's possible for a boat to run between Eagle and Anderson in six to eight fathoms. We sailed around the island in a recent race with no problem, except that we should have gone around it opposite from the way we did.
Eagle Island was at one time an Indian burial ground with burial canoes placed in the trees, as were other small islands around the Sound.
Tolmie State Park
Tolmie State Park is on a forested beach along Nisqually reach, about 2.4 miles north and west of Nisqually Head. This is a charming place to spend a day or two, an absolute jewel along this shoreline, well worth visiting, and usually not crowded.
West of green buoy '3,' Tolmie is easy to spot not only because of the five state mooring buoys, but also because it's the only forested area along the shore without homes.
Hike in the woods on three miles of well-marked trails, swim, dig clams and beachcomb, Tolmie has just about everything. You can land your skiff anywhere along the 1,800 feet of park shoreline.
Two white can buoys with orange stripes are not suitable for mooring as they mark three barges sunk below the low water mark to form an artificial reef which attracts fish and other sea life. This provides recreational scuba diving in an area relatively free of currents. In fact, Jo's sons passed their scuba diving tests at Tolmie a fair number of years ago.
This 106 acre park is day-use only so it should be relatively quiet at night. There's also an outside shower for divers and swimmers, two kitchen shelters with electricity, picnic tables, water, sinks and grills. It first became a state park in 1962. If you are meeting  friends who  drive to the park, parking permits are no longer required for day visits.
Big Slough is a large salt marsh in Tolmie between a long sandspit and the uplands, with a bridge across the marsh. Five interpretive sites describe the hydraulics of the sand flats, the estuary fauna and flora, and explain the view from the high ground of the park, with a brief history of seashore life in the area. This is a peaceful, lovely park to enjoy nature.
Tolmie State Park is named for Dr. William Fraser Tolmie (1812-1866), who spent 16 years with the Hudson Bay Company at Fort Nisqually as a physician, surgeon, botanist and fur trader in the 1830s.
McMicken Island
This is the kind of place we'd like to keep secret and have all to ourselves—but it's way too late. Just about all South Sound boaters do know about McMicken—a great gunkhole—in Case Inlet on the east side of Hartstene Island. Jo and her family were
anchoring here before it became a state park in 1974.
It is a pristine 11.45 acres of isolated, partly forested island where bald eagles soar, blue herons stalk shallows for snacks, deer feed in the fields and seals cavort nearby.
McMicken is joined to Hartstene at low tide by a sandy bar or "tombolo," about 30 feet wide. The first 100 yards west of the park are state park property, the rest of the bar is private and Hartstene islanders are displeased with traffic from boaters visiting the park. "No Trespassing" signs are on Hartstene, posted by oyster growers.
At high tide the tombolo is deceptive. A tombolo is a sand or gravel bar connecting an island with the mainland (or another island), usually covered by water at high tide. Not a good idea to go between McMicken and Hartstene in anything larger than a kayak or dinghy.
Some of McMicken's beaches are almost completely white from broken shells right up to the grasslands, which makes us think they may be an old Indian midden.
Waves against the island's shores leave little ledges of sand and gravel that are quite pronounced and unusual. On the rocky south beach are remains of old, reddish bricks with holes in them.
Five mooring buoys are at the island, two off the south shore and three off the north shore; with 1,661 feet of saltwater shoreline, peace and quiet, and hiking, clamming, fishing, swimming in very clear water. The island has no water and no facilities, except a primitive restroom.
The south shore of McMicken boasts—see the charts—a boulder. And it is a boulder, huge and underwater at high tide. It's another of those erratic rocks that are so common.
Walking the beach all around the island at low tide is intriguing because of all the sea life, plus there's good bird and seal watching. Several trails criss-cross the island through the woods. Trails are narrow and twisting with tree roots in the paths making the walk a challenge. On a bright and sunny day it's dark in the forest with only occasional views through thick underbrush. Even on a rainy day it's fairly dry and protected because there are so many branches overhead.
Anchoring is good on either side of McMicken if the buoys are taken, depending on which way the wind is blowing. In the "off-season" you might be the only boat here, as we have been several times.
The island's meadow is rough and covered with clumpy grass with a lot of snaky ruts and channels underfoot. We thought they might be mole holes that had washed out as the surface is caved-in in several places, but a couple we met told us about them. The woman said she'd been curious about them a few years back and pulled up a board lying over a rut. Under it was a whole pack of writhing, squealing, smelly, beady-eyed rats. She beat a hasty retreat. We don't pick up boards on McMicken.
Hartstene Island State Park lands begin less than 1/4 mile north of McMicken Island and includes 315 acres of uplands, as well as 1,600 feet of saltwater shoreline. A beautiful beach and trails through the forests and ravines are the joys in this park.
A large oyster bed at the south end of the Hartstene Island Park beach has over one million oysters available for the picking. The park ranger said clam and oyster pickers must have proper state shellfish licenses and know the limits. Oysters must be shucked on the beach, leaving the shells where you find them, as they are usually covered with "spat" – baby oysters.
Anchoring is possible all along the park's shoreline in about two fathoms at low tide. It's easy to dinghy ashore and stroll beaches and hike trails,
Fish havens and a submerged structure are off the park's north end as charted. Public tidelands extend north from McMicken Island for about 8,000 feet, including tidelands at Hartstene State Park.
Vaughn Bay
This beautiful bay is off the north end of Case Inlet at the northwest end of Key Peninsula. It's a nifty spot, a great gunkhole, with an interesting entrance and a great public sandspit.
At high tide the entrance is wide and inviting and plenty deep for our 5.5 foot draft. But it has only one foot of water at low tides. On incoming and outgoing tides a strong current runs through the pass, which the kids loved to ride in the dinghy. Needless to say, the best time to enter and exit is well above a half tide, preferably an incoming tide. There's a good anchorage in the south side of the bay.
Depths at MLLW approaching the entrance are charted as two fathoms three feet outside, shoaling to zero fathoms one foot, just inside. Depths increase to one fathom three feet behind the spit. Mid-length of the bay depths increase to about four fathoms. Currents in the channel during flood or ebb tides are not shown in the Tidal Current Tables or in the Current Charts.
Favoring the spit side of the entrance we proceed at dead slow with the current, heading south immediately inside the spit to avoid a shoal projecting from the north shore. Then we turn east slightly into more comfortable depths. We anchor inside the spit toward the south and east corner of Vaughn Bay, in two to four fathoms, mud bottom.
The wonderful spit has tidelands of nearly 2,000 feet, owned by the Department of Natural Resources, along the Vaughn Bay side. It is accessible only by boat. The bay side is quite steep, especially near the entrance. There are no facilities on the beach—just a wonderful place to bask in the sun and let the kids run. With silvered driftwood carelessly flung across the top by wind-driven waves, the spit is great for beachcombing and clam digging: littlenecks, butters, horse clams; red rock crabs are here, too.
The old dock on the spit is long gone, only old stub piles and rusted out old cables remain. The outside (Case Inlet side) of the spit slopes gradually to the water, with fine, pea-gravel along the beach. In fact, when some friends anchored their 40 foot sailboat along this shore and the tide went out, the boat grounded and laid over on its side. Embarrassed, but always prepared, the skipper went below and brought out scrapers. Barnacles were removed from the bottom before the tide came in and the boat righted itself.
A launch ramp is on the north shore of Vaughn Bay about 0.5 mile from the entrance; there is limited parking. At low tides the ramp is unusable. Several boats are permanently moored  in Vaughn Bay.
This is a protected, favorite anchorage with many South Sound boaters, especially because of the spit tidelands to explore. Except for the public tidelands, the rest of the Vaughn Bay shoreline is private. Vaughn Bay community is a pleasant mix of summer residences and permanent homes. At the bay head, near the bridge, is the Key Peninsula Community Center
Stretch Point Marine State Park
Stretch Point Marine State Park is on the northwest side of Case Inlet at the northeast point of Stretch Island. The park extends around both sides of the point. It is easy to spot the three mooring buoys east of the sandy point, and the two buoys in the bight west of the point. Anchoring in the bight is possible if the buoys are all taken. There's protection from all but a northerly in here. The buoys look close to shore, but they're in about 40 feet of water.
The park, accessible by water only, is undeveloped and adjacent to private property on either side. It is a satellite of Jarrell Cove State Park on Hartstene Island. With 4.2 acres of land and 610 feet of shoreline, it's one of the smaller parks. There are no picnic, water or toilet facilities.
The park is a favorite spot for water skiers. There's swimming, beach-combing, clamming, fishing and picnicking, on either side of the point. By sunset the water-skiers usually quit and it's a quiet, peaceful anchorage. The little bight inside the northeast corner of the island is a nifty gunkhole;a lovely, choice spot. The beach is fairly steep and gravelly.
We tie to a mooring buoy and enjoy a delightful, peaceful evening after a quick dinghy trip ashore and a swim. The sun sets slowly over the trees and all's right with the world.
Wooded bluffs are along the eastern shore of the island, with large boulders on the beach. Although there are a fair number of homes on Stretch Island, it somehow seems not quite as urbanized as other places in this area.
We were going to put in at Jarrell's Cove State Park and Jarrell's Cove Marina on Hartstene Island on this cruise, but since we covered them in May 2005, we'll just sail on to Hope Island State Marine Park. However, Jarrell's Cove, is a great place to visit.
So, on we sail to Hope in Squaxin Passage near the junction of Totten
Inlet and Pickering Pass. This is an enchanting spot, and is the newest of the state's marine park acquisitions—another treasure. The 106 acre island park has 1 1/2 miles of beach and two miles of trails through old-growth forests and past saltwater marshes.
The main trail begins up behind the caretaker's house and winds amidst the trees gently upward to 120 feet at the north end of the island, then dips back down at the southeast end to relatively low land. It's a peaceful, wonderful, but not always well-defined trail. Although the caretaker told us we might get lost, we only strayed off the trail a couple of times and never felt "lost." There are no facilities ashore, and dogs are not allowed on the island.
Five mooring buoys are around Hope Island and anchoring is possible off the eastern shore in about 12 to 20 feet where currents aren't too strong. It's easy to dinghy ashore at any of several delightful little beaches sprinkled around Hope. The island's caretaker lives in a small, red cabin in the cove along the south shore. We've
circumnavigated Hope Island staying about 150 yards offshore, in depths of nine to 50 feet.
From much of Hope Island the views are lovely — Mount Rainier down Squaxin Passage to the east on a clear day, the friendly old evergreen forests to north and northeast, Arcadia Point at the entrance to Hammersley, and sparkling waters surrounding the island  — while to the southwest the view is across Squaxin Passage—to hundreds of houses.
Public access from the mainland closest to Hope Island is the launch ramp at Arcadia.
Dr. Tolmie      
In 1833, Dr. William Fraser Tolmie was the first non-Native to attempt to climb Mount Rainier. Tolmie Park has a historical display honoring Tolmie.
During his stay at Fort Nisqually, Tolmie studied and recorded information on the plants and animals among the foothills of Mount Rainier, where Tolmie Peak was named for him.
In 1850, he married Jane Work, the eldest daughter of the Chief Factor at Fort Nisqually. His knowledge and association with local native Americans played a major role in returning peace to the area after the 1855-56 Indian Wars.
Pioneer Ezra Meeker praised Tolmie, who became agent for the Puget Sound Agricultural Company after the H.B.C. holdings were transferred to it in 1840-41. "Had it not been for the superior tact of such a man as Dr. Tolmie in charge of the company's affairs, there would have been serious trouble," Meeker wrote.
Hope Island Past
In the summer of 1995, we met Hope Island caretaker, Barry Wallis, a volunteer steward.  He paddled his kayak back and forth to the mainland in most weather and swam in the chilly salt water most of the year. He restored the old windmill at the old well and was friends with the island's deer, watched eagles, herons, the seals swimming by, and told us some of the island's fascinating past.
Hope was purchased by the state from the Munn Estate in 1990, for more than $3 million. It was originally owned by the Schmidt family of Olympia Brewing Company fame, who bought it in 1896, and used it as a family retreat and home for one of their sons. The Schmidt family took out large Douglas firs, planted orchards and a vineyard, thus the island became self-sufficient. They built a charming home on the island, including a dock for their 36 foot launch.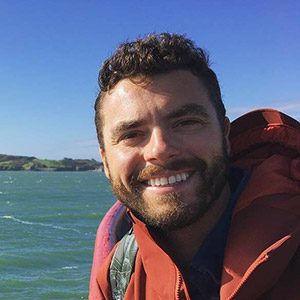 Joe Cline has been the Managing Editor of 48° North since 2014. From his career to his volunteer leadership in the marine industry, from racing sailboats large and small to his discovery of Pacific Northwest cruising —Joe is as sail-smitten as they come. You'll find Joe and his wife, Kaylin, sailing, skiing, taking photographs, sipping on a good PNW IPA, and playing with their dog, Arlo.