Here's our latest destinations piece courtesy of Salish Sea Pilot about finding plentiful hiking on beautiful Salt Spring Island….
Lynne and I like hiking trails and lovely anchorages. So a friend asked a reasonable question. Why haven't we blogged about Burgoyne Bay, where Sansum Narrows carves deeply into Salt Spring Island?
It is a scenic anchorage, surrounded by lush hillsides and an excellent network of moderate hiking trails. We cover it and area parks in our Gulf Islands cruising guide. The bay and I also share a name: Burgoyne.
And no, it wasn't named for me or any relation. It wasn't even named for "Gentleman Johnny" Burgoyne, the flamboyant British general and playwright who famously led his troops to mass surrender in the American War of Independence. The bay was, in fact, named in 1859 for Victoria Cross holder Hugh Talbot Burgoyne who was then serving, one would assume with distinction, on HMS Ganges, the flagship of the Royal Navy's Pacific fleet.
But the reason we treasure this bay has nothing to do with the name and everything to do with the splendid views and trails ashore that crisscross the provincial parks of Mount Maxwell and Burgoyne Bay.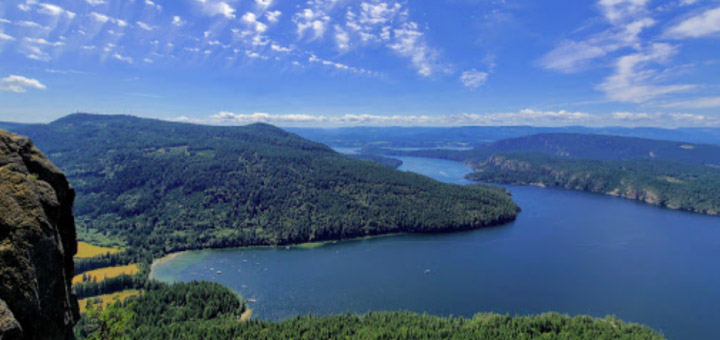 If you like such exercise, you can spend a week or longer in this anchorage, taking long daily walks with little retracing of your steps. The tracks are well-marked with many signs along the way, correcting any missteps you might have made. Our guide to the Gulf Islands indicates the trail numbers and where you will find trail information along the way.
The roomy anchorage can be a bit crowded in summer, but it is relative. Even on a holiday weekend we've always been able to find space. The bay's southeast tends to be the most popular, in the shallower water off a creek delta and amid resident vessels on private mooring buoys or floats.
We have not experienced it, but the bay is open to the northwest, a fetch off Vancouver Island of some three nautical miles, and we are told life on anchor here can be unpleasant in strong westerlies.
The small public dock has limited room for larger vessels to tie up, but is the easiest place to dinghy ashore to visit the parks. Some boaters go ashore on the delta, to the southeast, but timing and forethought is everything. On a falling tide, your tender can be stranded a long drag from the water, or be swept AWOL by rising water.
The trails can be challenging for those not quite at peak fitness, but most of the tracks are moderate in difficulty, and there are lots of choice spots to rest and take in your surroundings.
Thinking of my namesake, Hugh Talbot, and how fortunate he was to have such a place named after him, we have to wonder what Indigenous people called the bay. We suspect it was not the name of a person — that does not seem to have been their way — but a name that reflected natural wonder.