You've been stuck in your house for a month, your children are monsters, your spouse is on your last nerve—and the dog wags her tail when you leave the room. The parks are closed, so are the bars, and if you have to wash your hands one more time you might scream a streak of sailory curses that would require you have to wash your mouth out too, and honestly you can't spare the soap.
Sound familiar? Us too.
Portage Pram Online Build
April 20-24 | 12-4 PM | Online
$1039 + $99 shipping
Above price includes access to interactive instruction portal, Pram kit, premium System Three Silvertip epoxy, wood flour filler, epoxy pumps, zip ties, fiberglass cloth, gloves, cups, mixing sticks, oarlock sockets and bronze oarlocks. Oars may be purchased separately from various sources.
What better way to occupy an entire week of afternoons than building the Portage Pram kit in your home, and under the virtual guidance of a professional boat builder. We'll send you all the supplies you need, and then instructor Joel Arrington will build along with you in real-time offering live-streamed instruction. In five days of 4-hour sessions, Joel will answer your questions as he walks you through each step—from opening the kit box to preparing your boat for paint and launch day.
As a member of this online classroom you'll be able to ask questions, see the details up close, verify your progress and get some encouragement and any necessary corrections. In the end you'll own a lovely little boat you and your family can use to get out on the water—either together, or to escape being together.
"There is nothing, simply nothing, half as much worth doing as social distancing in a boat."
—Probably someone recently
No experience required!
The Class:
After a short setup session on Sunday, the class will run as a livestream from 12-4pm PST from Monday, April 20, to Friday, April 24. Joel will walk you through the step-by-step building process using only the tools and materials included in the kit. No experience or special tools required.
What you'll need (the rest will come in the kit):
● A 9 x 6 space
● An internet connection
● A tablet, phone, or computer with a camera
● Approximately a dozen spring clamps
● Flush cut saw/ Japanese saw
● Rasp
● Roller and covers 4ish
● Sand paper
● Drop cloth/tarp
● Masking tape
Classes will use Google Hangouts (Live sessions will also be recorded for future reference.)
Great for families—think of the applied mathematics you can justify as "school."
You can also watch the live build online for free!
If you're not ready to commit to the full course, that's okay—you can watch the live stream for free. You just won't have access to the interactive instruction portal. Sign up for our e-news and we'll send you an email on April 20 with a link to watch the live build. Don't worry, you can unsubscribe at any time.
The Boat: Portage Pram
"She does indeed track like a mine cart. Nice job getting this Pram kit together!"
–Derek Gries
The ultralight plywood Portage Pram is based on a much heavier traditional plank-on-frame pram designed back in the 1970s that consistently received rave reviews—both for its directional tracking and its smooth carry between oar strokes. The new Portage Prams maintain these virtues, but feature an incredible weight-to-capacity ratio, as the finished boats only weigh 35 pounds, but can comfortably carry two adults and gear.
Portage Prams have a number of unique features, including a long fore-and-aft bench seat (instead of the usual thwart) which, when combined with four different oarlock positions, allows for good trim regardless of size of crew or load.
Prefect for rowing, fishing, or towing (or stowing on deck) as a tender behind your larger boat—the versatile Portage Pram is likely to get more use than any boat you've owned. There's even a sailing add-on kit in the works.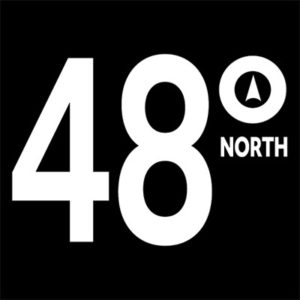 48° North Editors are committed to telling the best stories from the world of Pacific Northwest boating. We live and breathe this stuff, and share your passion for the boat life. Feel free to keep in touch with tips, stories, photos, and feedback at news@48north.com.