Editor's Note: The contents of this post serve two purposes. What you find below is something we at 48° North believe will be genuinely interesting and helpful to our community of readers. Yet, we want to be clear up front, this post was provided by and paid for by an advertiser, and is a direct promotion this advertiser has sponsored. We hope you enjoy. 
Learn How to Sew a Simple Boom Tent With Help From Sailrite!
We're big fans of DIY here at Sailrite, and we love passing our knowledge and sewing skills onto our customers. Today's post involves sewing a boom tent that you attach to your throated mainsail cover. This setup is a great way to stay shaded and out of the sun or rain when you're at anchor or at the dock. It's basically an awning that you attach to your mainsail cover, creating a covered area over your companionway and extending back to the cockpit.
Match Your Fabric
We have a great how-to for sewing your own boom tent. Even if you're an inexperienced DIYer, this is an easy project that only involves a few steps. Before you get started, you need to select a fabric for your boom tent awning. We recommend using the same fabric as your mainsail cover for a cohesive look. You can't go wrong with Sunbrella® Marine Grade fabric, and that's what we used for our boom tent project. Sunbrella is the standard cover cloth in the marine industry. This solution-dyed acrylic fabric boasts incredible UV, water and abrasion resistance. It's mold/mildew resistant and will last for years on your boat.
The two panels of your boom tent connect to the mainsail cover via the twist-lock fasteners that are already installed on the mainsail cover. Then all you have to do is spread the panels open — almost like wings — and tie the outside edges of the panels to the stanchion lifelines. Because this project uses the mainsail cover as part of the boom tent, you don't need very much fabric to create the awning panels. In fact, depending on the size of your boat, we estimate most people will only need 3-4 yards of fabric, making this an easy and inexpensive way to add a much needed shading structure to your vessel.
The Process Is Simple
To sew a boom tent, you'll follow a series of very easy steps.
1. Measure
First, measure from the sail cover's top spine down to where you want the boom tent to stop. This is personal preference — you can make your boom tent as wide or narrow as you like.
2. Cut
Once you have your measurements, cut your two panels to size adding 5 inches to the length and width for the hems.
3. Create Hems
Next, you'll create double hems on all four sides of your panels.
4. Install Twist-Locks and Grommets
Once the hems are sewn, all that's left to do is install the Twist-Lock fasteners on one long side and grommets on the other long side.
5. Install Grommets on Outside edge
To connect the outside long panel edges to the boat, you'll install grommets evenly spaced along the double hem. In the corners, the two double hems would usually create nine layers of material. That's too thick for a regular grommet to handle. To fix this, we have a clever trick for reducing the fabric thickness in the corners.
Sailrite Has Got You Covered
At Sailrite, we have all the fabric, tools, supplies and notions you need to sew for your boat. We're your one-stop DIY shop specializing in marine, auto, home and outdoor living projects. But we don't stop there. Consider us your project partner. We're here to offer advice, guidance and how-to help with whatever you're working on.
Our massive collection of free how-to video content is overflowing with canvaswork and upholstery projects for your boat. Need new interior or exterior upholstery? How about updating the headliner in your cabin? Has your bimini or dodger seen better days? We have how-to videos for all of these projects, plus hundreds more! We're with you every step of the way to ensure that your project turns out perfectly. Get started on your next great DIY at Sailrite.com.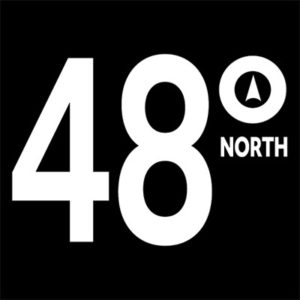 48° North Editors are committed to telling the best stories from the world of Pacific Northwest boating. We live and breathe this stuff, and share your passion for the boat life. Feel free to keep in touch with tips, stories, photos, and feedback at news@48north.com.