Happy Friday, 48° North Fans! Read on for a gracious and grateful message that beautifully represents how awesome this community is, while also giving a few details you might not have known about a puzzling collision between boat and whale. It comes from Dan Randolph, the owner and skipper of "Nefarious," the Farr 30 that was involved in the collision in which Dan and his crew were severely injured.
But first, I owe Dan an apology. Every once in a while, I stub my toe and this one feels like I tripped so hard I fell flat on my face. In the midst of the deadline melee, I did not publish this in the July issue as I had intended to, and as I had promised Dan I would. It was my oversight, and it has a special sting because of how honored I am to have Dan choose 48° North as the platform to share his story and gratitude. So, I dropped the ball, and it should have been in print. I'm genuinely sorry for my error, Dan. I'm also relieved that you guys are recovering from this accident, and I'm still grateful for your trust in 48° North as your vehicle to share your message with the sailing community. Anyway – on to Dan's thoughtful letter: 

Hi Joe,
Last month, I was involved in a very unusual sailing accident and have since been overwhelmed and humbled by the support and well wishes my family has received from our local sailing community. We would like to take this opportunity to express our heartfelt thanks to all of you for the many cards and notes, offers to babysit our two and four year old girls, delicious meals, and help maintaining my house and boat while I was in the hospital.
Many have been curious exactly what happened. Simply put, we were attacked by a large Grey Whale…well maybe not "attacked," but it sure felt that way. Having retired from the second day of Sloop Tavern Yacht Club's Race to the Straits, my friend, Scott Peterson, and I were enjoying a nice motor back to Shilshole, doing about 7 knots on glass calm water. Soon after rounding the outside of the Meadow Point buoy, the boat came to a very sudden and violent stop. The bow went down while Scott and I were launched about 6 feet into the house. I briefly blacked out, but when I came to the prop was cavitating as the boat was being pushed backward. I was on the deck gasping for breath as Scott jumped below to kill the engine. When he returned to the deck he saw the whale as it slid by. It appeared to be a head-on collision with the whale, which first contacted our keel at a combined closing speed of maybe 12-14 knots.
Realizing I was seriously hurt, Scott restarted the engine and prepared the boat for docking. I sat on the deck with a hand on the tiller attempting to navigate to Shilshole when I again lost consciousness. Scott immediately took charge and heroically got us safely to the dock and organized a call to 911. Scott himself suffered cuts, bruises and cracked ribs. The fire station medics arrived in a few short minutes, followed by a quick ambulance trip to Harborview, where I ended up for a total of nine days.
Now a little more than month from the accident, Scott is in good shape and I'm recovering nicely from three broken ribs and various internal injuries necessitating the removal of some (apparently unnecessary) organ bits. Thanks to the amazing trauma team at Harborview including (among others) head surgeon Dr. Saman Arbabi and fellow racing sailor Dr. Cameron Gaskill for likely saving my life.
I have spent a lot of time trying to figure out how this happened. The water was glass calm and we kept a good watch due to the activity around Golden Gardens, yet we saw absolutely no sign there were whales in the area – not that anyone would expect to see a Grey Whale off the Golden Gardens beach in 40' of water!  I later heard that the STYC committee boat sighted a Grey Whale heading north shortly before our collision and that it may have been rubbing against the finish pin. Given the sound of our engine, it's hard to believe the whale didn't know we were there. It's possible the whale was sick, confused, or just wanted to rub against our hull – but I guess we will never know.
At this point, I would love to offer sage advice regarding avoiding whales, but in reality there is nothing we could have done. It may just as well have been a sunken tree or lost shipping container. I guess the lesson learned here is to never become complacent and always save one hand for the boat.
Thanks again for the support of our incredible sailing community. I hope to someday repay some measure of the kindness that so many of you have shared.
Sincerely,
Dan Randolph
USA53 Nefarious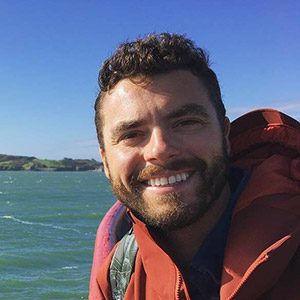 Joe Cline has been the Managing Editor of 48° North since 2014. From his career to his volunteer leadership in the marine industry, from racing sailboats large and small to his discovery of Pacific Northwest cruising —Joe is as sail-smitten as they come. Joe and his wife, Kaylin, welcomed a baby girl to their family in December 2021, and he is enjoying fatherhood while still finding time to sail, make music, and tip back a tasty IPA every now and again.