Since I moved to Seattle 15 years ago, I've had a near-equal share of winters where I sailed very regularly, and those when I mostly stepped away from the water for a few months. As spring dawns around the Pacific Northwest in 2023, it's another year in which I will be restarting the sailing engine I've let cool after a few months ashore.
This re-entry can be a little daunting. I always end the season with a very full racing schedule, packing almost a dozen days of intense racing into about six weeks in October and early November. No matter the results, it's hard not to finish the season feeling pretty attuned to all the inputs that we take in and quickly process on the water. And that's what I feel every spring — there's no way I can be in-tune with the boat after months away.
Any seasonal sailor can identify with some aspect of this sentiment, whether the nerves are about re-experiencing the stresses of docking your boat, distrusting a finicky diesel or outboard, venturing out in waters or conditions you aren't completely comfortable with, or getting back into the fray on the race course. I've found a few tricks that help me ready my head for the bombardment of sailing stimuli. Maybe they'll help you avoid a springtime swoon and clear the cobwebs as quickly as possible.
Lean into "stoke content season." There is something about early spring for sailing and late fall for skiing… almost unintentionally, I find my way to treasure troves of content that inspires me and depicts the joy of these activities. Written, video, even audio media is at our fingertips every hour of the day, and if you filter it for sailing, there's so, so much out there. For me, "stoke" content need not be limited to the flashy 90-second commercials for a regatta or sailing in general. I enjoy going deep down some rabbit-holes of seemingly dry presentations or articles about aerodynamics, boat design, tactics, or starting procedures. More and more, you can find videos with decent audio from on board some professional boats — just listening and observing helps bring me closer to the mindset of these excellent sailors. It's no replacement for actually sailing, but there's a lot of value to be explored and absorbed. And it certainly does get me stoked for the season.
Talk to your boat buds. If I don't sail as much through the winter, I don't see my sailing pals as much. Bummer! That's one of the things I really love about the Seattle Boat Show each year — I reconnect with so many people and it genuinely gets my sailing pistons firing. Whether talking with cruisers about their previous voyages or next big plans, or chatting with racing pals about fleet development or racing technique, I'm always amazed by what is on the minds of other sailors, and how divergent it can be from what I've got on the boat-brain. Simply entering into the conversation will not only be rewarding and fun, it will almost certainly have the effect of busting off a little of that early spring rust.
Get out there in low-pressure environments. So much of the springtime experience is just about giving yourself the chance to reintegrate the complex mental data-processing we do on boats. Try as you might, it does actually take time. The mechanics of sailing are a lot like riding a bike — you'll quickly fall back into the rhythm of hoisting the main or reaching for a sheet during a tack. But capturing the fine-details, and being able to keep part of your brain thinking about the telltales while another thinks about sail shape, all while peripherally keeping track of breeze and traffic… that deserves some practice. The key is to give yourself the chance to get up to speed without the detrimental influence of panic. Go slow, pay attention, talk through maneuvers, and be easy on yourself. You'll be cobweb-free in no time.
I'll see you on the water,
Joe Cline
Title background image by Jan Anderson.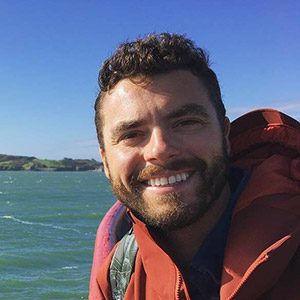 Joe Cline has been the Managing Editor of 48° North since 2014. From his career to his volunteer leadership in the marine industry, from racing sailboats large and small to his discovery of Pacific Northwest cruising —Joe is as sail-smitten as they come. Joe and his wife, Kaylin, welcomed a baby girl to their family in December 2021, and he is enjoying fatherhood while still finding time to sail, make music, and tip back a tasty IPA every now and again.