From the July 2005 issue of 48° North by Warren Miller
"You're on overload for the three o'clock ferry and the five-twenty has been canceled because the cafeteria ran out of food. The next ferry you can get on won't be leaving until six thirty." "Maybe."
"However you are number seventeen on overload and with luck you might make the three o'clock because it won't be leaving until five fifteen."
I live on a small island up near the Canadian border that is connected to the mainland by an umbilical cord called The Ferry Boat. Owned by the State of Washington and run by a group of nameless, faceless, people that almost everyone in this part of the world has bad things to say about. The waiting lines get longer each year to get on ferries that break down more and more often. We were discussing some of the problems yesterday as I sat in a nice warm cafeteria on the top deck of a giant pile of metal that was fabricated sometime before Hitler was bombing England. I sat listening to all of the people complaining, "The ferry we were on yesterday was supposed to have left at three o'clock and didn't leave until four forty."
It was raining hard with thirty mile per hour wind gusts when someone at the table brought up the same old question, "Why can't we just get a reservation on a ferry so we don't have to get to the ferry two hours early in order to get a place in line for our cars before the ferry leaves?"
"Yeah, I can get a reservation on three different airlines to get from Seattle to Greece eleven months from now. Why can't I get a reservation on the ferry tomorrow?"
I have a different attitude about this. One of the real charms of living happily on an island is putting up with some of the inconveniences.
A case in point.
My reason for going to the mainland yesterday was to pick up my car that was only about fifteen minutes from where I would get off of the ferry. That's all.
To do this, I first had to find someone on the mainland that would drive me to the automobile agency that was fixing my car. Then make sure my wife was available to drive me to the ferry landing in our small boat. It was raining hard when I discovered that the windshield wiper had stopped working on our small boat. Visibility was zero so I got to drive and had to open the windshield and peer into the pouring rain while I steered around all of the logs that float off of the beaches at the spring high tides. When we finally got to the ferry landing I was sopping wet and discovered that the ferry was a half-hour late. (You don't have to wait in line when you walk on the ferry. You only have to wait when you drive a car.)
Three years ago the Ferry commission paid $75,000 for consultants to find out why the ferries were so often late.
The result of the study discovered the source of the problem: The ferries all started late.
The consultant had a simple solution: Print new schedules.
Yesterday's ferry ride was uneventful and the trip to the automobile agency didn't take too long. I had left on the ferry that was supposed to leave at ten thirty, which left at eleven and arrived at twelve thirty. This let me complete the car pickup by one fifteen.
By now, I had traveled almost thirty-five miles to the agency and on the way home I had enough time to have a leisurely lunch before getting in the ferry boat line by three o'clock for the five twenty ferryboat ride. At lunch I was told that the weekend before, the ferryboat line was so long by eight o'clock in the morning that even with eight or ten sailings a day, they had to wait until Sunday to get on a ferry to get back home.
With that kind of information I thought, "It's Wednesday and shouldn't be a problem. I got in line at three-thirty for the five-twenty, only to be told, "You're on overload for the three o'clock ferry and the five-twenty has been canceled because the cafeteria ran out of food. The next ferry you can get on won't be leaving until six thirty."
"Maybe."
"However you are number seventeen on overload and with luck you might make the three o'clock because it won't be leaving until five fifteen."
Are you following all of this?
I barely missed getting on the three o'clock ferry that left at five fifteen.
Then I had to sit in line for the five-twenty that was cancelled and finally got on the six-thirty that left at seven-forty-five and I landed on my island exactly twelve hours after I left to pick up my car.
A routine chore that if I lived in the city only takes a half hour at the most to complete the whole trip.
Which is probably one of many reasons why there is so much vacant land and homes for sale on our island.
48°N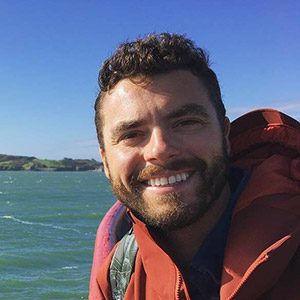 Joe Cline has been the Managing Editor of 48° North since 2014. From his career to his volunteer leadership in the marine industry, from racing sailboats large and small to his discovery of Pacific Northwest cruising —Joe is as sail-smitten as they come. Joe and his wife, Kaylin, welcomed a baby girl to their family in December 2021, and he is enjoying fatherhood while still finding time to sail, make music, and tip back a tasty IPA every now and again.